Kremlin Says 'War Against NATO' in Ukraine Is for 'Future Generations'
The Kremlin has said that its full-scale invasion of Ukraine is taking longer than expected and claimed it has morphed into a confrontation with the entire NATO alliance.
President Vladimir Putin's spokesman, Dmitry Peskov, told Newsweek that the NATO effort to arm Ukraine and isolate Moscow will not succeed.
The invasion, Peskov said, is intended to ensure "stability on the continent."
The Kremlin has said that its full-scale invasion of Ukraine has "stretched out" longer than initially planned and that its war against Kyiv has developed into a conflict with the entire NATO alliance.
President Vladimir Putin's spokesman Dmitry Peskov told Newsweek on Thursday that what began as a fight against Ukrainian President Volodymyr Zelensky's government has morphed into a broader confrontation with NATO, which since February 24, 2022 has embarked on an unprecedented effort to arm Ukraine and isolate Moscow.
"The time of the special military operation indeed stretched out," Peskov said in a statement, using the Kremlin's terminology for the invasion. "It began as an operation against the Ukrainian regime and continues, in fact, as a war against NATO, with the de facto involvement of many countries of the alliance including the United States."
"This will not prevent the Russian Federation from achieving its intended goals," Peskov said. "We must ensure international stability on the continent and the security of the Russian Federation for both current and future generations."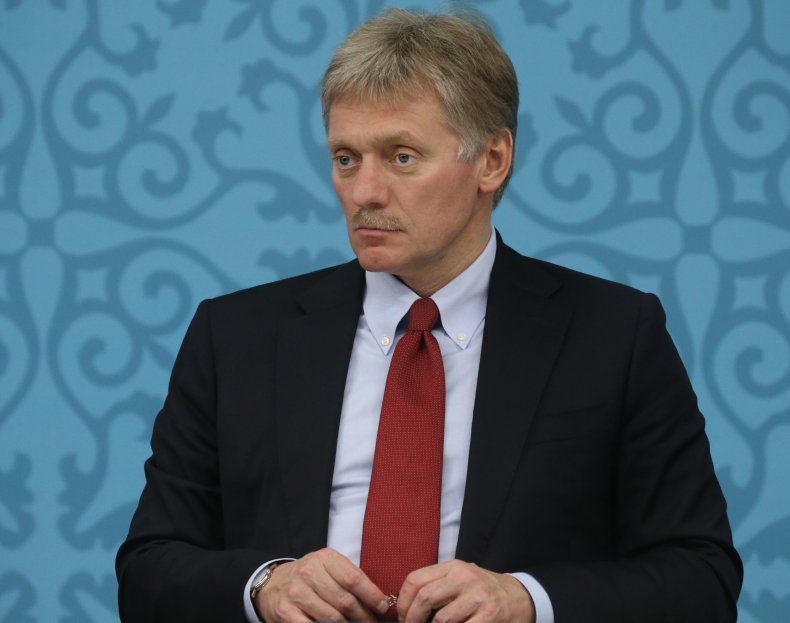 In response, a State Department spokesperson told Newsweek in a statement: "This is not a 'special military operation,' Russia is waging a war against Ukraine. Russia's continued savage attacks on Ukraine, its civilians, and its civilian infrastructure demonstrate that President Putin has no interest in meaningful diplomacy and wants to erase Ukraine from the map.
"As President Biden has made very clear, the United States does not seek a war between NATO and Russia [...] Ukraine is a sovereign country with the right to defend itself. The United States is supporting the people of Ukraine to defend their country, which is exactly what President Biden told Vladimir Putin he would do before he invaded.
"NATO is a defensive alliance whose members are democratic, free nations, who join the alliance based on their free will. The current regime in Russia does not believe in the free will of independent countries or of people. It does not believe in the freedom of sovereign nations to determine their own security, defense, and deterrence."
"Russia has clearly demonstrated this by launching a brutal attack on an independent sovereign neighbor."
Peskov was responding to remarks made by Mikk Marran, the former head of Estonia's Foreign Intelligence Service, in an interview with Newsweek. Marran said there are top Kremlin officials and influential oligarchs who are "totally against" Moscow's war on Ukraine, and suggested that Putin's "huge miscalculation" to expand the conflict with Kyiv could prove his undoing.
In his statement, Peskov told Newsweek: "The assertions of Estonian foreign intelligence can hardly be called professional. Most of them are simply wrong. Such a biased position, which is based on erroneous assertions, in many ways contributes to total Russophobia in Estonia and other Baltic states."
Russian leaders have said the February 2022 attack on Ukraine is a necessary defensive step against regional NATO encroachment. Moscow said the alliance was preparing the Ukrainian state as a launchpad for future aggression against Russia, although NATO's continued refusal to admit Ukraine to the alliance and its long-time hesitance to provide heavier weapons—even after the Russian invasion began—are sources of deep frustration in Kyiv.
"We aren't fighting the Ukrainian people," Putin said in a speech days before the first anniversary of the war in February. Ukraine, he said, "has become hostage of the Kyiv regime and its Western masters, which have effectively occupied the country."
NATO nations are now supplying Ukraine with weapons, including heavy armor and advanced air-defense systems, that were long denied Kyiv for fear of prompting Russian escalation. NATO nations are still refusing to send Western-made fighter jets or the longest-range missiles available.
The main battle tanks and infantry fighting vehicles on their way to Ukraine could play a key role in Kyiv's planned spring counteroffensive, which could prove a turning point in the war.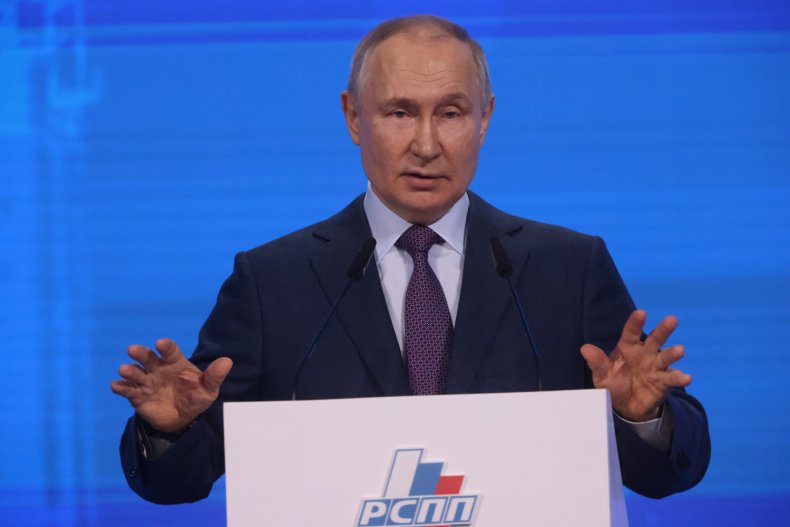 Casualties are mounting in Ukrainian ranks as Russian troops press on with their grinding offensive on the eastern and southern fronts. A diminishing supply of artillery shells—vital in a war dominated by long-range duels—and relatively static front lines have prompted fears in Ukraine that it may not have the capacity to liberate all of its territory, raising the specter of a long-term frozen conflict that saps the strength of the Ukrainian state and its foreign backers.
Allies met for the tenth installment of the Ukraine Defense Contact Group this week to discuss how to support Kyiv through the ongoing Russian offensive and into its own counter-push later in the spring.
Defense Secretary Lloyd Austin said the meeting was "highly successful," adding: "Ukraine doesn't have any time to waste. And I heard clearly today that our fellow Contact Group members also know that we have to deliver swiftly and fully on our promised commitments."
Update 03/17/23, 8:50 a.m. ET: This article has been updated to include comment from the State Department.