Will Mueller Indict Kushner? Trump's Son-in-Law 'Natural' Target For Russia Probe, Legal Experts Say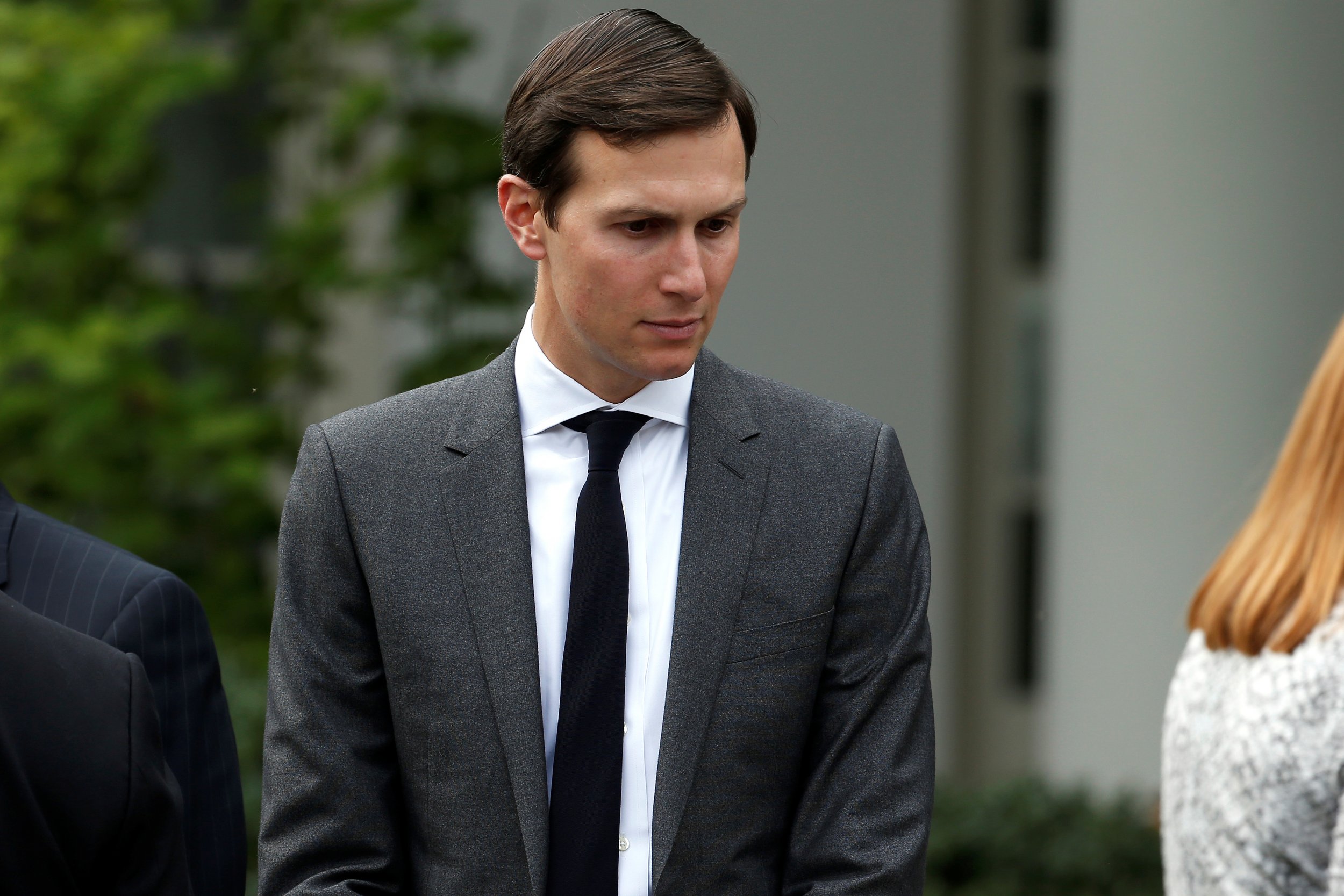 Senior White House adviser Jared Kushner's failure to properly list foreign contacts on his national security clearance forms and his vast financial holdings make him a "natural" target for special counsel Robert Mueller's team, legal experts told Newsweek.
Indeed, while there are no official indications that Kushner is a target of Mueller's probe, he figures prominently in several exchanges that are known to be of interest to the special counsel's team.
Kushner had contact with foreign officials during last year's transition to the White House, at the behest of then President-elect Donald Trump. He also directly worked with data company Cambridge Analytica, whose CEO reportedly reached out to WikiLeaks to help organize the damaging Democratic emails the site published. Kushner's also a member of Trump's family, had glaring omissions on his security clearance forms, and his potential influence in former FBI Director James Comey's dismissal makes him an integral player in the ongoing Trump-Russia saga that's cast a shadow over the administration's first year in office.
"In the broader context here, one of the main lines of inquiry about Jared Kushner is about the omissions from his national security forms," Savannah Law School associate professor and former White House associate counsel Andrew Wright told Newsweek Wednesday. "To the extent that he had to revise his S-86 forms...to add foreign contacts that he hadn't done, that's going to be a natural source of investigative interest.
"That's going to then lead the special counsel folks to start looking into that, to all the different contacts he's had," added Wright, who worked in the Obama administration.
Kushner and his foreign contacts during the transition have reportedly been the focus of questions by Mueller's team, The Wall Street Journal reported Tuesday.
Trump and his administration, including Kushner, have resoundingly denied any collusion with Russia to win the election last year. Trump himself has called Mueller's probe the greatest "political witch hunt" in the country's history.
The special counsel's wide-ranging probe is specifically curious about Kushner's contacts while a United Nations resolution pertaining to Israel's occupied settlements was before the General Assembly in December 2016, during the heart of the transition. The resolution passed 14-0, as the Obama administration opted not to use its veto power despite lobbying by the incoming Trump administration and Israel.
To Wright's point, Kushner's "multiple attempts" to wrap up his security clearance forms was labeled as unprecedented by the head of the government agency charged with reviewing the forms, Newsweek reported last month.
"I have never seen that level of mistakes," the director of the National Background Investigations Bureau, Charles Phalen, told a House subcommittee during a hearing.
Kushner has since submitted the security clearance forms three times and added an addendum with more than 100 interactions or meetings with foreign contacts, including Russian lawyer Natalia Veselnitskaya, The New York Times reported in July. She was the Kremlin-linked attorney whom Kushner, Donald Trump Jr. and former Trump campaign manager Paul Manafort met with at Manhattan's Trump Tower in June 2016 to possibly obtain political opposition research on Hillary Clinton.
Kushner dismissed the meeting, but the possibility of creating a diplomatic back channel between Trump and Moscow in order to evade detection by U.S. intelligence services—as reported by The Washington Post—only brings extra scrutiny to the omissions on his clearance forms.
"I'm not sure the questions themselves signal an imminent indictment or anything, but I think they are a natural progression when you start looking at someone's foreign contacts in total," Wright said.
Mueller's 12-count indictment of Manafort, which included charges of laundering $75 million through offshore accounts, was written in a way that could be applied to others within Trump's world.
"I think a number of the counts or theories that you see in the Manafort indictment are translatable to other people within the Trump orbit, and Kushner's one of them," Pace Law School associate professor David Dorfman told Newsweek. "The use of real estate transactions to hide money, and possible money laundering, I think is definitely a possibility."
While drawing similarities in how Kushner and Trump each rose in the real estate world and took over their family's business, Dorfman noted that the potential for Kushner to lose a prized 666 Fifth Avenue property in New York and his $285 million loan with German financial titan Deutsche Bank makes him potentially vulnerable to Mueller and the Russia probe.
"Supposedly the jurisdiction of the Mueller investigation is collusion with Russians," Dorfman said. "He's going get there by first finding and proving substantial financial crimes and failures to report…and put the clamps on these people. And then hopefully, in his mind, someone will crack and say, 'OK, if you give me leniency on this I'll tell you the real story about what's going on between people in the Trump Organization, and Trump himself maybe, and the Russians.'"