Democratic Senator Kyrsten Sinema said Thursday she will be voting for Ketanji Brown Jackson's confirmation as the next Supreme Court justice.
A Senate vote was expected Thursday on President Joe Biden's nominee, and three GOP senators said they will be voting in favor along with all of the chamber's Democrats, which assures Jackson's confirmation.
"After meeting with Judge Jackson, reviewing her record and listening to her testimony, I'm proud to support her nomination to be our next Supreme Court Justice," Sinema's statement said on Twitter.
All eyes were on the Arizona senator before she disclosed her decision. The moderate Democrat has opposed some of President Biden's key legislative priorities and was the only Democrat who had not yet announced how she would vote on Jackson, which was significant within the evenly divided Senate. With the Democrats now united and three Republicans joining them, Jackson could be confirmed Thursday in a 53-47 vote.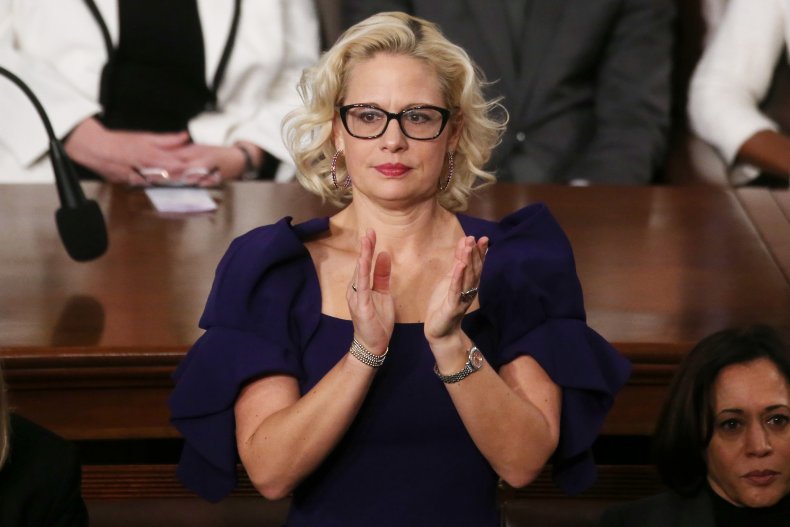 "Judge Jackson brings to the bench a wealth of knowledge, more trial court experience than all other current Supreme Court Justices combined, a commitment to respect, precedent, and a proven independent, pragmatic approach to judicial decisions," Sinema's statement said. "Jackson has exceptional qualifications and will serve our country well in the years to come."
Senator Joe Manchin was also one of the last Democratic holdouts to announce his decision on Jackson. He said he takes the responsibility of considering a nominee to serve on the nation's highest court "very seriously." Last Friday, he announced that he intends to vote in her favor.
"Judge Jackson's record and career are exemplary," the West Virginia senator said in a statement. "Her wide array of experiences in varying sectors of our judicial system have provided Judge Jackson a unique perspective that will serve her well on our nation's highest court."
While there were some concerns earlier about Jackson's confirmation, it was largely expected that the two Democrats would support Jackson, given their voting record. Neither of them has opposed the 42 federal judges, nominated by Biden, who were confirmed by the Senate last year.
Senate Majority Leader Chuck Schumer has scheduled a confirmation vote for approximately 1:45 p.m. "It will be a joyous day for America!" Schumer tweeted.
If Jackson is confirmed, she will be the first Black woman to serve on the Supreme Court in its 233-year history. She was nominated by Biden to replace Justice Stephen Breyer, who plans on retiring at the end of the court's current session.
Update 4/6/22, 01:50 p.m. ET: This story was updated with additional information and background.