LAPD Officer Under Fire From Activists After Video Shows Him Punching Suspect
Activists have called for the arrest and prosecution of a Los Angeles Police Department (LAPD) officer who allegedly punched a suspect who was handcuffed to a gurney while being placed into an ambulance last weekend.
The LAPD already suspended the unidentified officer after a video was posted by a witness, showing the officer striking the suspect as he was put into an ambulance while he was handcuffed to the gurney. The alleged assault took place last Saturday after a carjacking that resulted in two arrests, according to the Los Angeles Times.
Although the officer was suspended, activists have called for an arrest and prosecution.
"The Board of Rights has to do the right thing and stop letting officers skirt discipline. You know, if they're here to protect and serve, then we have to say protect and serve and not allow these rogue officers to repeat and beat," Robert Sausedo, president of the organization Community Build, said at a press conference, reported CBS Los Angeles on Friday.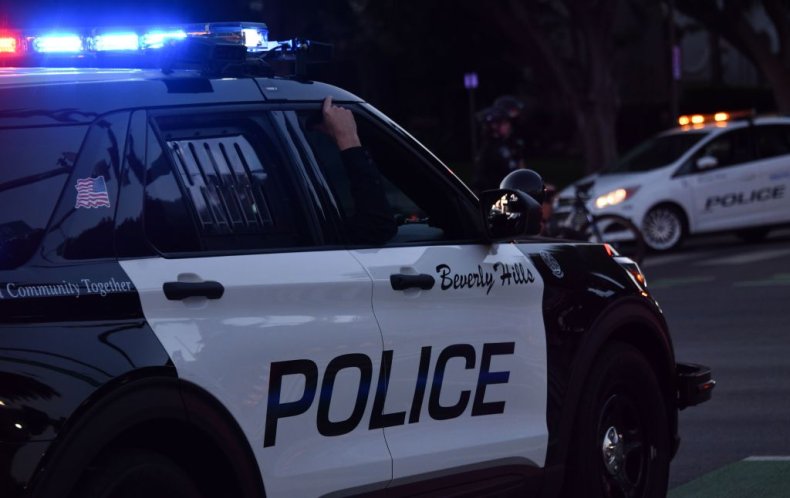 LAPD Chief Michel Moore voiced serious concern over the incident.
"The images in the video are deeply disturbing, and while we must wait for the investigation to be completed, the Department will act swiftly in any instance of excessive or unnecessary force," Moore said in a press release.
CBS Los Angeles reported that the officer struck the suspect after several minutes of provocation. In the video, the suspect appears to be yelling at the officers and also spitting at them. The LAPD said in a release that it learned about the incident through the video on Sunday and immediately began investigating.
Newsweek reached out to the LAPD for further comment but did not immediately receive a response.
Activists across the country have long raised concerns about excessive force and violence from police officers. As of August 16, at least 943 people have been shot and killed by police in the U.S. in the past year, according to The Washington Post's database. In total, more than 5,000 people have been shot by the police since 2015.
The Black Lives Matter movement has worked to shed light on police brutality and systemic racism in the U.S. justice system. Black and other minority Americans are disproportionately killed by police in the U.S.
The murder of George Floyd, an unarmed Black man, at the hands of a Minneapolis police officer in May 2020 spurred nationwide protests against police violence and systemic racism. Although lawmakers in Washington have been negotiating to pass major policing reform legislation in the wake of that killing, those talks appear to have stalled amid disagreements between Republican and Democrat negotiators.