Larry Hogan Makes Major Announcement About 2024 Plans
Maryland Governor Larry Hogan, a Republican, will not challenge Donald Trump to become president in 2024, saying on Sunday that he wants to prevent a "multicar pileup" that could potentially lead to the former president recapturing the nomination.
"I would never run for president to sell books or position myself for a Cabinet role. I have long said that I care more about ensuring a future for the Republican Party than securing my own future in the Republican Party," Hogan said in a statement on Twitter. "And that is why I will not be seeking the Republican nomination for president. To once again be a successful governing party, we must move on from Donald Trump. There are several competent Republican leaders who have the potential to step up and lead."
The governor continued: "But the stakes are too high for me to risk being part of another multicar pileup that could potentially help Mr. Trump recapture the nomination."
Hogan has been an outspoken critic of Trump in the past. Notably, when speaking to CNN's Dana Bash last November, Hogan was asked about the lack of a "red wave" that Republicans were hoping for during last year's midterm election. The governor said he was tired of losing and that it was "the third election Donald Trump has cost us."
Hogan has also taken aim at members of the Republican Party who stood by Trump's side as he refused to concede the 2020 presidential election.
While speaking to NBC's Meet the Press back in May 2021, Hogan said, "It bothers me you have to swear fealty to the dear leader or you get kicked out of the party. It just doesn't make any sense. It's sort of a circular firing squad where we're just attacking members of our own party instead of focusing on solving problems."
Meanwhile, Hogan has spent the last eight years as governor in a Democratic-strong state.
As the GOP primary field remains small, Donald Trump, former South Carolina Governor Nikki Haley, and entrepreneur Vivek Ramaswamy are the only candidates to formally announce their bid for the presidency. There is anticipation that Florida Governor Ron DeSantis is considering a campaign launch, but he has not formally announced any plans.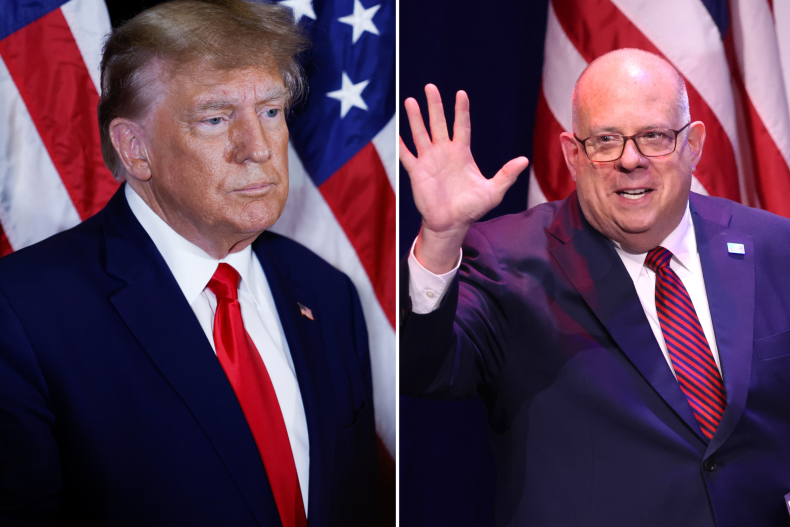 Political analyst and Dillard University professor Robert Collins told Newsweek on Sunday, "I believe Larry Hogan's decision not to get in the race is primarily driven by his inability to raise money and inability to increase his name recognition because better known candidates will be in the race."
Collins added: "He just didn't see a path forward to getting the nomination. If other Republicans are trying to stop Trump from being the nominee, avoiding a large field of candidates would be an effective strategy, but only if they could unite behind one Republican early, so that it's a race between Trump and only one other candidate. And, of course, whoever the other candidate is, that person need to already be showing strength in the polls."
Newsweek has reached out to Trump's campaign team for comment.