Mary Trump Predicts Who Republicans Will Pick as 2024 Nominee
Mary Trump, former President Donald Trump's niece and his avid critic, predicted who the GOP would select as a nominee for the 2024 presidential election after several Republicans announced their presidential bids.
The former president's niece was speaking with Just Ask The Question podcast host Brian Karem on Friday about how Republicans will handle events until the 2024 election now that they control the House of Representatives and are campaigning during this week's Conservative Political Action Conference (CPAC) in Maryland.
"So what you're seeing is the Republican agenda and CPAC this week, you're seeing how it's gonna play out for the next two years until the 2024 election. That is they're going to deny that the Donald Trump regime ever existed, and they're going to paint the Biden administration as the most corrupt and the worst ever. So every sin that was visited upon us by Donald Trump and his ire is going to be passed on and blamed on Joe Biden, and that's part of what you're seeing in the House of Representatives today," Karem told Mary Trump.
She then responded: "Okay, we can't let that happen. We absolutely can't. And honestly, will that be an option? If, as I think is, the most likely scenario, Donald is the nominee."
Trump announced his presidential bid in November, a few months before his Republican challenger Nikki Haley, the former governor of South Carolina, launched her presidential campaign.
Political activist and entrepreneur Vivek Ramaswamy is also another Republican who is running in the presidential race next year. A former biotech founder and the son of Indian immigrants, Ramaswamy told Fox News's Tucker Carlson last month that some of his priorities include "complete decoupling" from China, approaching immigration policies based on "merit," and using the U.S. military to combat drug cartels in Central America.
Though all three Republican presidential candidates have different agendas, some proponents say they have one common goal, which is to work against a woke culture. Ramaswamy has already been branded by The New Yorker as the "CEO of Anti-Woke Inc." in an article last December for criticizing "corporate virtue-signaling on climate change and racial justice," while Trump has repeatedly targeted "woke" policies on his Truth Social account.
Haley also targeted "wokeness" during her speech at CPAC on Friday, saying, "I am running for president to stop America's downward spiral towards socialism and end the self-loathing that has taken over our country. I am running for president to renew an America that is strong and proud, not weak and woke."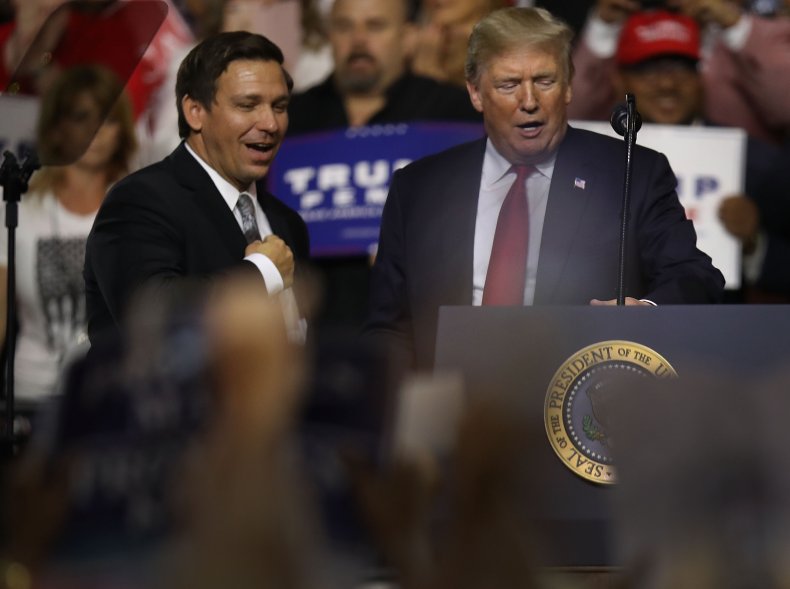 Other potential GOP presidential nominees might emerge, including ones who have long been favored by the party, such as Florida Governor Ron DeSantis who hasn't announced yet if he'll run for president.
Meanwhile, others have hinted that they might run in 2024, including former Maryland Governor Larry Hogan who said in February that he is giving it a "very serious consideration," and that Trump won't be the GOP nominee.
Mike Pompeo, the former secretary of state who served during the Trump administration, said during a recent tour for his new book, Never Give an Inch: Fighting for the America I Love, that he would decide whether he'll run for president in the coming months, according to CNN.
What the Polls Show
A new Echelon Insights poll shows Biden leading over Trump with 47 percent compared to the former president's 44 percent, but it also showed DeSantis beating Biden in a head-to-head match up.
Meanwhile, a Yahoo News/YouGov poll released this week revealed that Trump is ahead of DeSantis. The survey found that in a head-to-head matchup, Trump leads DeSantis among Republicans and Republican-leaning independents with 47 percent compared to the governor's 39 percent. A further 13 percent said they were unsure.
Trump was also leading in a Fox News poll conducted from February 19-22. He was ahead by 15 percent voter support over DeSantis, and 36 percent over Haley. The poll, which surveyed 1,006 registered voters, did not show its margin of error.
Haley received only 8 percent of support from likely voters compared to 38 percent who plan to back Trump in 2024 in a recent Remington Research Group poll, which was conducted between February 8 and 9, surveying about 820 likely voters.
Newsweek reached out to a few Republican strategists and political analysts, including Hans Noel, an associate professor at Georgetown University who researches political coalitions, for comment.
Even though, Trump seems to appear popular compared to other potential candidates in some polls, Gunner Ramer, political director of the Republican Accountability Project, told Newsweek that the former president is "probably the weakest he has ever been in the Republican Party," according to recent polling and the organization's focus groups.
"That being said, there is a potentially decisive voting bloc within the GOP electorate that is solely interested in supporting the former president," Ramer added. "With a potentially fractured field, Trump could yet again win the Republican nomination with a plurality, not a majority of the vote."
Ramer added that DeSantis seems to currently be the alternative for Republican primary voters given Trump's "political baggage."
"Voters have started to shop around for alternatives. These voters see DeSantis, as one voter put it, as 'Trump not on steroids.' Their main concern is electability and they think he is a more palatable pick with swing voters," he said.
Newsweek reached out to a few Republican strategists and political analysts, including Hans Noel, an associate professor at Georgetown University who researches political coalitions, for comment.
Update 3/5/2023, 12 p.m. ET: This article has been updated to include comments by Gunner Ramer.