Republican Who Put Tent on Nancy Pelosi's Lawn Slams DeSantis Protest Law
One Republican congressional candidate in Florida is not on board with a newly signed law aimed at protesters in the state.
Laura Loomer, a far-right political activist who is running in a GOP primary for a U.S. House seat representing the state's 11th Congressional District, took to social media to slam the new law signed by Governor Ron DeSantis on Monday.
The law, which implements fines and possible jail time for those who picket outside a private residence in Florida, came after abortion-rights activists recently protested outside the homes of Supreme Court justices. The activists were demonstrating in connection to a leaked draft opinion from the Supreme Court showing enough support to overturn Roe v. Wade, the decision that legalized abortion across the country.
On Gettr, Loomer wrote that she's not supportive of the new law and referred to it as a "violation of the First Amendment" and stated that it is "unconstitutional."
Loomer, in the post stating her opposition to the law, mentioned a 2019 protest at Nancy Pelosi's California residence, where Loomer reportedly jumped a fence and set up a tent on the yard, calling it "one of my most effective protests." Loomer wrote that during that particular protest, she "claimed sanctuary on her [Pelosi's] lawn with illegal aliens to protest her refusal to fund the border wall."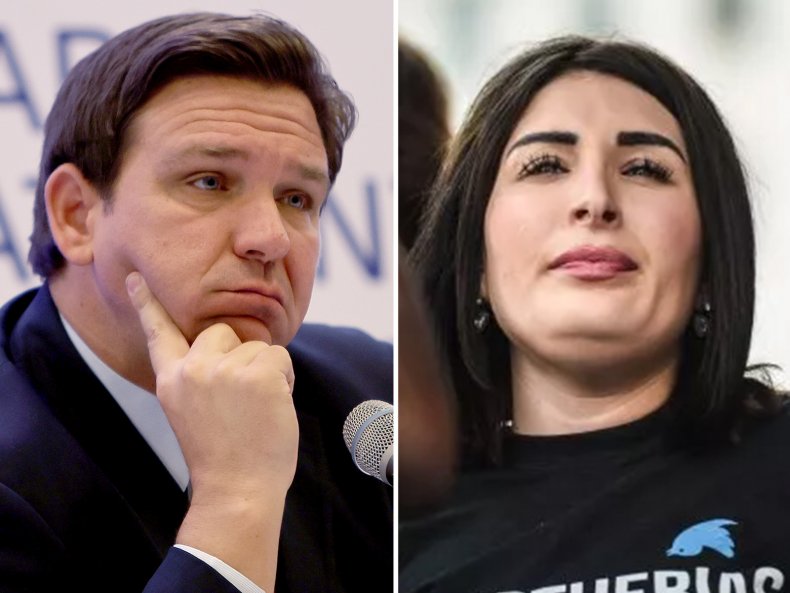 Loomer went on to say that "as long as people aren't violent, peacefully protesting outside a politicians home on public property should be allowed."
However, despite Loomer's assertion that the new Florida law violates free speech, DeSantis and his office disagree.
During yesterday's bill signing, DeSantis said the law will protect people "in residential communities" and called those protesting in front of the justices' homes "unruly mobs."
"Sending unruly mobs to private residences, like we have seen with the angry crowds in front of the homes of Supreme Court justices, is inappropriate. This bill will provide protection to those living in residential communities and I am glad to sign it into law," DeSantis said.
In a response to Newsweek, the governor's press secretary stated that Florida citizens "are free to exercise their First Amendment rights to protest and to make their voices heard. But, intimidating anyone—including public officials and their families—at home is not constitutionally protected speech."
The governor's office also pointed out that the bill was passed with bipartisan support.
Last year, Loomer drew headlines for interrupting a discussion that included Twitter CEO Jack Dorsey at the Bitcoin 2021 conference to accuse him of meddling in the 2020 presidential election.
In response to Newsweek, Loomer sent the following statement:
"Threatening government officials and judges is already a felony in the United States. The violent mob outside of SCOTUS judges homes committed a felony by violating 18 U.S. Code § 115 - Influencing, impeding, or retaliating against a Federal official by threatening them, and they should be prosecuted for doing so."
"Federal and state laws already exist to deal with mobs, and new reactionary laws that criminalize legitimate peaceful political protest only serve to infringe upon the First Amendment."
"I support the anti Riot bill that Governor DeSantis signed into law last year to deal with Black Lives Matter and ANTIFA domestic terrorists, but I don't support the premise of HB1571 which would criminalize actual peaceful protest, even on public property."
"As long as protesters aren't violent, people should be allowed to protest on public property. It makes no sense to criminalize protest on public property given that its already illegal to trespass on private property."
"How long before the definition "residential area becomes weaponized to also include politicians offices and other tax payer funded locations? Here in the great state of Florida, thanks to Governor DeSantis's strong leadership, we already have laws to address violent mobs and rioters, including trespassing laws, the anti riot bill, sound ordinances, and stand your ground laws."
"As a free speech absolutist, I would encourage people to consider the long term ramifications for activists and journalists if real, non violent peaceful protest becomes criminalized in the state of Florida."
"Despite my disagreement with the Governor on this free speech issue, I still remain a strong supporter of Governor DeSantis, I will be voting for him again, and I will be working to help him get re elected. The great thing about free speech is we can always agree to disagree, but we must always strive to do what is constitutional."