Lauren Boebert Faces Calls From Over 17K Christians to Repent and Resign
Over 17,000 Christians have called for Representative Lauren Boebert, a Colorado Republican, to resign and repent for reportedly wishing death to President Joe Biden indirectly during a recent sermon at a Dallas church.
Faithful America, an online community of Christians, posted a petition on February 8 that has been signed by 17,986 Christians as of Friday morning, calling for the GOP lawmaker's resignation. They plan to gather a total of 20,000 signatures.
The group, which aims to put faith into action to push for social justice, said that Boebert used a verse from the Bible that is interpreted as wishing death to someone, even though she claimed she meant impeaching Biden.
"Rep. Lauren Boebert (R-CO) is known for weaponizing religion to seize power and restrict the rights of anyone different than her -- but she just took the heretical twisting of faith to an entirely new level by appearing to actually pray for Joe Biden's death," Faithful America said in a statement posted along with its petition.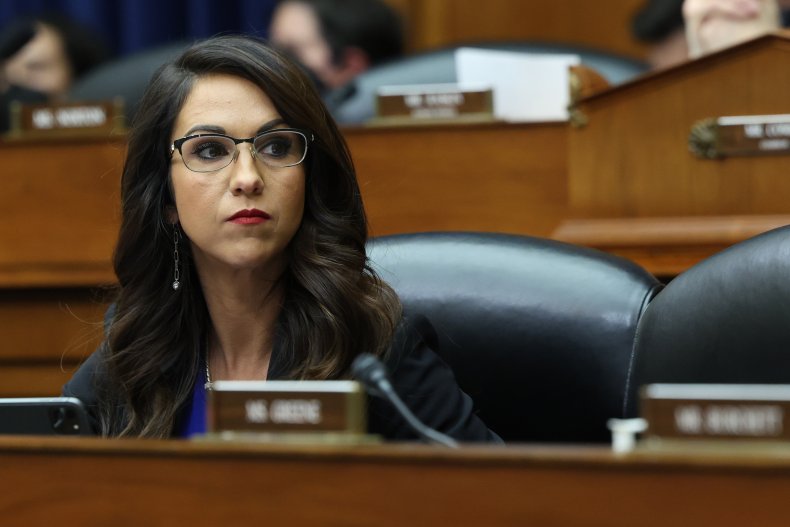 Last June, Boebert argued against the separation of church and state, saying that the church is "supposed to direct the government." That same month, the congresswoman suggested that God was behind her political success, saying, "it was a sign and a wonder to the unbeliever."
Though those instances included crowds and audiences that accepted and sometimes cheered on her remarks, Faithful America said that her words that are centered around religion could lead a "misguided" supporter to commit politically-motivated violence.
"During a recent sermon at Storehouse Dallas church, the election-denying, QAnon-touting, Christian-nationalist politician told the congregation: 'We pray for our presidents. You know, [the Bible] says, 'Let his days be few and another take his office,'" the group added in its February statement.
The congresswoman was speaking at the Spiritual and Leadership Training (SALT) conference at Storehouse Church in Dallas last month.
"That's alright we pray for our presidents—let his days be few and another take his office. That's why I filed articles of impeachment for Joe Biden. Unfortunately, he does have a really great insurance policy named Kamala Harris," Boebert said at the time.
The GOP lawmaker added that she was quoting Psalm 109:8 from the Bible, which states: "Let his days be few, and let another take his office. Let his children be fatherless, and his wife a widow."
However, Faithful America described her words as "chilling," and feared that it could encourage her supporters to attack the president.
"Boebert claims she meant impeachment, but that's an obvious ruse. Psalm 109 doesn't just say 'May his days be few' -- it goes on to say, as Boebert surely knows, "May his children be fatherless, and his wife a widow!" Faithful America explained.
The group's statement continued: "Jesus includes everyone and teaches love and peace, not death and political violence. Let's call for Boebert's resignation, and show that a nationwide Christian movement is sick and tired of right-wing politicians abusing prayer for power."
In the petition, Faithful America also called for Boebert to "repent for weaponizing our faith as a political tool," and to issue a public apology for invoking a Psalm about death when praying for Biden.
"Your repeated misrepresentation of our faith pushes people away from Jesus Christ, harms both democracy and the church, and even risks further unholy violence. Let us follow Jesus together by seeking love and the common good -- not division and death. Please, for the good of the country and the Body of Christ alike, resign from Congress immediately," the group's petition read.
Newsweek reached out to Boebert's spokesperson for comment.
Meanwhile, some other conservative Republicans have attempted to use Christianity to express their political beliefs, such as Representative Marjorie Taylor Greene of Georgia, who identifies as a devout Christian.
Last year, an Oregon pastor warned against some of her remarks that cited religion, criticizing her calls for the GOP to embrace being "Christian nationalists."
"Unlike Marjorie Taylor Greene, I've studied the Scriptures & devoted myself to serving the Church. Christian nationalism is a racist ideology incompatible with Christianity," the Reverend Dr. Chuck Currie tweeted at the time. "Jesus was for all the world, not one nation. Beware false teachers like Greene. She dances with the devil."