Lauren Boebert Says God 'Anointed' Trump To Run for President
Colorado congresswoman Lauren Boebert has said that God "anointed" Donald Trump to become president while praising him for his role in the Supreme Court decision to overturn Roe v. Wade.
Boebert made the remarks while speaking at the Cornerstone Christian Center in Basalt, Colorado, on Sunday. She celebrated the recent overturning of the landmark abortion ruling while suggesting that Trump appointing three justices during his time in office—Neil Gorsuch, Brett Kavanaugh and Amy Coney Barrett, all of whom were in favor of the decision to overturn Roe v. Wade—was part of God's plan.
Trump himself took credit for the Supreme Court throwing out Roe v. Wade on Friday, saying it was "only made possible because I delivered everything as promised," including nominating three justices to the stand.
"Glory to God. Think about that, 49 years of Roe v. Wade, 63 million children lost," Boebert told the small crowd.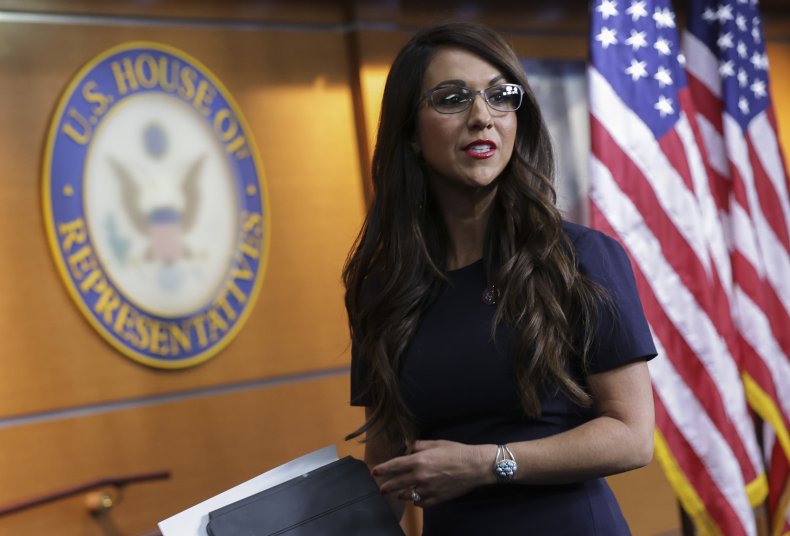 "And because God called a man who was not a politician to run for office, and I believe that he was anointed for that position.
"He answered that call despite what other people were saying, despite all the negatives that they were listening and saying how unqualified he was, he said, 'I think I can do something good for this nation.' And three Supreme Court justices were installed," Boebert added.
"And now, five years from today, we can look back and see children running and laughing with smiles on their faces, going to school, children who would have not had the opportunity to live."
Boebert, a staunchly anti-abortion lawmaker who recently had to deny claims that she had the procedure twice, has frequently invoked God and her Christian beliefs in public speaking.
On June 17, Boebert said that God was also the reason she was able to enter the world of politics. Boebert was elected to congress in November 2020 to Colorado's 3rd district after beating Democrat Diane Mitsch Bush.
"It is absolutely a sign and a wonder to the unbeliever. I wasn't supposed to win this seat," Boebert told radio host Eric Metaxas.
"I didn't have the money, I didn't have the name recognition, I didn't have the education, I didn't work my way up the political ranks. I took out a five-term incumbent. That was the first time in 48 years that an incumbent had lost a primary in Colorado," she said.
"This was absolutely a sign and a wonder to the unbeliever and even to myself."
Boebert also referenced a Bible verse while mocking President Joe Biden during an appearance at the Charis Christian Center Family Camp Meeting in Colorado on June 11.
"I do want you to know that I pray for our president. Psalm 109:8 says, 'May his days be few and another take his office.' Hallelujah! Glory to God," Boebert said.
Boebert has been contacted for comment.