Social media users have sparked a new theory relating to the CCTV footage of Colorado Rep. Lauren Boebert in which she was seen vaping and inappropriately touching her male companion at a Denver theater last week.
"It turns out Lauren Boebert's mystery man is a Democrat bar owner. If I was a wagering enthusiast, I would bet this guy was paid to set her up. She's coming off a divorce, and she's vulnerable. This guy comes into her life, charms her, seduces her and then probably gets her liquored up and takes her out in public. Stage set," journalist Liz Crokin, wrote on X, formerly Twitter.
"He then instigates her by fondling her in a theater that just happens to have night vision cameras right on them. Then the whole incident is released to the public in what looks like high-definition video in an attempt to harm her reputation.
"This is all way too convenient. Whether her date was a part of it or not, this seems like a well-coordinated setup. These types of tactics and traps are used all the time, and I would know," the post from Crokin added.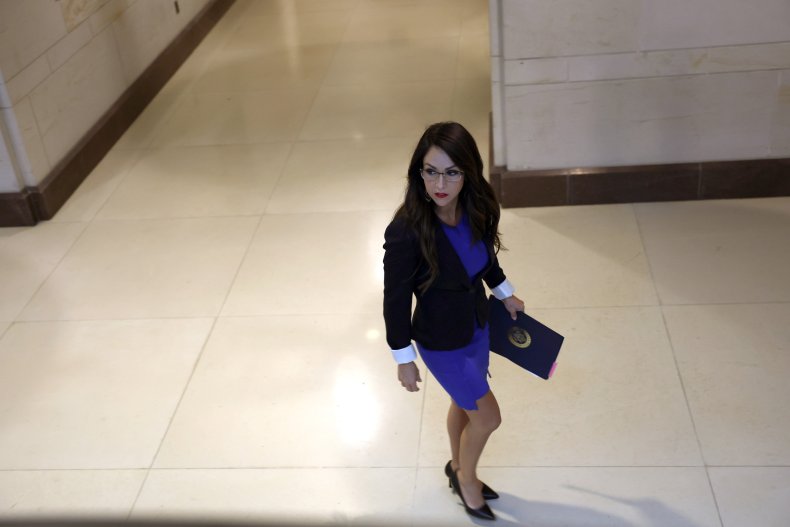 Last week, Boebert was seen on surveillance footage vaping and taking photographs while attending Beetlejuice: The Musical at the Buell Theatre in Denver, Colorado. Boebert and her male companion, who was identified as Quinn Gallagher, were also seen touching each other during the show, prompting the claims on social media.
The Daily Mail recently reported that Gallagher is believed to be a Democrat. Other reports show that Gallagher is the co-owner of the Hooch Craft Cocktail Bar, which has hosted several LGBTQ+ related events such as a drag show, in recent months, which contrasts with Boebert's beliefs in Congress.
Over the weekend, a number of other social media users echoed similar claims that Boebert's removal from the theater was a planned incident.
"It is almost like he knew a camera was pointed at them. Curious. His business has come into question and a known Democrat. Was this a setup all along? @laurenboebert should reevaluate her selection of dates for certain. He hurts politically, bad. BUT might be the objective," X user seaside folly wrote.
Another X user, Wilfred Reilly, wrote, "Reasonably high odds this is either a setup, or a situation where some funny guy on Tinder thought 'Hell—may as well see if I can (sleep with) Lauren Boebert' and went for it."
Boebert initially claimed that she wasn't vaping during the musical but later issued an apology saying, "There's no perfect blueprint for going through a public and difficult divorce, which over the past few months has made for a challenging personal time for me and my entire family. I've tried to handle it with strength and grace as best I can, but I simply fell short of my values on Sunday. That's unacceptable, and I'm sorry."
The statement continued, "Whether it was the excitement of seeing a much-anticipated production or the natural anxiety of being in a new environment, I genuinely did not recall vaping that evening when I discussed the night's events with my campaign team while confirming my enthusiasm for the musical[...]
"Regardless of my belief, it's clear now that was not accurate; it was not my or my campaign's intention to mislead, but we do understand the nature of how this looks. We know we will have to work to earn your trust back and it may not happen overnight, but we will do it."
Newsweek reached out to Boebert's press office and the Denver Center for the Performing Arts via email for comment.