LeBron James, WI Governor Weigh In On Officers Not Being Charged in Jacob Blake Case
LeBron James does not appear happy about the decision made regarding Rusten Sheskey, the Kenosha, Wisconsin officer who shot Jacob Blake. The officer shot Blake seven times in August after responding to a call regarding a domestic incident, leaving Blake paralyzed. Sheskey will not be charged for his actions, which completely altered the lives of Blake and those close to him.
"It is my decision now that no Kenosha law enforcement officer will be charged with any criminal offense based on the facts and laws," Kenosha County District Attorney Michael Graveley said Tuesday, via CNN. The other two officers will not face charges for the incident as well.
James took to Twitter on Tuesday after the news broke. "AT ALL!!!" the basketball star simply tweeted with angry emojis in response to Common's tweet, which included the Martin Luther King Jr. quote "An unjust law is no law at all."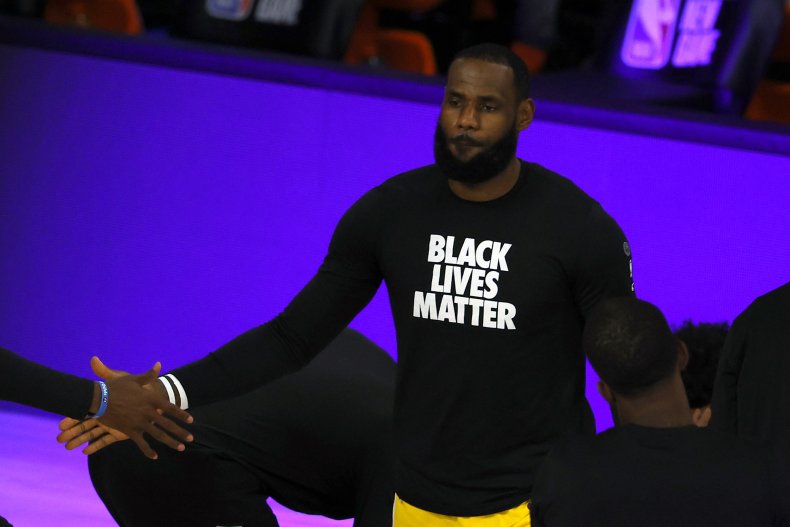 Wisconsin Governor Tony Evers shared a series of tweets which spoke about how what happened today is evidence that "our work is not done."
"We must work each day in earnest toward a more just, more fair, and more equitable state and country, and to combat the racism experienced by Black Wisconsinites," Evers wrote. "I hope for peace and justice for Jacob, his family, and the entire Kenosha community. I reaffirm my commitment to action to build a more just, more equitable state for every Wisconsinite."
Wisconsin Representative Gwen Moore called the decision "outrageous."
"I am upset & heartbroken for Jacob Blake & his family. This decision is what allows a system of police brutality to continue, where individuals who are supposed to protect our communities can use excessive force and violence on Black people w/ no consequences," she wrote.
Frederick Joseph, author of The Black Friend, weighed in on Sheskey not receiving any charges for his actions.
"Jacob Blake was shot in the back seven times, which paralyzed him, and he was handcuffed to his hospital bed," Joseph noted. "All of that and Kenosha officer, Rusten Sheskey, will receive no charges. Justice is a false hope for Black people in America."
Shameless and The Walking Dead showrunner LaToya Morgan called the decision made Tuesday "outrageous" and "despicable."
"Jacob Blake was shot point blank multiple times by police. But yet again nothing has happened to bring him and his family justice. This is outrageous & despicable. As long as this country continues to fail Black people it will never truly succeed," Morgan tweeted.
Reverend Al Sharpton appeared on MSNBC. He said that today's events were an outrage, "even though it's to be expected."
"I think this puts further energy into the Civil Rights leaders who met with president-elect Biden and vice president-elect Harris to have an attorney general who is committed to having proper policing," he said.
"It's time for us to address policing in this country in a fair and just way."
Former 2020 presidential candidate Andrew Yang asked how there could be no charges against the police officer after shooting Blake seven times.
On August 2020, Blake was shot seven times in the back after officers responded to a call for a domestic dispute. Bystanders claimed Blake was trying to "mitigate" the situation. Officers pointed their guns at Blake as he approached his car and opened the front door on the driver's side. The officers then grabbed his shirt and shot Blake. Blake's three sons were in the car and witnessed the incident, which left him paralyzed from the waist down.
After Blake's shooting, civil unrest erupted in Kenosha, and a state of emergency was declared in Wisconsin. Two people were killed and one person was injured as a result of the protests. The gunman at the protests, Kyle Rittenhouse, pleaded not guilty on Tuesday to shooting three people last summer.
Blake's attorney Benjamin Crump and co-counsels B'Ivory LaMarr and Salvi released a joint statement regarding the decision made at court on Tuesday.
"This sends the wrong message to police officers throughout the country. It says it is OK for police to abuse their power and recklessly shoot their weapon, destroying the life of someone who was trying to protect his children," the attorneys said.