Less Than 30 Percent of Voters Want Trump or Biden to Run Again in 2024: Poll
Few voters appear to be excited about President Joe Biden or former President Donald Trump potentially running for another White House term in 2024.
Although Biden has repeatedly said he plans to seek a second term as president, Trump has not officially confirmed whether he will run again. Regardless, less than a third of voters say they want either candidate to campaign for the presidency in the 2024 election.
New polling published Thursday by the Associated Press-NORC Center for Public Affairs Research asked U.S. adults if they'd like to see Trump or Biden run again in 2024, or not. The vast majority of respondents said they would not like to see either politician seeking another White House term.
Just 28 percent said they want Biden to run again. Meanwhile, Trump was slightly less popular—with just 27 percent of respondents saying they want to see him run.
Fully 70 percent of respondents said they do not want Biden to run for president another time. As for Trump, 72 percent said they were against the former president launching a campaign for a second White House term.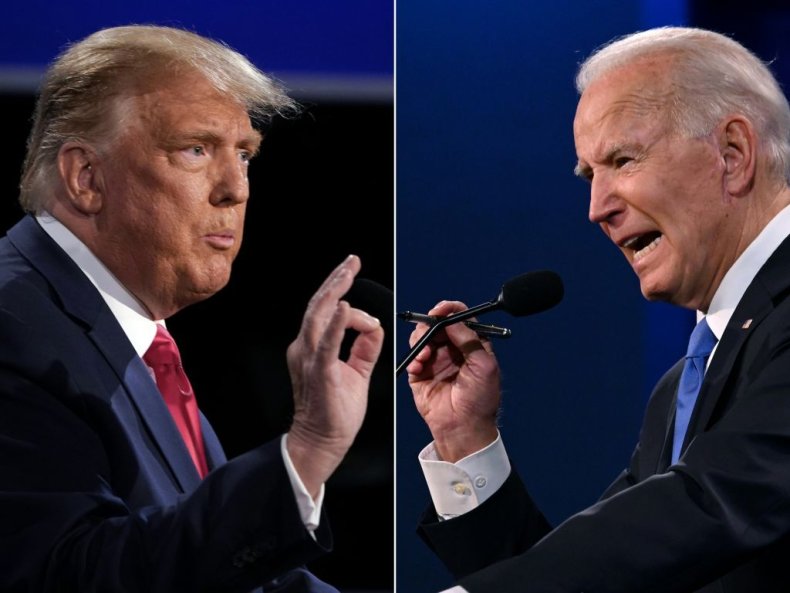 The same polling data showed that just 43 percent of respondents "approve" of the job Biden has done during his first year as president. The president's approval rating remains substantially underwater, as 56 of respondents said they "disapprove" of his performance in the White House.
The poll surveyed 1,161 adults and was carried out from January 13 to 18. The margin of error was plus or minus 3.8 percentage points.
Biden, 79, first confirmed last March that he intends to run for president again in 2024. The White House reiterated that intention in November, as did the president in December. Biden told ABC News last month that he would be even more likely to run for a second term if Trump is in the race.
"Why would I not run against Donald Trump if he were the nominee? That would increase the prospect of running," the president said.
As Biden's approval rating plummeted significantly during his first year in the White House, some Democrats have begun privately and publicly speculating about a potential replacement candidate for the party's nominee in 2024. Some have suggested Vice President Kamala Harris, Transportation Secretary Pete Buttigieg and even former Secretary of State Hillary Clinton—who lost the presidential election to Trump in 2016.
Trump, 75, is widely speculated to be planning a 2024 run. A number of his close Republican allies have said they anticipate he will enter the race. As for the former president, he has said repeatedly that his supporters will be "very happy" with whatever he decides.