Health of Black Lives Matter Protesters at Serious Risk From 'Non Lethal' Police Weapons, Experts Say
So-called non-lethal tactics used by law enforcement to disperse those protesting against police violence in recent days not only risk seriously injuring and even killing members of the public but also spreading the coronavirus, experts told Newsweek.
Both physicians and researchers of police tactics spoke to Newsweek following days of mostly peaceful protests over the killing of George Floyd. The 46-year-old died after police officer Derek Chauvin allegedly held his knee on Floyd's neck for almost nine minutes.
Law enforcement officials around the country have tried to break up protests, a handful of which were exploited by looters, using items commonly referred to as rubber bullets and tear gas, prompting concern they are putting the public at risk.
Officials in the Ohian city of Columbus are, for instance, investigating whether the death of 22-year-old Sarah Grossman was linked to tear gas exposure at a George Floyd protest. Montgomery County Coroner's Office told the Dayton Daily News Grossman's cause of death will not be revealed for several weeks.
And 59-year-old Leslie Furcron from San Diego County, California, ended up in intensive care after police shot her in the head with a bean bag round, NBC reported.
Others have shared photos on social media showing people covered in blood, being pushed, and pepper sprayed in encounters with police.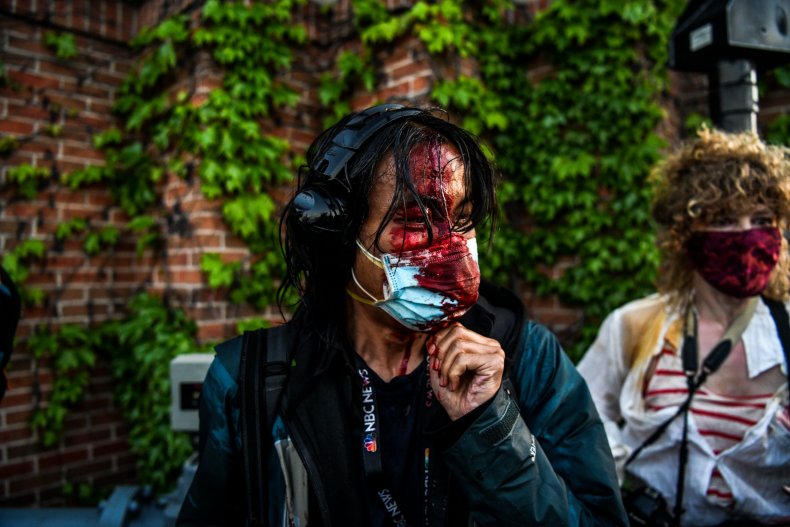 Dr. Rohini Haar, an emergency physician, medical expert at Physicians for Human Rights, and research fellow at the Human Rights Center at UC Berkeley's School of Law, told Newsweek: "While crowd-control weapons are often referred to as 'non-lethal' or 'less-than-lethal,' extensive research has shown that they often cause severe injury and even death."
After reviewing existing literature on kinetic impact projectiles commonly referred to as rubber bullets—such as actual rubber and plastic bullets as well as bean bag, sponge and pellet rounds—the non-profit Physicians for Human Rights concluded they are "not an appropriate weapon to be used for crowd management and specifically for dispersal purposes."
Such items are "inherently inaccurate when fired from afar and therefore can cause unintended injuries to bystanders and strike vulnerable body parts; at close range, they are likely to be lethal," it said. Less deadly and more accurate KPIs should only be used "where a threat to life or a threat of serious injury exists, and where all other means to protect lives are inapplicable."
If used properly, such weapons "are a much better alternative to higher levels of force but the environment of a large crowd can make for a potential for injuries," Brian Higgins, adjunct professor at John Jay College of Criminal Justice and retired chief of Bergen County, New Jersey Police, told Newsweek.
Depending on how they are deployed, KPIs can enter and damage the brain by penetrating the eye socket; cause blindness by rupturing the eyeball; injure internal organs including bruising the lungs or heart; trigger heart attacks; and harm the nerves to the extent that body parts must be removed, Physicians for Human Rights stated.
The U.S. started using rubber and plastic bullets during the Vietnam War protests, according to the organization. But Charlie Mesloh of the department of Criminal Justice and Loss Prevention at Northern Michigan University told Newsweek via email that what are accurately called rubber bullets "have not been used in the United States for decades, as they are very dangerous." After reviewing photos of the projectiles used at protests in the U.S., Mesloh believes police have been using beanbags, pepperballs, and "a wide range of less lethal munitions."
"I believe that 37/40mm skip fired rubber baton rounds and 37/40 mm foam (direct fired) impact munitions have been used across the country," he said. "Surprisingly, the direct fired are much less dangerous if they are used properly as they go where you aim them, usually a large muscle group like the legs. The skip fired munitions are very unpredictable and much more dangerous."
In light of the unrest, the American Academy of Ophthalmology last week released a statement asking domestic law enforcement officials "to immediately end the use of rubber bullets to control or disperse crowds of protesters" following "numerous serious injuries in the past two weeks."
One such example is the case of photographer Linda Tirado who says she was left permanently blind after law enforcement in Minneapolis shot her in the face with a foam bullet. "I will not regain sight in my left eye. I will need more surgeries," she wrote in The New Republic. LaToya Ratlieff, who suffered a fractured eye socket after police in Florida shot her in the face with a foam bullet, is meanwhile considering legal action.
Experts told Newsweek chemical agents commonly referred to as tear gas also pose a threat to the public, particularly amid the COVID-19 pandemic.
According to Gabriel da Silva, senior lecturer in chemical eEngineering at the University of Melbourne writing on The Conversation, tear gas "refers to any weaponised irritant used to immobilise people."
Dr. Peter Chin-Hong, professor of medicine at the University of California San Francisco, who was among over 1,000 public health experts to sign an open letter backing the protests, told Newsweek: "Unfortunately despite being banned in international warfare by the Geneva Convention, the use of pepper spray and tear gas is still widely practiced by law enforcement against civilians in the U.S."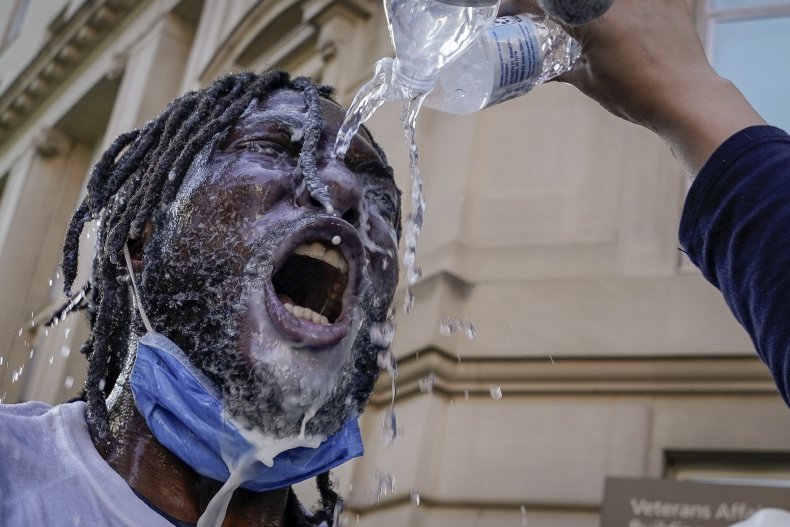 The varying types of tear gas available can precipitate asthma attacks, pose major risks for people with chronic heart and lung conditions, burn the skin and eyes, and cause long-term damage to the lungs, academics told Newsweek.
Designed to cause discomfort so crowds disperse, problems can also arise from this mass movement, according to Higgins. "Their eyes are burning or tearing, they can't see and they are running in a crowd with little to no direction. Depending on the type of chemical and the concentration, it can cause burns to the skin and eyes. If ingested or inhaled they can cause injury to soft tissue and the lungs," he said.
The use of such irritants is particularly concerting during the COVID-19 pandemic. Some have raised fears the gatherings may contribute to a second wave of infections, prompting health departments such as New York City's to share tips on how to stay safe.
However, protestors cannot control how law enforcement deal with crowds. Chin-Hong said tear gas may lead to asymptomatic carriers of the coronavirus to spread the virus by coughing, shouting and screaming, and may also lead them to take off their masks.
These substances can also make those who aren't infected more susceptible to infection by making them more likely to rub their eyes, nose, and mouth, with unclean hands, he said.
"In addition, inflammation of that 'inside skin'—the mucosa of the nose, mouth and airways, can decimate that natural barrier to the 'outside world' that we have naturally and cause an increase in risk of infection of all sorts, including COVID-19," Chin-Hong said via email. He cited research showing military recruits who have been sprayed with tear gas in demonstration projects see their risk of being infected with respiratory viruses like influenza more than double.
Other police tactics that may increase the spread of coronavirus include interviewing suspects indoors, such as in police cars, stations or jails, not allowing suspects to keep their masks on, and not wearing face masks themselves, according to Chin-Hong.
With police brutality in the spotlight, those who want to support the anti-racism movement can be faced with a tough decision, said professor Ed Maguire, associated director of the Center for Violence Prevention and Community Safety at Arizona State University.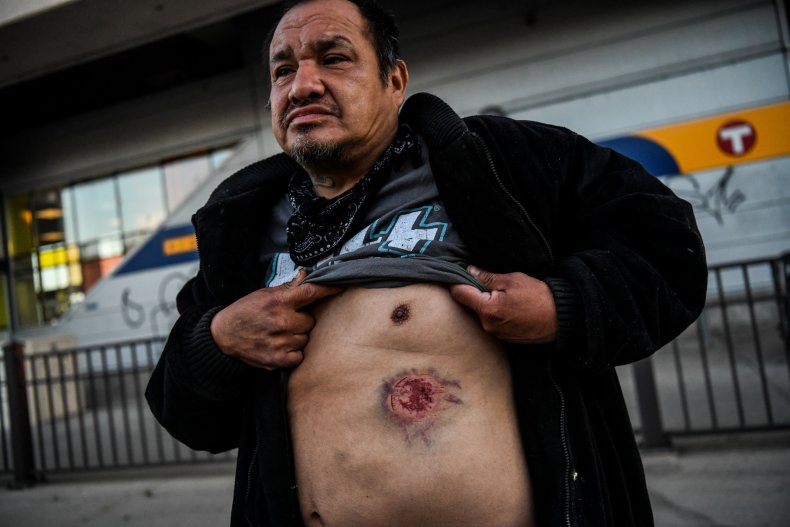 Maguire told Newsweek police in some cities have responded to protests protected by the First Amendment in a manner that "chills" people's willingness to attend.
"Residents who live in communities where the police do not handle such events well and do not protect their constitutional rights have a choice to make about whether to expose themselves to the possibility of police use of force," Maguire said. "For residents with medical conditions or other vulnerabilities, these can be very difficult decisions."