Lindsey Graham's No Vote on Ketanji Brown Jackson Breaks 17-Year Precedent
Senator Lindsey Graham's "no" vote on Judge Ketanji Brown Jackson will break his 17-year record of backing every other Supreme Court nominee since 2005, when he voted to confirm Chief Justice John Roberts to the court.
Graham has supported both Republican and Democrat nominees during his time as a senator, voting to confirm every single justice since Roberts—including both of former President Barack Obama's nominees: Justice Sonia Sotomayor, who was confirmed in 2009 and Justice Elena Kagan, who was confirmed in 2010.
The South Carolina Republican also expectedly confirmed all three of former President Donald Trump's nominees—Justices Neil Gorsuch, Brett Kavanaugh and Amy Coney Barrett.
On Thursday, Graham announced he would oppose Jackson's nomination "based upon her record of judicial activism, flawed sentencing methodology regarding child pornography cases, and a belief that Judge Jackson will not be deterred by the plain meaning of law when it comes to liberal causes."
Graham, however, was one of three Republicans to support Jackson's nomination to the U.S. Court of appeals for the D.C. Circuit last year.
The other two GOP senators were Susan Collins of Maine, who has said she will vote "yes" on Jackson's Supreme Court nomination, and Lisa Murkowski of Alaska, who has not yet revealed her vote.
Asked about why the senator plans to vote differently on Jackson this time around, a spokesperson from Graham's office told Newsweek he is holding the judge to a different standard because it's a different job than the ones that he supported her for in the past.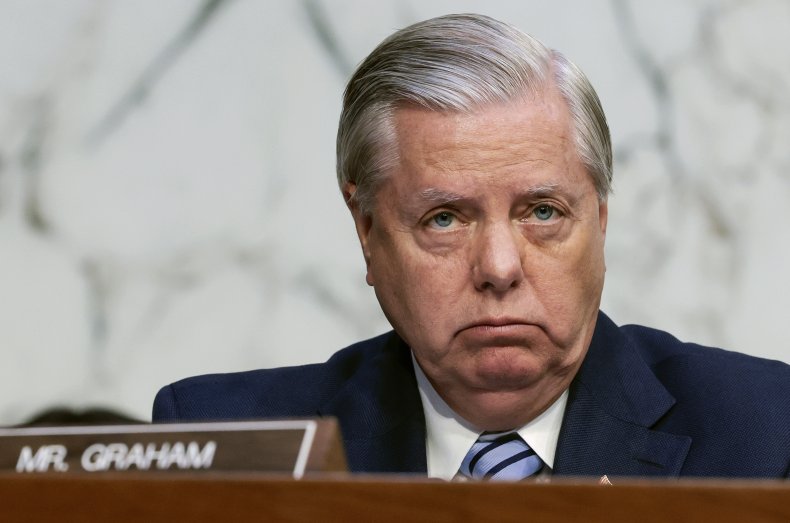 Jackson's nomination was anticipated to be an easy confirmation given that the Harvard grad would be replacing another liberal, Justice Stephen Breyer, who announced his plans to retire earlier this year.
The Supreme Court's two other liberal justices—Sotomayor and Kagan—replaced justices nominated by Republican presidents, with Sotomayor replacing Justice David Souter, who was nominated by George H. W. Bush, and Kagan replacing Justice John Stevens, who was nominated by Gerald Ford.
But Republicans on the Senate Judiciary Committee were tough on Jackson during her confirmation hearing, grilling her on her history as a public defender and attacking her on her record.
Graham, who is on the committee, badgered Jackson last week, asking how she would have felt had she been in Kavanaugh's position in 2018, when he was accused of sexually assaulting a high school classmate during his nomination process.
Despite opposition from Republican senators, Jackson is still on track to be confirmed as the first Black female justice on the bench now that Collins and Senator Joe Manchin, a moderate Democrat, have promised to vote "yes" and give Jackson the 50 votes she would need.
Update 3/31/22 1:15 PM ET: This story has been updated with additional information.