Lindsey Graham Says Nancy Pelosi Can't Renounce Socialism Because Dems Believe in It 'Deep in Their Soul'
Republican Senator Lindsey Graham tweeted this morning that House Speaker Nancy Pelosi refuses to denounce socialism because the ideology has become "the mainstream" of the Democratic party.
Graham shared an article written by Fox News claiming that Pelosi refuses to reject the term because the Democratic party backs the left-wing ideology.
"How hard is it to renounce socialism if you really don't believe in it? The reason she can't renounce it is because the mainstream of her party — deep in their soul — backs socialism," he wrote.
In the article, Fox News stated that Pelosi has not returned requests for comment about whether she opposes the ideology or would allow any self-described socialists to hold leadership positions in the House of Representatives. But Pelosi has, on other occasions, stated that socialism is not the view of Democratic party.
Newsweek reached out to both Pelosi and Graham for additional comment, but did not receive a response in time for publication.
The claim from Graham comes as progressive lawmakers, hoping to see meaningful reforms in policing, health care, climate action and other issues gained some ground in the 2020 elections.
All four members of "The Squad," a progressive group of congresswomen that includes Rep. Alexandria Ocasio Cortez of New York and Rep. Ilhan Omar of Minnesota, gained re-election into the House.
In addition to Cortez and Omar, other lawmakers, including Jamaal Bowman, Cori Bush and Mondaire Jones, have joined a growing progressive caucus within the Democratic party.
But the 2020 elections revealed tensions between more progressive members of the Democratic party and their more moderate counterparts.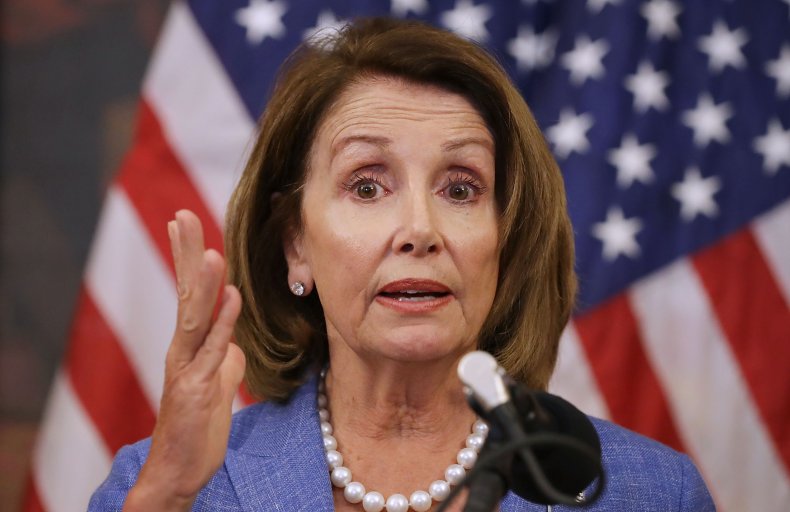 In a leaked caucus call between congressional Democrats two days after the election, Pelosi told her colleagues that leaning too far left could cost the party their chances of winning the Georgia Senate runoff races slated for January. Should Democrats win those contests, they would wrest control of the Senate from Republicans.
During the call, Virginia Rep. Abigail Spanberger pointed fingers at progressive lawmakers, blaming them for races lost during the general election.
"No one should say 'defund the police' ever again," Spanberger yelled on the call. "Nobody should be talking about socialism."
But Michigan Rep. Rashida Tlaib responded by saying the party needed to do a "real autopsy and dig through it" before attacking one another.
On Saturday, Ocasio-Cortez responded to attacks on progressives by tweeting, "Every single swing-seat House Democrat who endorsed #MedicareForAll won re-election or is on track to win re-election. Every. Single. One."
After it was announced by the Associated Press and other media outlets Saturday that former Vice President Joe Biden was projected to beat President Donald Trump, some progressives expressed concern that Biden might cater too much to center-left or Republican agendas, highlighting a divide between just how far left the Democratic party should swing.
"I think that Vice President Biden campaigned on an incredibly progressive and aggressive agenda," said Kate Bedingfield, Biden's deputy campaign manager, as she was trying to ease progressives' concerns during an interview with NBC News' Meet the Press Sunday. "Take a look, for example, at his climate plan. It's the boldest biggest climate plan that's ever been put forward by, you know, by a nominee running for president and now a president-elect."
The 2020 presidential race saw a growing movement of Democrats—young and old—eager to support a more progressive agenda. Senator Bernie Sanders of Vermont, a self-described Democratic Socialist, received the second-highest number of votes in the primary race.
Earlier this year, a Gallup poll conducted between January 16 and 29 found that 76 percent of Democratic voters said they would elect a socialist president.
During a press conference on Friday, Pelosi acknowledged that there are "differences" between members of her caucus.
"Our Caucus has its differences. I would not want to lead in a Caucus that was a rubber stamp, a rubber stamp, lockstep Caucus. That's called Republicans. We are the Democratic Party, and we have several exuberances in our midst, and that is representative of the districts that people come to Congress to serve, and we respect that," she said.
Pelosi will likely be re-elected as House Speaker when the new Congress meets on January 3, 2021.