Lindsey Graham Tells Hannity Senate Will Start Impeachment Trial Next Week: Pelosi's 'Impeachment Dam Has Broken'
Appearing on Hannity Wednesday evening, Sen. Lindsey Graham (R-S.C.) said he expects the Senate's impeachment trial of President Donald Trump to start "next week."
Graham said the trial will happen soon, citing the Senate Democrats who have urged House Speaker Nancy Pelosi to submit the articles of impeachment to the Senate.
"You said it was urgent; if you believe it to be urgent, send it to the Senate for disposition," Graham told host Sean Hannity. "She's losing Democrats in the Senate. The impeachment dam of Nancy Pelosi is about to crack. Hats off to Mitch McConnell for playing this very well. We'll take the trial up next week."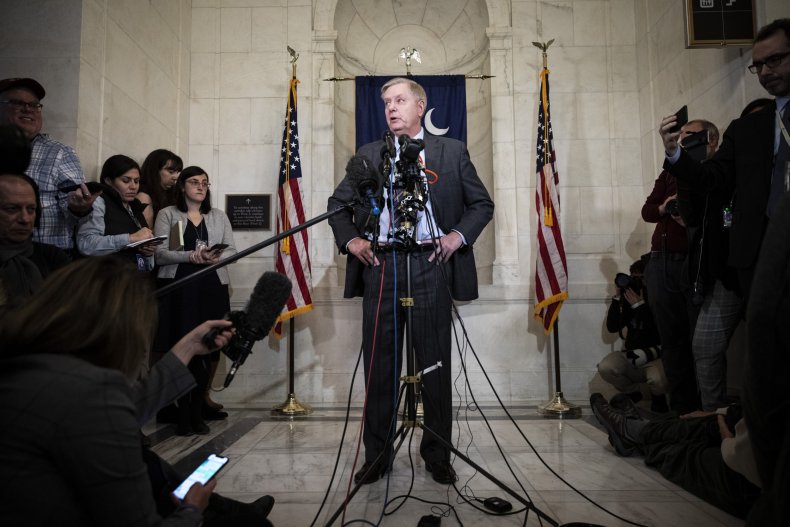 The House approved two articles of impeachment against Donald Trump on December 18. However, since the House vote, Pelosi has withheld the articles from the Senate until Senate Majority Leader Mitch McConnell (R-Ky.) and Senate Minority Leader Chuck Schumer (D-N.Y.) agree to allow witnesses to testify.
However, on Friday, McConnell said he had the votes in the Senate to pass his preferred trial rules, even if every Senate Democrat votes against them. McConnell's rules are the same as the rules during former President Bill Clinton's impeachment trial and push the decision on allowing witnesses until after opening arguments and senators' questions.
Tuesday, Pelosi wrote a "Dear Colleague" letter asking McConnell to release the trial rules before she sends the impeachment articles to the Senate.
Graham is also working on a resolution asking Pelosi to submit the articles immediately. He's argued that Pelosi's withholding of the articles goes against precedent. According to The Hill, which obtained a copy of the resolution, Graham says Pelosi is committing a "flagrant violation of the separation of powers" as well as a "gross infringement on the constitutional authority of the Senate."
Sen. Josh Hawley (R-Mo.) has submitted his own resolution, co-sponsored by twelve other Republican senators, which would enact a new rule requiring the articles of impeachment to be transmitted within 25 days of their passage. If that deadline—which would be January 12—is missed, the articles would be automatically dismissed.
That said, the Hawley measure is unlikely to become law. Unlike the rules for the trial, which require a simple majority to pass, a Senate rule change like the one Hawley proposes would require a two-thirds majority.
The Senate is split between 53 Republicans, 45 Democrats and two independents—who both caucus with the Democrats. Even with every Republican voting in favor, the proposal would need 13 more votes. Given the uphill battle, it's unlikely Hawley's resolution will come to a vote at all.
Watch the Hannity interview with Sen. Lindsey Graham below: