List of Trump Witnesses Who Spoke to Georgia Grand Jury
A special grand jury investigating the attempts by Donald Trump and his advisers to overturn the 2020 presidential election in Georgia heard from 75 witnesses.
The grand jury was convened by Fulton County District Attorney Fani Willis as part of her probe into whether laws were broken by Trump and his allies. In part of the report that was released Thursday, the grand jury's members said they believed "one or more" witnesses lied under oath during their testimony. They also recommended that Willis' office seek to indict those people "where the evidence is compelling."
Among those who testified were several high-profile Trump advisers who "possess unique knowledge concerning communications between [themselves], former President Trump, the Trump Campaign, and other known and unknown individuals involved in the multi-state, coordinated efforts to influence the results of the November 2020 election in Georgia and elsewhere," Willis wrote in her petition to the court.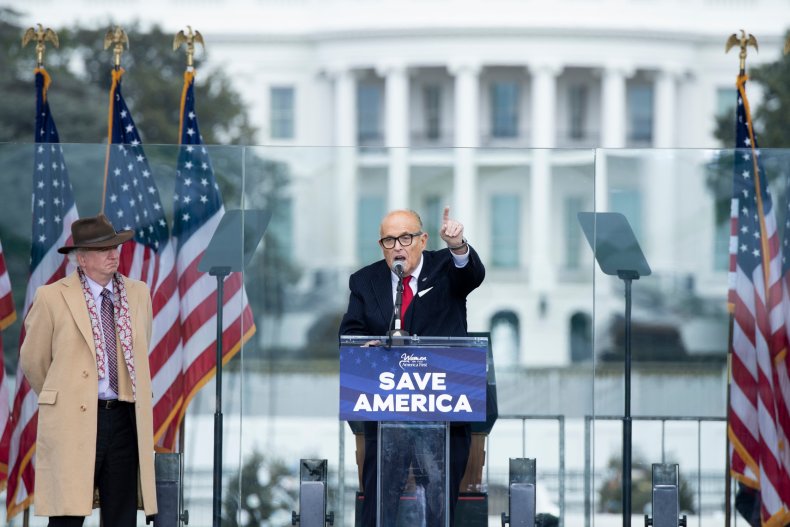 Several of Trump's advisers were asked to testify, including:
Trump's former personal attorney Rudy Giuliani, the lead attorney for the campaign's efforts in court to influence the 2020 election results, testified in August 2022.
Former Trump attorney John Eastman, who outlined a plan to pressure former Vice President Mike Pence to overturn the election results during the congressional certification of the states' votes. He testified in August 2022 but was advised to invoke his Fifth Amendment rights.
Attorney Sidney Powell, who was asked to be a "special counsel to address election issues and collect evidence" after the 2020 election, Willis said.
Former Trump chief of staff Mark Meadows, who attended meetings to discuss allegations of voter fraud and the certification of the states' Electoral College votes and participated in a lengthy telephone call with Georgia officials to discuss allegations of voter fraud.
Former Trump national security adviser Michael Flynn, who tried to avoid appearing before the grand jury but was told by a Florida judge that he had to provide testimony. He was part of key meetings about invoking martial law after the election, seizing voting machines and appointing Powell as special counsel to investigate the 2020 race, according to Willis.
Attorney Kenneth Chesebro, who helped craft a plan to use fake electors to undermine the election certification, fought his subpoena but ultimately testified.
Former White House lawyer Eric Herschmann, who was featured prominently during the House January 6 committee's hearings in 2022.
Attorney Cleta Mitchell.
Attorney Jenna Ellis, who testified in August 2020
Podcaster Jacki Pick Deason, who played a role in the Trump campaign's legal efforts to overturn the election, was subpoenaed to testify. However, a Texas Court of Criminal Appeals determined that Deason was "under no obligation" to appear before the grand jury, and she never spoke to them.
Republican Senator Lindsey Graham of South Carolina tried to avoid testifying, and his legal fight went all the way to the U.S. Supreme Court. It ultimately rejected his assertion that his position as a sitting U.S. senator shielded him from testifying. According to Graham's office, the senator sat for over two hours with the grand jury and "answered all questions."
Former House Speaker Newt Gingrich was ordered by a Virginia circuit court judge to appear before the grand jury in November 2022. He was allegedly involved in a plan to have Republican fake electors sign certificates and a plan to run TV ads that "repeated and relied upon false claims about fraud in the 2020 election," Willis' court petition states.
A slew of Georgia officials were also subpoenaed, including:
Secretary of State Brad Raffensperger, who testified in June 2022.
Former general counsel for the secretary of state's office Ryan Germany.
Former executive assistant to the secretary of state Victoria Thompson.
Deputy Secretary of State Gabe Sterling.
Former chief investigator Frances Watson of the secretary of state's office.
Former Elections Director Chris Harvey.
Governor Brian Kemp, who testified in November 2022.
Georgia Republican Party Chairman David Shafer.
Georgia Attorney General Chris Carr, who testified in June 2022.
Democratic state Senators Elena Parent and Jen Jordan, who both testified last June.
Correction 03/06/23, 9:44 a.m. ET: This article was updated to clarify Jacki Pick Deason's involvement with the Trump campaign and that she did not testify before the special grand jury.