Lori Lightfoot Faces a Crisis of Credibility in Chicago
Lori Lightfoot's improbable and historic landslide victory to become Chicago's first Black female mayor came after running an effective campaign that centered around the issues of police accountability and reform.
Local activists have criticized Lightfoot for failing to bring meaningful change to the city's embattled police department—which has a long history of racist and violent policing in Black and brown communities—in several roles she held overseeing police in the years before taking office as mayor in May 2019.
"For years, they've said Chicago ain't ready for reform. Well, get ready... because reform is here," she told Chicagoans in her inauguration speech.
But two years into her term, with Chicago bracing for a turbulent summer as crime levels spike, critics say that Lightfoot has not only failed to live up to her campaign promises, but is facing a crisis of credibility that she may not be able to overcome.
"A complete lack of will"
A year ago, the murder of a Black man at the hands of a Minneapolis police officer triggered protests across the country and reignited calls for police reform. But Chicago "had its George Floyd moment" with the 2014 fatal shooting of Black teenager Laquan McDonald, Jamie Kalven, a journalist and the founder of the nonprofit Invisible Institute, told Newsweek.
"Police reform became just the highest priority in our civic life and Lightfoot sort of took up that banner, that was the basis of her campaign."
Lightfoot had previously served as president of the Chicago Police Board and chaired the Police Accountability Task Force created after McDonald's shooting, which also prompted a federal civil rights probe of the Chicago Police Department. She had never run for office prior to launching her bid to become the city's mayor.
"I think it's fair to say that she entered office with a real mandate to make sweeping changes... and she's made good on almost none of those promises," Kalven said. "Even more disturbing, she's really squandered the power she entered office with and now I think, has a crisis of credibility."
Lightfoot's actions since becoming mayor "certainly don't match the rhetoric of her candidacy," Tracy Siska, the executive director of the Chicago Justice Project, told Newsweek. "She's very good on rhetoric, but her actions don't back it up. I think it's a complete lack of will."
Siska pointed to Lightfoot's recent declaration of racism as a public health crisis. "Great," he said. "Now, we need to follow up. We need a massive reorganization of city finances and funding and programs to address that. That's not happening."
Lightfoot's announcement that she would grant the only one-on-one interviews on her two-year anniversary in office to journalists of color last month is another example, Siska said. "If it was backed up by real action, we'd have something," he said. The move "almost felt Trump-like in terms of just changing the subject," Kalven added.
Siska also cited the recent announcement that Chicago Public Schools would be laying off more than 400 teachers. "Racism is a problem, but we're going to cut all these resources on the schools that are mostly for kids of color? It's the epitome of hypocrisy," he said.
"No major change in Chicago was coming"
Earlier this year, the city's inspector general issued a report concluding that Lightfoot and Chicago Police Superintendent David Brown's response to last summer's unrest prompted by Floyd's killing showed "confusion and lack of coordination" and risked the safety of both officers and citizens.
Siska noted that when protesters began calling for discussions about defunding the police department, Lightfoot "let her thoughts and agenda be known by totally dismissing even having that conversation." He called her response "a sign that no major change in Chicago was coming."
Lightfoot led a group of mayors who unveiled a "blueprint" for police reform last summer that called for more accountability and transparency, but rejected defunding the police.
"The status quo has failed far too many, including dealing with, head-on, our country's history of racism and how policing has been used" to enforce racism and segregation, she told reporters at the time.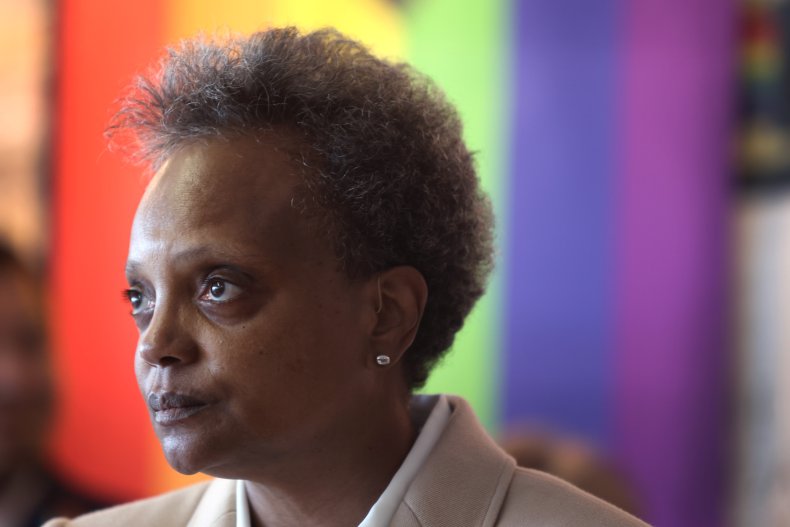 Kalven said there was a "consistent pattern" of declarations from Lightfoot with little to no follow-up.
He pointed to two recent fatal police shootings—13-year-old Adam Toledo on March 29, and 22-year-old Anthony Alvarez two days later—as evidence of the catastrophic consequences of the city's failure to implement reform.
"Simply put, we failed Adam," Lightfoot said at a press conference after Toledo's shooting. "And we cannot afford to fail one more young person in our city."
Kalven said after both shootings, Lightfoot made "passionate, personal statements that seem to have very little connection with exercising the power of her office."
But he said the danger of the police department's lack of a foot pursuit policy was outlined in a scathing report by the Department of Justice in 2017, which found Chicago police "engage in a pattern and practice of using force, including deadly force, that is unreasonable."
A judge signed off on a consent decree requiring the department to adopt a foot pursuit policy in 2019, but the city only unveiled one last month, after the recent shootings drew national attention and sparked protests.
"It's an issue that Lori Lightfoot addressed as a candidate before she became mayor...and here, years later, we have these two young men who are dead. That was avoidable," Kalven said.
That task force that Lightfoot once led issued a stinging report in 2016 recommending a civilian commission to oversee police—something the mayor vowed to do in her first 100 days in office. It was only last month that Lightfoot's office unveiled a proposal to create an independent civilian oversight body.
"Creating a civilian commission like this one has long been a goal of mine and it will allow us to continue making progress in our mission to holistically reform our police department," she said in a statement.
But Kalven said: "Every day, we don't act on things that have been clearly identified as conditions that lead to these sorts of harms, I think there's a degree of complicity. I don't want to minimize how resistant to change the police department is, but there has been a failure of leadership."
"Her promises are meaningless"
Another incident that tarnishes Lightfoot's credibility is her handling of the lawsuit brought by a Black woman who was the victim of a botched police raid, the woman's lawyer Keenan Saulter told Newsweek.
His client Anjanette Young, a social worker, was forced to stand unclothed while police handcuffed her in a wrongful raid on her home in February 2019, before Lightfoot became mayor. Leaked emails contradicted Lightfoot's initial claim that she didn't know about the raid until a local TV station aired footage of it late last year.
During a meeting with Young late last month, Saulter said Lightfoot vowed to "make sure that she made Ms. Young whole." But Lightfoot's administration has done nothing but "play games" in the month since, he said.
"The mayor has proven to be nothing more than a politician," Saulter said. Young feels Lightfoot's "words are empty, that her promises are meaningless," he added.
That sentiment was echoed by James Gibson, a Black man who was tortured into giving a false confession by Chicago detectives working under infamous police commander Jon Burge, later used to convict him of crime he didn't commit.
Gibson accused Lightfoot's administration of contradicting what she and other officials have publicly acknowledged about the torture that took place during the Burge era in legal documents to stop him from getting compensation for the decades he spent wrongfully incarcerated. "She's playing games with these lawyers," he told Newsweek.
"Everything with this mayor is a fight," Saulter said. He said Lightfoot should be focused on addressing urgent issues facing the city, rather than "micromanaging" Young's case.
"We're already into the first few weeks of an incredibly violent summer," he added. "The mayor's efforts should be focused on that."
"This is kind of a critical moment," Kalven added. "She ran on a campaign that suggested... the way to create a higher level of public safety was precisely to address dysfunctions in the police department.
"The failure of this administration to show up on these issues over two years, with the power that the mayor came into office with, has created a situation now... where there's a great deal at stake. The failure of leadership has real human cost."
In a statement to Newsweek, a spokesperson for the mayor's office said: "Mayor Lightfoot ran on a commitment to transform the way our city approaches public safety by addressing Chicago's structural and historical inequities. Since her first day in office, she has taken swift action to implement critical reforms to both Chicago's Police Department and the city's entire public safety infrastructure.
"Mayor Lightfoot has taken an innovative, holistic approach, prioritizing a 'whole of government' plan to help reduce violence that disproportionately impacts our communities of color. This includes creating the first ever Mayor's Office of Violence reduction with dedicated staff and resources to proactively address violence in our communities while at the same time ensuring all residents the opportunity to thrive. Moreover, Mayor Lightfoot has worked across public, private and community stakeholders to ensure consistent coordination. Mayor Lightfoot has also enacted reforms to increase police legitimacy through reform and the Consent decree, streamline operations, have real meaningful engagement with the community and expand programs to reduce reliance on the police."
The spokesperson said Lightfoot "has made real progress toward police reform and accountability" since 2019, and "while there remains work to be done, the Mayor and her administration remain adamantly committed to making the Chicago Police Department a national leader in constitutional policing and reform."
The Chicago Police Department did not respond to Newsweek's requests for comment.
Update 6/24 11 a.m. ET: This article has been updated with a statement from Lightfoot's office.