Macron Warns Trump France Will Not Be U.S. Vassal State: 'Respect Is Due'
French President Emmanuel Macron has warned President Donald Trump that France will not serve as a vassal state to the U.S., following several days of tension and inflammatory remarks exchanged between the two leaders.
Trump's weekend visit to France to mark the centenary of the World War I armistice was steeped in controversy. The president had already criticized Macron's call for a European Union army before he arrived. He then skipped a commemoration ceremony, purportedly because the Marine One helicopter could not fly in rain, and the president also failed to attend Macron's anti-nationalist peace forum.
Upon arriving back in the U.S., Trump launched a scathing five-tweet attack on his French counterpart, criticizing France for its trade and military policy, making fun of Macron's approval ratings and mocking the country for its defeat to Nazi Germany in World War Two—all on the third anniversary of the Paris terror attacks.
Speaking to French television channel TF1 on the Charles de Gaulle aircraft carrier Wednesday, Macron said he expected more respect from the Oval office, France 24 reported.
"At every moment of our history, we were allies," the 40-year-old said, noting the long history of French-American cooperation in the Revolutionary War and both world wars. "So between allies, respect is due. I don't think the French expect me to respond to tweets but to continue this important history."
Macron played down Trump's inflammatory remarks, suggesting the president was merely performing for his domestic audience.
One of Trump's major gripes was Macron's suggestion to create a European army with greater autonomy from existing structures like NATO—itself a favored target for Trump. But Macron sought to allay fears that Europe intended to become a rival to the U.S., while also stressing the continent's independence.
"The United States is our historic ally and will continue to be. It's the ally with which we take all the risks, with which we carry out the most complicated operations," Macron said. "But being an ally doesn't mean being a vassal state."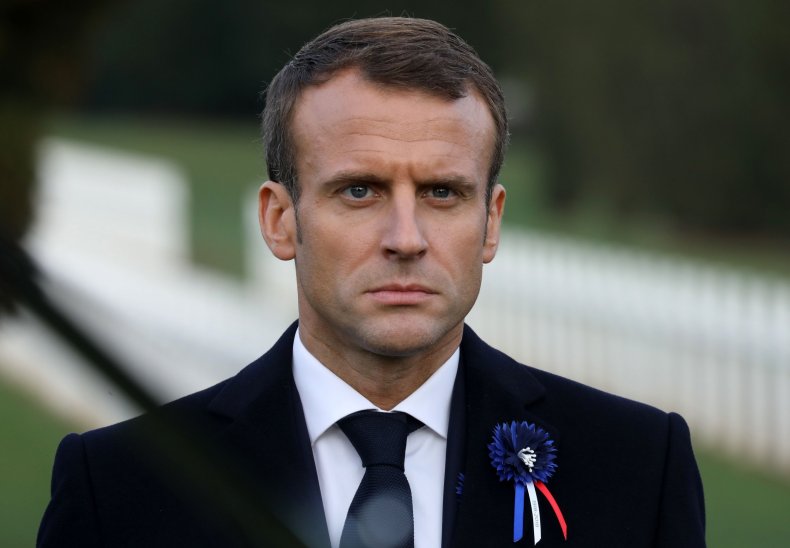 French officials had already rebuked Trump for the insensitive comments made on Tuesday. One message among the president's tweets took aim at the idea of European cooperation. It read, "It was Germany in World Wars One & Two – How did that work out for France? They were starting to learn German in Paris before the US came along. Pay for NATO or not!"
French government spokesman Benjamin Griveaux responded, "Yesterday was November 13, we were marking the murder of 130 of our people. So I'll reply in English: 'common decency' would have been appropriate."
Macron and Trump initially enjoyed a close relationship, but disagreements on a series of topics has seen "Le Bromance" deteriorate. Macron has publicly criticized Trump's nationalist politics, his withdrawal from the Iran nuclear deal, dismissal of the Paris climate accord and belligerence toward NATO allies.