'ANTM' Adrianne Curry Blasts Madonna's Look After Singer Defends Herself
America's Next Top Model alum, Adrianne Curry, is the latest person to comment on Madonna's appearance at the recent Grammy awards.
Madonna, 64, lashed out at critics who slammed how she looked at Sunday's awards ceremony, labelling it "ageism and misogyny."
She attended the Grammys to present Kim Petras and Sam Smith the award for Best Pop Duo/Group Performance for their hit song, Unholy.
But pundits and Grammy viewers were not keen on Madonna's look, which included wearing a long, black suit dress, and styling her hair with a middle part and plaited pigtails which were styled in a round shape at the side of her head.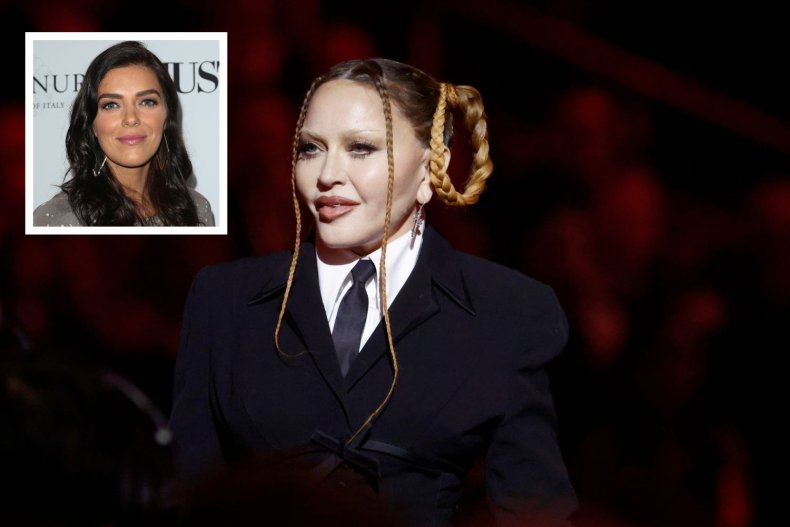 Many people took to Twitter to criticize the star and compared her to other musicians her age, claiming she's had to much cosmetic work done on her face.
One of those was the original ANTM winner, Curry, who posted a series of tweets about the material girl.
"If Madonna had aged a bit more naturally..." wrote one person alongside a photo of a young Madonna, with a photo of an older woman.
Another added: "Madonna is 64. Bonnie is 73. One steeped herself in hedonism and Hollywood weirdness. One did not. Judge for yourself."
And a third commented: "When you go through your emo phase at 64."
Curry told Newsweek via email Madonna was "still a human being" and had defended her "numerous times on social media telling people to leave her alone."
Curry, who won ANTM in 2003, was recently slammed by The Last of Us actress, Melanie Lynskey after she critcized how she looked on the show.
In a since deleted tweet from February 8, Curry posted a photo of Lynskey and wrote: "her body says life of luxury...not post apocolyptic (sp) warlord. where is linda hamilton when you need her?"
Lynskey quickly replied saying the comparison was pointless.
"Firstly—this is a photo from my cover shoot for InStyle magazine, not a still from HBO's The Last Of Us," Lynskey tweeted. "And I'm playing a person who meticulously planned & executed an overthrow of [government agency] FEDRA. I am supposed to be SMART, ma'am. I don't need to be muscly. That's what henchmen are for."
Lynskey added: "I understand that some people are mad that I'm not the typical casting for this role. That's thrilling to me. Other than the moments after action is called, when you feel like you're actually in someone else's body, the most exciting part of my job is subverting expectations."
But Curry did not seem to agree and wrote in response: "Actors taking character criticism as personal attacks is mind blowing."
Madonna also hit back at the criticism in a lengthy Instagram post where she felt proud to be part of the historic moment at the Grammys which saw Petras become the first trans person to win that award.
Alongside her Instagram clapback, Madonna posted a video of her partying with Smith and others after the awards show.
"Instead of focusing on what I said in my speech which was about giving thanks for the fearlessness of artists like Sam and Kim, many people chose to only talk about Close-up photos of me Taken with a long lens camera. By a press photographer that Would distort anyone's face!!" she wrote.
"Once again I am caught in the glare of ageism and misogyny that permeates the world we live in. A world that refuses to celebrate women past the age of 45, and feels the need to punish her if she continues to be strong willed, hard-working and adventurous."
Madonna also added that she has "never apologized for any of the creative choices I have made nor the way that I look or dress and I'm not going to start."
"I have been degraded by the media since the beginning of my career but I understand that this is all a test and I am happy to do the trailblazing so that all the women behind me can have an easier time in the years to come. In the words of Beyonce 'You-won't break my soul'," Madonna wrote.
"I look forward to many more years of subversive behavior, pushing boundaries, standing up to the patriarchy, and most of all enjoying my life. Bow down b******! 💃🏼🪩"