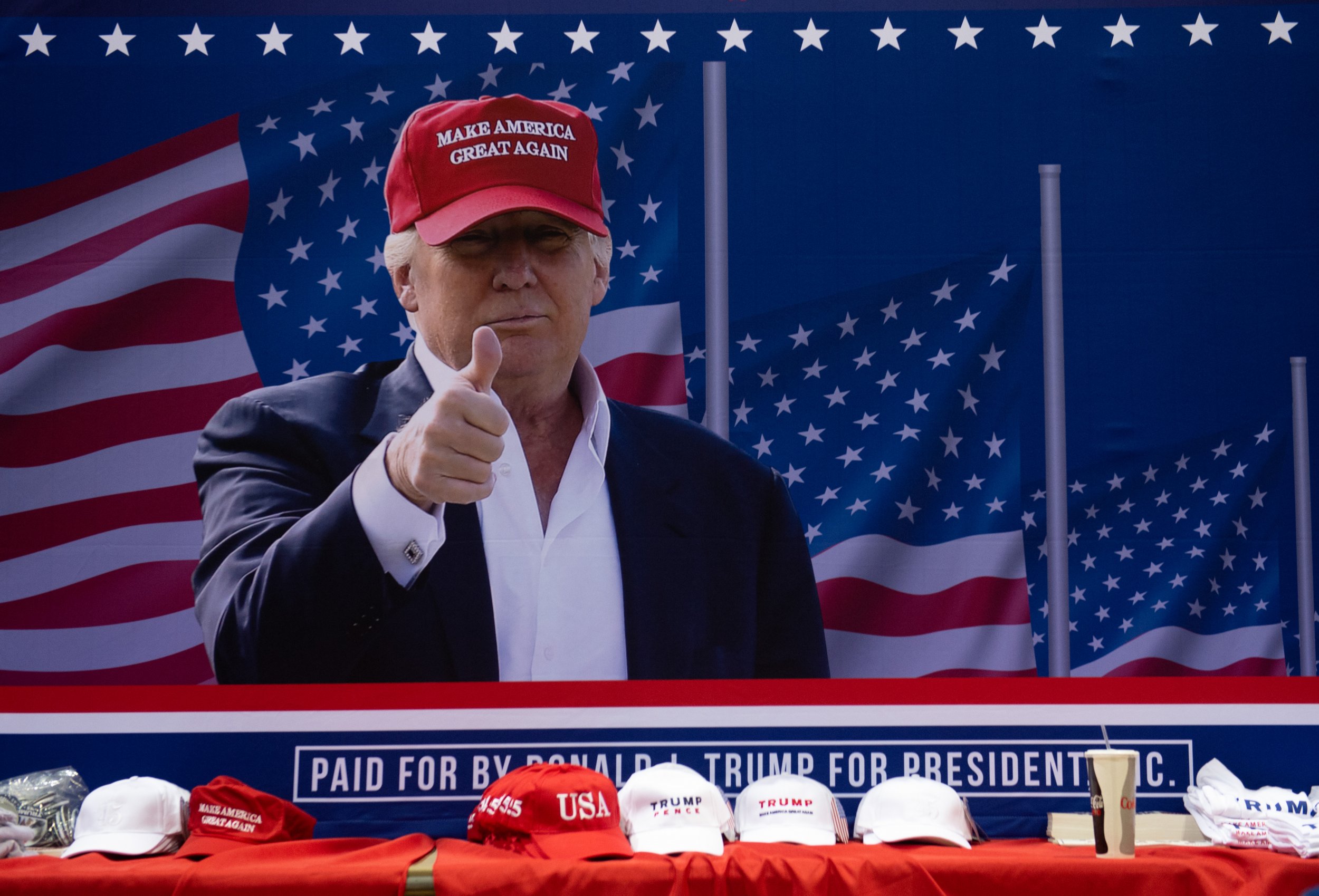 Fox News host Laura Ingraham has claimed that the association of Make America Great Again hats with racism is part of a liberal smear campaign designed to delegitimize President Donald Trump's political ethos.
Speaking on her show—The Ingraham Angle—on Thursday, the right-wing commentator suggested the hats, often seen worn by Trump's supporters and the president himself, can represent "tolerance, kindness and inclusiveness."
She opened the show with a montage of political figures criticizing MAGA hats as racist symbols. Ingraham argued: "It's now gotten so bad in America that wearing a Trump hat is basically considered a hate crime."
Ingraham suggested that the association has been dreamed up by the Democratic Party and the media "to brand an entire belief system as immoral, evil, toxic, and of course it's racist."
Trump supporters are often seen wearing MAGA hats at his rallies, cheering his divisive rhetoric and attacking media representatives of so-called "fake news." Far-right protesters have also been spotted wearing the red hats, including at the infamous Unite the Right march in Charlottesville, Virginia, in 2017.
More recently, video footage of Covington Catholic school students—who were wearing the hats—in altercations during a protest in Washington, D.C. one again associated the headgear with intolerance and antagonism.
Much of the immediate backlash focused on the students' clothing and clear support of Trump. Reacting to the initial footage, actress and campaigner Alyssa Milano declared, "The red MAGA hat is the new white hood."
But Ingraham urged Trump supporters not to retreat in the face of criticism. Accusing the left of trying to make people "angry and resentful," she said MAGA supporters should "actively engage in minority communities" and not "be bullied out of them."
Ingraham suggested that Trump's MAGA policies are working "by any objective analysis… And they're not scary, and they're not racist, and they're not anti-woman, and they're not anti-immigrant."
"Not only is this conservative agenda working," she added, "it's working really well for minorities."
Trump has repeatedly been accused of misogyny, racism and xenophobia—both on the campaign trail and in office. Some of his most contentious policies relate to migration, including his proposal for a southern border wall and the separation of migrant families and detention of unaccompanied children.
One of his first major actions in office was to introduce a ban on arrivals from several Muslim-majority nations, and he was also criticized for referring to nations in Africa as "shithole countries."
Ingraham called on Trump and his cabinet to "travel to cities like Oakland and Chicago and Baltimore, not just to safe zones in red states" and listen to the people who live there.
But in the meantime, Ingraham told viewers to keep wearing their red hats "whenever and wherever you like... And when doing so, be sure to show everyone around you what true tolerance, kindness, and inclusiveness looks like."
Ingraham has also been criticized for perceived racist and xenophobic comments. In the run-up to the midterm elections, for example, she told viewers that the Democrats "want to replace you, the American voters, with newly amnestied citizens and an ever-increasing number of chain migrants."
She also found her way into a well-publicized spat with David Hogg, the-now 18-year-old survivor of the Stoneman Douglas High School shooting in Florida where 17 people—15 of them students—were killed. Ingraham later sent Hogg an apology via Twitter.
This article has been updated to state that Laura Ingraham is a Fox News host and to include her tweet to David Hogg.