Majority in U.S. Don't Want Legal Status to Block K-12 Education: Poll
More than half of U.S. adults said they believe states should be "required" to offer K-12 education to all children regardless of their citizenship or immigration status, according to a new YouGov poll.
The federal government currently provides all students with the right to get a public education, regardless of their legal status. But Texas Governor Greg Abbott, who is running for re-election, recently said he would support challenging the U.S. Supreme Court decision that blocks states from withholding the money needed to provide that education for all.
The Supreme Court ruling at issue is Plyler v. Doe, which was decided in 1982. The case was launched in response to education laws in Texas that sought to stop students who had not been "legally admitted" to the U.S. from enrolling in public schools, as well as block state funds from use in those students' pursuits of education. The court ruled that the Texas laws were in violation of the 14th Amendment's Equal Protection Clause.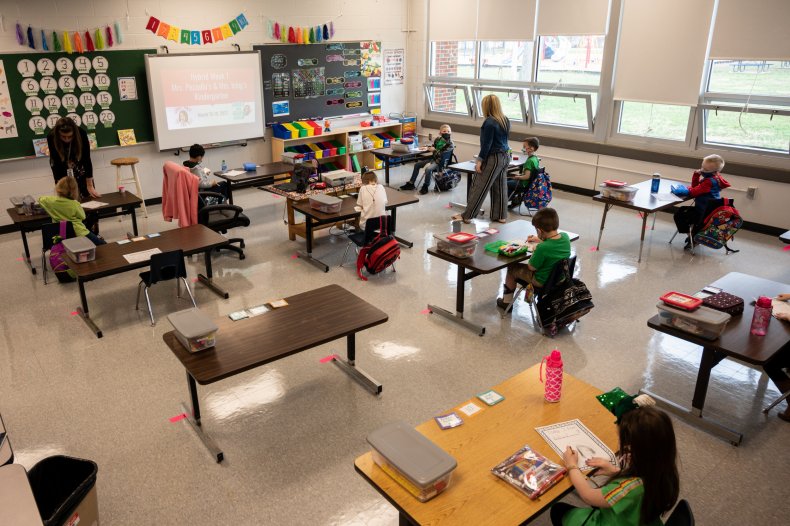 As a result of the 1982 ruling, the U.S. Department of Education said all students have a right to education at public elementary and secondary schools.
"An essential part of ensuring equal opportunity is protecting all students in their access to education free from discrimination," the department said in a blog post last summer. "This includes the right of all students in the United States to attend America's public elementary and secondary schools, regardless of their immigration or citizenship status."
Earlier this month, Abbott, a Republican, said during an appearance on a conservative radio show that "the times are different" now than they were when Plyler v. Doe was decided and said it might be time to "challenge this issue again." Abbott suggested having the federal government pay for the public education of undocumented students instead of individual states, according to The Texas Tribune.
Abbott's comments on Plyler v. Doe came in the wake of a leaked draft of the Supreme Court's forthcoming decision on whether to overturn Roe v. Wade, another ruling that has been in place for decades. One legal expert recently told Newsweek they think it is "absolutely" possible that other landmark decisions could be challenged if Roe is overturned.
YouGov's recent poll on access to public education was conducted on Tuesday, nearly two weeks after Abbott's comments on the potential to challenge Plyler v. Doe began gaining national attention.
Of the 6,600 U.S. adults surveyed, 56 percent of respondents said states should "be required to provide K-12 public education to all children, regardless of the legality of their immigration status," and 17 percent said they were unsure. The remaining 27 percent of respondents said they did not believe states should have to provide access to public education for all.
Responses to the poll were nearly even among men and women, with 57 percent of male respondents and 54 percent of women saying they were in favor of states providing education access to all. More Democrats—76 percent—than Republicans—42 percent—said they were in favor of this requirement, as did 51 percent of independents.