Malala Re-unites with Syrian Schoolgirl Campaigner in U.K.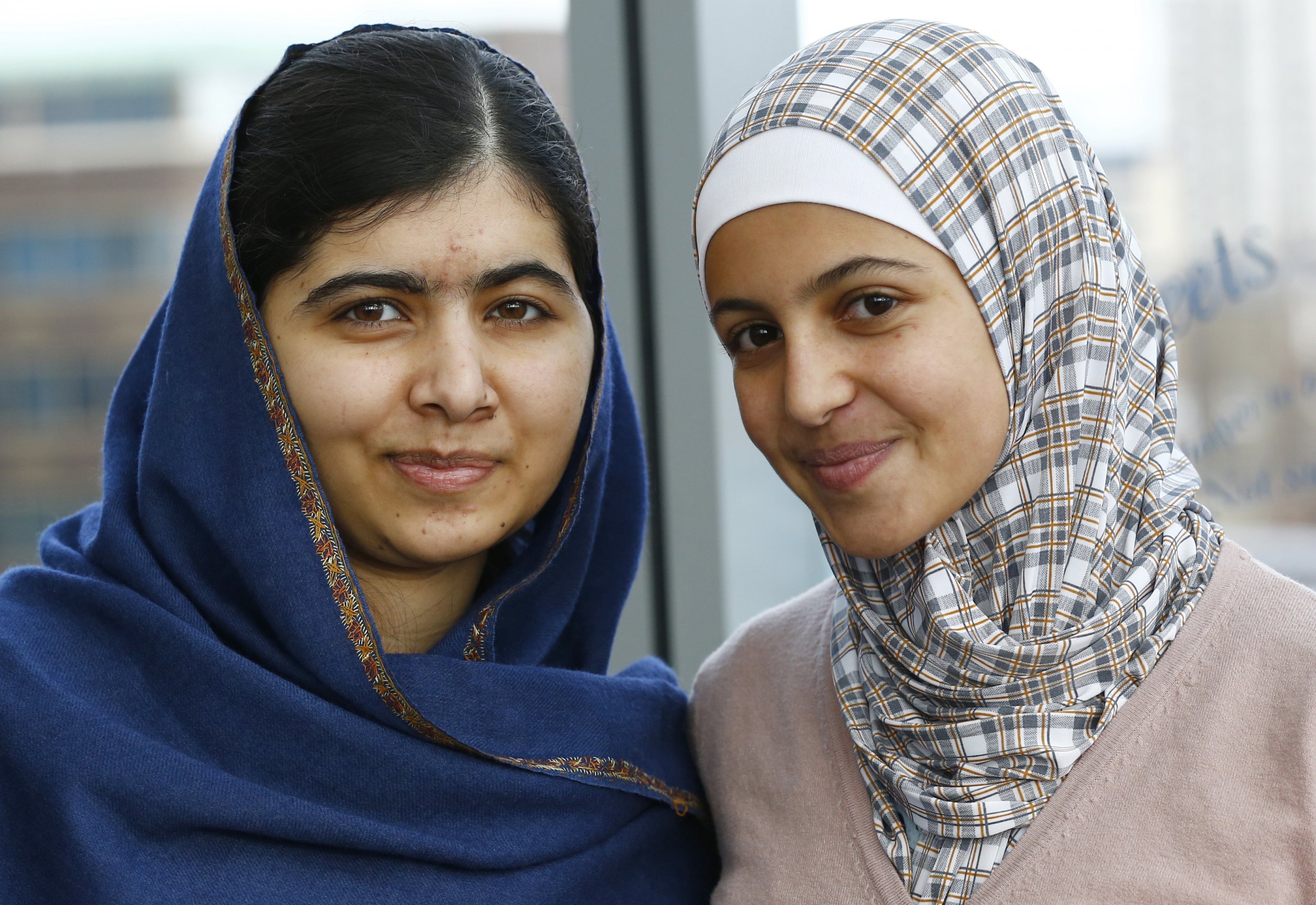 Nearly two years after they met in a dust-blown refugee camp in Jordan, Nobel laureate Malala Yousafzai welcomed Syrian fellow schoolgirl activist Muzoon Almellehan to her friend's new home in rainy northern England on Tuesday.
Malala, who moved to Britain in 2012 after being shot in the head in Pakistan by the Taliban for refusing to quit school, won acclaim for her advocacy of women's right to education and becoming the youngest winner of the Nobel Peace Prize.
Reuniting at a gleaming public library in the northeast English city of Newcastle, 18-year-old Malala and Muzoon, 17, pledged to campaign together for access to education for Syrian refugee children.
The setting was a far cry from the sprawling lines of tents comprising the Zaatari camp for Syrian refugees in the Jordanian desert, where the pair first met in early 2014.
Malala now lives in England's second city, Birmingham, where she was treated after being shot, and Muzoon is among the first Syrians from refugee camps in the Middle East to have come to Britain.
Since the two first met, the number of registered Syrian refugees has doubled to almost 4.4 million people, according to the United Nations High Commissioner For Refugees (UNHCR).
More than 250,000 people have been killed since the Syrian civil war began in 2011.
Appeals for funding from the world's governments have fallen far short of targets. With only days before the end of the year, the UNHCR's $4.3 billion appeal for Syria in 2015 has raised just $2.2 billion.
U.N. children's agency UNICEF estimates 2.6 million Syrian children are no longer in school. Muzoon, often dubbed the "Malala of Syria," made her name encouraging girls to stay in school, rather than being married off at a young age.
Malala and Muzoon met again in July this year to open a school for Syrian refugees in Lebanon, and have kept in touch through Skype and email.
Despite being occupied by school exams and plans to attend university in the next couple of years, the pair will be keeping a close eye on an international summit due to be held in Britain in early February, focused on Syria's humanitarian crisis.
Britain said in September it would resettle up to 20,000 Syrian refugees through to 2020. Germany was the world's biggest recipient of new asylum claims at 159,000 during the first six months of 2015 alone, according to the UNHCR.