Man Allegedly Points Gun at Reporter During Segment on Gun Violence
The Chicago Police Department is seeking the public's help to identify a suspect who allegedly pointed a handgun at a local camera crew on Wednesday morning.
FOX 32 Chicago tweeted that its crew was threatened in "horrifying" fashion while a reporter, identified as Joanie Lum, was in the middle of delivering a news report about the city's gun violence.
Police said the incident occurred at around 6:34 a.m. in the 400 block of North Clark Street. A video was released of the telecast.
"Thank you to the viewers who were watching Good Day Chicago and called or emailed to make sure our crew was okay," the news station said in the aftermath.
Chicago Police told Newsweek that authorities are requesting the public's help in identifying and locating the alleged gun-toting individual, who is described as a person of interest in relation to an aggravated assault with a firearm.
The suspect is described as an African-American male between approximately 18 and 25 years of age. He has black hair and is between 5-foot-6 and 5-foot 8, with a thin build and weighing between 130 and 150 pounds. He was wearing a dark hoodie, black jacket, light ripped blue jeans and dark shoes.
"The offender brandished a suspect firearm and pointed it in the direction of the victims and fled the scene on foot," police said.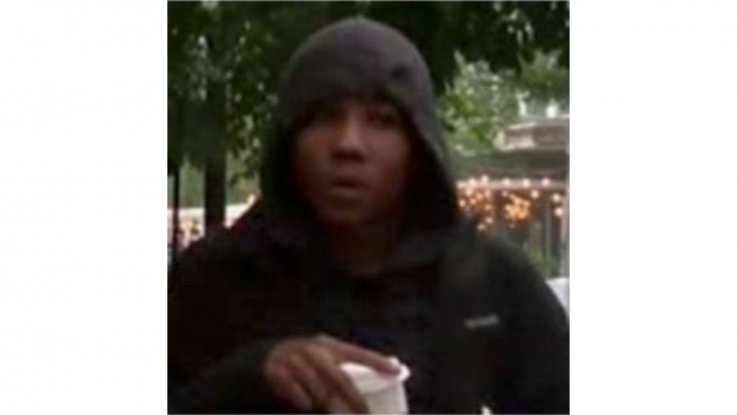 Pictured is the male suspect who allegedly brandished a weapon and threatened a TV crew in Chicago on Wednesday morning.
Chicago Police Department
CWB Chicago reported that Chicago Police responded to calls of a similarly-described man who caused a disturbance inside a Starbucks a couple of blocks away from where the TV crew was threatened. It's unclear whether both incidents were related.
Anita Padilla, an anchor for Good Day Chicago, tweeted that Lum and a cameraman were threatened during the live shot.
"The gun was one foot from her head as (the suspect) pointed at the camera or cameraman Gary," Padilla wrote. "(Lum) is understandably shaken. Thank God she is okay."
The incident involving the Chicago camera crew preceded a press conference in Uvalde, Texas, regarding the elementary school shooting that took 21 lives. During that presser, Texas Governor Greg Abbott referenced Chicago due to what he referred to as weak gun laws.
"I hate to say this, but there are more people shot every weekend in Chicago than there are in schools in Texas," Abbott said, according to ABC 7 Chicago. "And we need to realize that people who think that, well maybe if we just implement tougher gun laws, it's gonna solve it. Chicago and L.A. and New York disprove that thesis."
Abbott's comments were met with Twitter blowback from both Illinois Governor JB Pritzker and Chicago Mayor Lori Lightfoot.
Pritzker said Abbott was "lying" about the city perpetuating gun violence, adding that "the majority of guns used in Chicago shootings come from states with lax gun laws" like Texas.
Lightfoot said Abbott should worry about the "carnage" in his own state.
"I work day and night to stop the violence," she said. "I see the suffering. Open your eyes. Lives are being lost. Be a part of the solution or get the hell out of the way."
Gun death statistics in Chicago do show a problem, according to the Chicago Sun-Times, which reported in early May that downtown Chicago had experienced a 64 percent increase in homicides compared to the same time period in 2021.
This news comes after the 2021 calendar year showed a heavy uptick in homicides, including 60 percent and 167 percent jumps compared to the years 2020 and 2019, respectively.
Not everyone is convinced the suspect was actually brandishing a gun, however. Some Twitter users who slowed down the video frame by frame alleged that the item in the man's hand was not actually a gun but potentially a remote of some kind, including that of a Roku streaming device due to the purple-and-white coloring.
"Idk, it was pretty quick, but it really didn't look like a gun," one person tweeted. "Not nearly bulky enough in his hand."
"There's an argument if it was a gun or not, by people who have the ability to judge after watching a video," another Twitter user said in response. "Yet we expect police officers to do this in real time, while chasing a person."
Chicago Police ask that anyone with information about the suspect call (312) 744-8261 or submit an entry via an anonymous tip line at www.cpdtip.com. Anyone who sees the suspect up close is asked not to engage or approach him; instead, call 911.
Newsweek reached out to FOX 32 for comment.