Man Giving Up Guns After Uvalde Shooting Goes Viral on TikTok
A man in Hillsboro, Oregon went viral on TikTok after he posted a video explaining how he was giving up his guns in the wake of the mass shooting at an elementary school in Uvalde, Texas where 19 students and two teachers were killed this week.
In the video, the man, Ben Beers, said he was turning in his weapons—an AR-15 and a 9mm handgun— to the local police department.
"I no longer want them. I know this will not change legislation or anything to do with gun culture in America, but hopefully, it will be a form of symbolism, and hopefully, America can wake up because no other country has the problems that we do with gun culture and ideation and gun violence," Beers said, before calling for gun reforms.
"Amend the constitution, amend the legislation, amend the statutes," he states. The video, which was posted on Thursday, had been viewed nearly 200,000 times as of Friday afternoon.
In an interview with Newsweek on Friday, Beers said that the shooting in Uvalde, Texas "devastated" him. "I was up all night... I knew that changes need to be made with our Second Amendment rights, with the constitution and it's not going to get any better until we make some drastic changes," he said.
Despite calls for gun reform in recent years, Congress has declined to enact new gun control policies.
Beers, an ex-Marine who was previously a lifetime gun owner, said he'd like to see a nationwide ban on semiautomatic weapons.
"That's what this country needs. We've already dug ourselves in this hole and we are destroying ourselves," Beers said.
"I have owned and possessed and shot guns most of my life. Literally, all my life, guns have been in my family and gun culture has been a regular thing, and I was obsessed with guns as a kid. And this generation, this younger generation, we cannot raise them to be so obsessed with guns and ideology. It's gonna ruin our future," he said.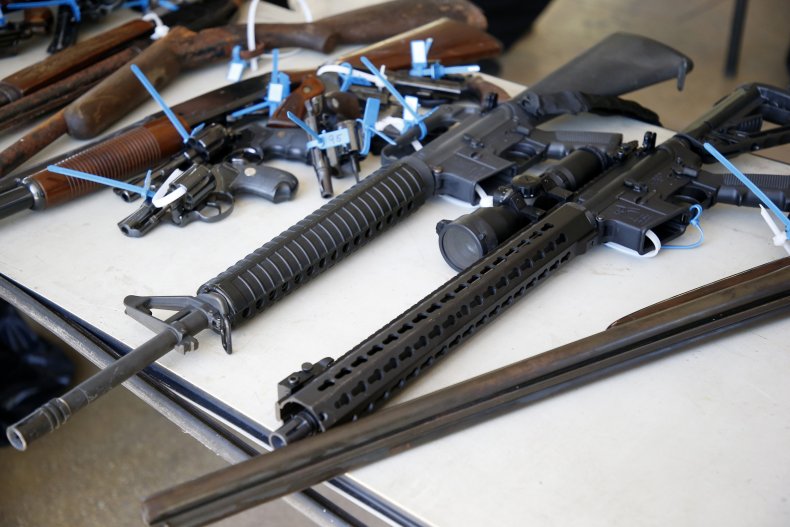 Beers, a stay-at-home father, said that the video he posted on Thursday is the first "serious" video he's posted on TikTok— "My TikTok videos are all funny and humorous with my kids." Some of his other videos have received over a million views.
Beers isn't the only gun owner who has called for action in the wake of the mass shooting at Robb Elementary School in Uvalde that killed 19 students and two teachers. In the wake of the shooting, several gun owners wrote on Twitter asking for gun legislation that would prevent future shootings.