Video of Man Proposing in Line at McDonald's Sparks Fury
Footage appearing to show a man proposing to his visibly embarrassed partner in a busy McDonald's restaurant has sparked astonishment online.
A marriage proposal is supposed to rank among life's most memorable moments. For some, it's also a chance to create not only an unforgettable memory but your very own viral video moment.
In the past, clips capturing everything from a "magical" library proposal to one man popping the question in extravagant style in front of the Eiffel Tower have proven popular on social media.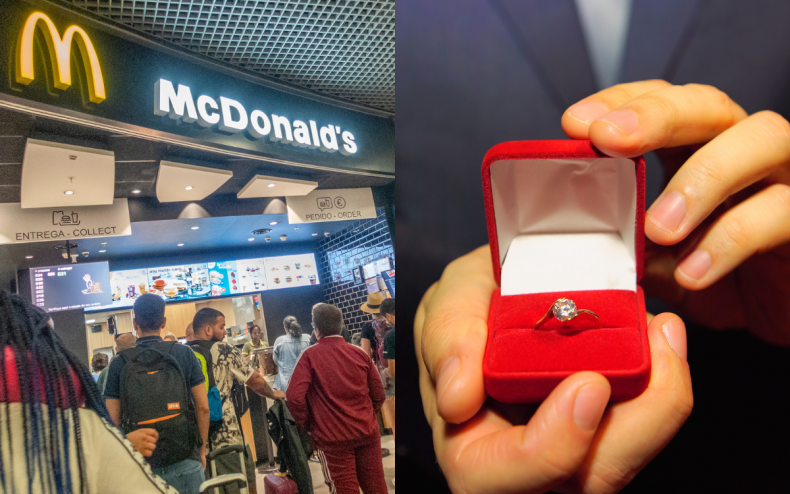 Now another unique marriage proposal has started racking up millions of views online—but it's for all the wrong reasons.
In two separate videos uploaded to Twitter and TikTok, an unnamed man can be seen down on one knee close to the counter at a branch of what appears to be a McDonald's.
A woman can be seen turned away from him, visibly embarrassed at what is unfolding in front of hundreds of fellow customers, many of whom appear to be recording proceedings on their phone.
The footage was shared to Twitter by Madame_Fossette. At the time of writing, the video has been viewed 3.1 million times, earning over 58,000 likes and nearly 10,000 retweets. It can be watched here.
Several comments accompanying the clips appear to suggest the footage was filmed in South Africa but this has not been confirmed.
In the clip, the woman can be seen shaking her head before appearing to plead with the man to stop. He remains down on one knee, however, as people continue to watch. Eventually she storms out of the restaurant with the man following soon after.
A shorter video of the same incident was also posted to TikTok by squaaauchy, showing the proposal from a different angle further back in the line. In this version of the video, more customers can be seen filming while a restaurant worker also appears to be filming the incident on their camera.
At the time of writing, this video had racked up over 778,000 views. It can be watched here.
In both instances, the footage has been greeted with shock and dismay by those commenting on social media—though that's hardly a surprise.
While public proposals might seem like a good idea, a study commissioned by the ScienceOfRelationships.com found the concept of popping the question in front of other people was in fact deeply unpopular. Of the 400 participants polled as part of the study conducted by the University of Texas, just 15 percent said they would prefer a public proposal with 69 percent in favor of keeping things entirely private.
The man's decision to propose in public drew widespread criticism among those commenting on Twitter. Eazystatic45 said "Public proposals are kinda manipulative" with SimplySipho agreeing, writing: "I have a feeling that he knows very well why she declined the proposal and he was trying to push the envelope hard."
TiffyCrystal concurred, commenting: "i wouldn't be brave enough to say no in that situation" Jules_theartist added: "this is embarrassing for everyone involved." On TikTok, the comments were similarly critical with tr4shsn0t stating that the man was "setting himself up for failure" by popping the question there and then. "Even in a walk in the park was better," charlie_bs.5 added.
Of course, for many it was the decision to do it in a McDonald's that proved the real kicker. For Qhasi2 on Twitter the "main issue" they had with the video was the man's choice of venue. "Like you're proposing to me at a packed McDonald's because?"
Heyyitsjanea was similarly baffled, writing: "Man proposed at a McDonald's and expected her to say...yes?? Does he think he's in the Tyler Perry cinematic universe?"
Jules_theArtist said: "Proposals don't have to be extravagant but McDonald's in front of a crowd?!" jossyyb added: "what the hell was he thinking?" Veryimportantblackie commented: "I would NEVER propose at a fast food restaurant." sheluvsfzy asked: "why in McDonalds?"
MphuthiSiphiwe meanwhile concluded on Twitter: "He was trying to be TV romantic. Real life pans out differently. It explodes in your face."
Newsweek has contacted the original posters for comment.