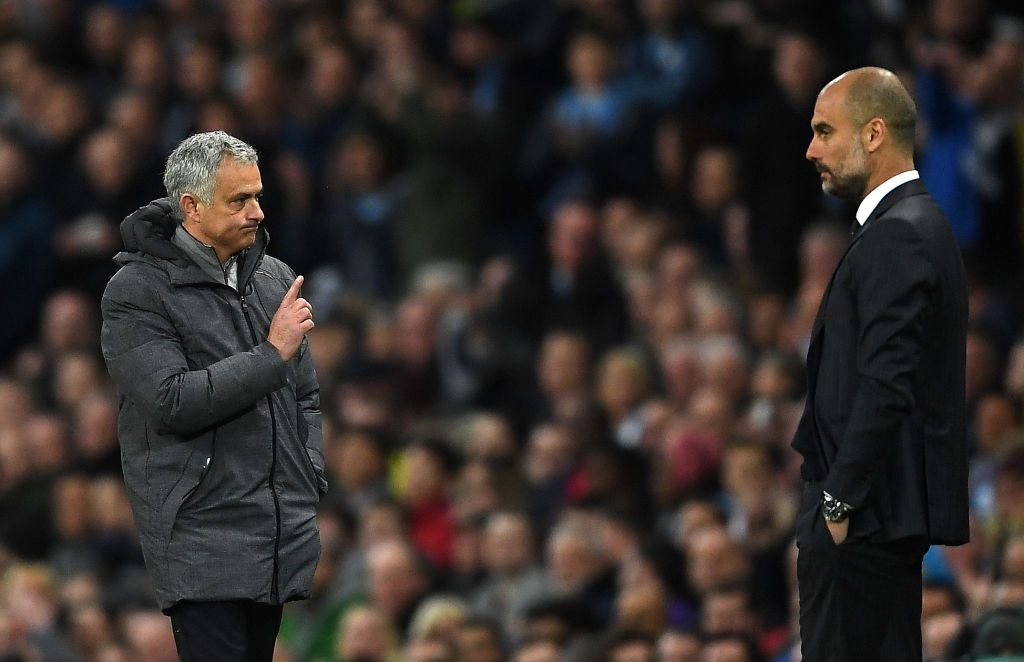 When Pep Guardiola decided to leave Barcelona in 2012 and take a sabbatical from football, one man was believed to be the reason behind it. Jose Mourinho's arrival at Real Madrid did disrupt Barcelona's domination but it wasn't necessarily the results on the pitch that had affected Guardiola.
The Spaniard was said to have grown tired of Mourinho's antics. Four games in two weeks between the two teams culminated in Guardiola giving his often-quoted press conference where he sardonically described Mourinho as "the fucking boss" when facing the media.
Guardiola had had enough, and would spend the next 12 months relaxing. Now that the two men are back in the same league again—Guardiola at Manchester City and Mourinho at Manchester United—history may be repeating itself. The pressure may have grown and one of the men may be giving in. But, this time, it's Mourinho. And, this time, it's down to how rampant City and Guardiola have been.
Related: Has Jose Mourinho given up on Manchester United already?
After a turbulent first season at Old Trafford, Mourinho ended the campaign positively. United had three trophies to its credit—even if that didn't include the Premier League or FA Cup—and the club was back in the Champions League. Then, United started the new season well, hanging on the coattails of City in the league table. But then came the draw to Liverpool and defeats to Huddersfield and Chelsea, and United was suddenly eight points behind City.
After losing at Stamford Bridge on Sunday, Mourinho put on a strong front, insisting that there was still plenty of time for his team to gain on City. "We are second—not fifth, sixth or seventh or eighth," he said. "We have 18 teams in a more difficult position than we have. Eight points is eight points."
But there are concerns at Old Trafford, according to The Sun, that Mourinho will give in, that he believes his team is not strong enough to compete with Guardiola's City, and that he will quit for Paris. Mourinho has already given a wink and a nod toward the French capital and PSG's Qatari owners.
Related: Alvaro Morata tells Newsweek he could have joined Man United and Mourinho still messages him
Speaking to French television last month, Mourinho said he was not planning on finishing his career there. "The only thing I can say is that I'm still a coach with worries, with ambitions and with the desire to do new things. And I don't believe... no, I'm sure that I won't end my career here," he said.
Mourinho then went on to speak effusively about the French capital and the project at PSG. "The other day," he said, "my son who lives in London went to Paris and not to Manchester to watch the match." Asked why his son chose that option, the United manager added: "Because at the moment in Paris there is something special. Magic, quality, youth, it's fantastic."
Paris has reportedly been quick to act on Mourinho's words. According to the Manchester Evening News, PSG has contacted the coach's agent Jorge Mendes about Mourinho's future. Five years after Mourinho seemed to push Guardiola out of Spain, could the reverse be happening in the English Premier League?