Senator Marco Rubio, a Florida Republican, rejected a claim by former President Donald Trump that former Vice President Mike Pence had the power to overturn the results of the 2020 presidential election.
Pence made the rebuke during a speech to a Federalist Society event on Friday. In the aftermath of Trump's loss, the former president and other Republicans pushed claims—without evidence—that widespread fraud was the only reason why he lost. Some—including those who participated in the violent January 6 riot—also believed that Pence should have overturned the election.
But during his speech, Pence said he "had no right" to do so.
"The presidency belongs to the American people and the American people alone," he said. "And frankly, there is no idea more un-American than the notion that any one person could choose the American president. Under the Constitution, I had no right to change the outcome of our election."
His remarks later drew the ire of Trump, while also receiving praise from some Republicans.
Rubio, during a Sunday morning appearance on CBS News' Face the Nation, backed Pence in the ongoing feud. He noted that if the situation was reversed, he would not want a Democratic vice president to overturn election results.
"Well, if President Trump runs for reelection, I believe he would defeat Joe Biden. I don't want Kamala Harris to have the power as vice president to overturn that election. That's the same thing that I concluded back in January of 2021," he said.
The senator, who ultimately voted to certify Biden's win, added that he considered this line of thinking when voting on whether or not to certify the election results in key swing states.
"You know, when that issue was raised, I looked at it, had analyzed it and came to the same conclusion that vice presidents can't simply decide not to certify an election."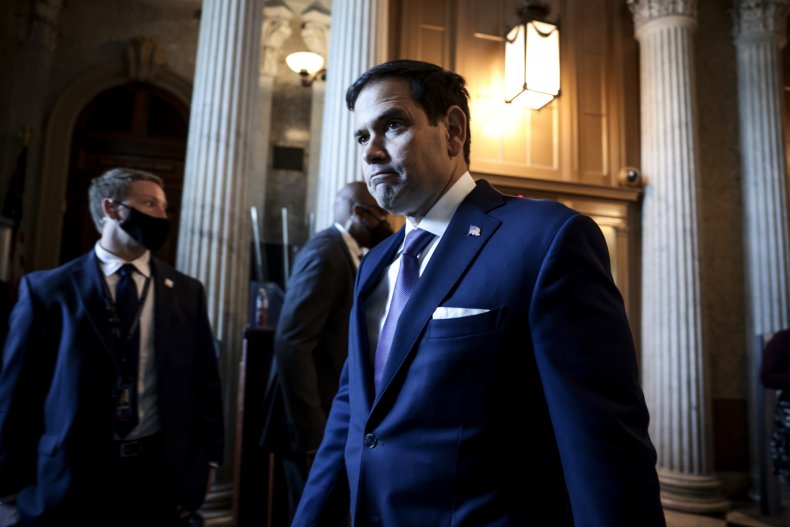 Host Margaret Brennan also pressed him about his thoughts on the Republican National Committee's defense of the rioters, who accused Democrats of leading a "persecution of ordinary citizens engaged in legitimate political discourse."
Rubio voiced support for prosecuting "anybody who committed crimes on January 6" but also slammed the committee for investigating the riot as a "partisan scam."
Even as Rubio and some Republicans backed Pence, the former vice president's comments received pushback from Trump and his allies. Trump wrote in a statement that "the vice president's position is not an automatic conveyor belt if obvious signs of voter fraud or irregularities exist," repeating the unproven claims of widespread voting fraud.
Newsweek reached out to Rubio's office for comment Sunday. This story will be updated with any response.