Marco Rubio Slammed for Calling Same-Sex Marriage Bill 'Waste of Time'
Republican Senator Marco Rubio faced social media backlash Wednesday for reportedly calling a House bill that would codify protections for same-sex marriage into federal law a "stupid waste of time."
CNN's Manu Raju shared Rubio's characterization of the Respect for Marriage Act in a tweet Wednesday afternoon, saying that the Florida lawmaker told him he would be voting against the legislation. His description of the bill angered Twitter users who took to the social media platform to voice their criticism.
"Always nice to hear that protecting my rights and the rights of LGBTQ+ people is a waste of time," tweeted Robert Garcia, who is running for a U.S. House seat in California. "Marco Rubio's tenure in the Senate is a colossal and massive waste of time and it's time to elect @valdemings."
Garcia was referring to U.S. Representative Val Demings from Florida, who is running to unseat Rubio in the Senate. Demings tweeted Wednesday afternoon that Rubio "doesn't believe in marriage equality," but she "voted to protect it."
The House of Representatives passed the Respect for Marriage Act Tuesday in a 267-157 vote, with all Democrats voting for the measure and 47 Republicans joining them. The bill will next head to the Senate, but it remains unclear whether Democrats will be able to get the 10 Republican votes they need in order to bypass a potential GOP filibuster and pass the measure.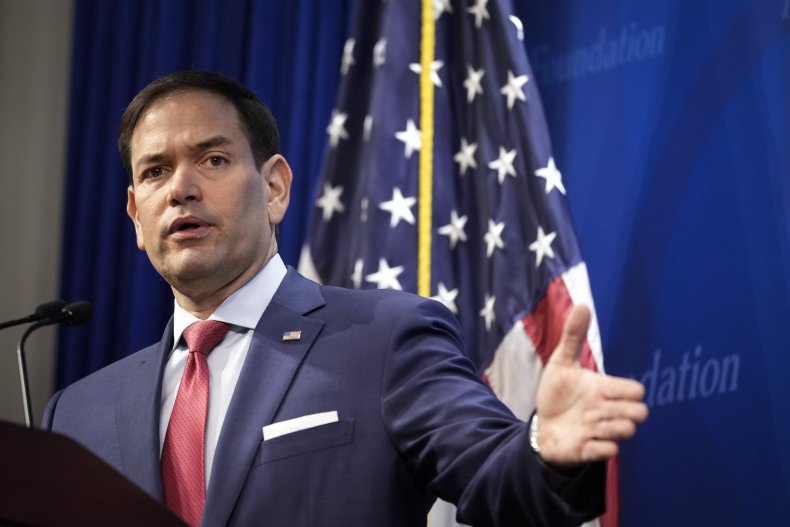 Rubio's comment to Raju confirms that Democrats cannot count on his vote to advance the bill in the evenly divided Senate.
He told Punchbowl News' Christian Hall he didn't know why the bill was being pushed and that "there's no threat" to the status of same-sex marriage in America.
Concerns that protections for same-sex marriage could be targeted have been on the rise ever since Supreme Court Justice Clarence Thomas issued a concurring opinion when Roe v. Wade was overturned that suggested the Court should reconsider all of the "substantive due process precedents, including Griswold, Lawrence, and Obergefell."
Obergefell v. Hodges, which was decided in 2015, legalized same-sex marriage nationwide.
Rubio has said that marriage regulations should be left up to the states rather than the federal government.
In December 2015, Rubio told NBC's Meet the Press: "If you want to change the definition of marriage, then you need to go to state legislatures and get them to change it, because states have always defined marriage. And that's why some people get married in Las Vegas by an Elvis impersonator. And in Florida, you have to wait a couple days when you get your permit. Every state has different marriage laws."
The Poynter Institute's PolitiFact fact-checking project determined this remark to be "half-true." It said that while states "are generally in charge of administering marriage within their boundaries," the Supreme Court had overturned several state marriage regulations prior to the Obergefell ruling that it found to be unconstitutional.
Tristan Snell, a lawyer and founder of MainStreet.law, was among those who criticized Rubio for his voting plans and remarks on the same-sex marriage legislation.
"So Marco Rubio thinks that the rights of 20 million LGBTQ Americans -- including 886,000 Floridians -- are a 'stupid waste of time,'" he tweeted. "Remember in November."
The Human Rights Campaign Foundation released a report in December 2021 that analyzed the results of the U.S. Census Bureau's Household Pulse Survey and found that at least 20 million adults in the country could be part of the LGBTQ+ community. It was not immediately clear where Snell got the 886,000 figure for Florida's LGBTQ+ population.
Lawyer Aaron Parnas, in a message similar to Garcia's, tweeted: "Marco Rubio just said that he will vote NO on the bill to codify the right to same sex marriage. Val Demings just voted YES on that same bill. Vote accordingly."
Updated 7/20/22, 4:15 p.m. ET: This story was updated with additional comments from Rubio.