MTG Role Puts Milo Yiannopoulos' Pedophilia Remarks Back in Spotlight
Despite Representative Marjorie Taylor Greene accusing colleagues of supporting pedophiles or "groomers," the Georgia Republican hired Milo Yiannopoulos, the right-wing agitator accused of condoning pedophilia, as an unpaid intern for her office.
Yiannopoulos, a British far-right commentator and former Breitbart News editor fell from grace in 2017 after comments he made calling sex between older men and 13-year-old boys "life-affirming" resurfaced online. And now, many have picked up on the hypocrisy of the Georgia Republican adding him to her team.
"I think particularly in the gay world, and outside the Catholic Church—if that's where some of you want to go with this—I think in the gay world some of the most important, enriching and incredibly life-affirming, important shaping relationships very often between younger boys and older men," Yiannopoulos said on the podcast. "They can be hugely positive experiences."
In the video, Yiannopoulos claimed it wasn't pedophilia as some 13 years olds are "sexually mature," saying "we get hung up on this child abuse stuff."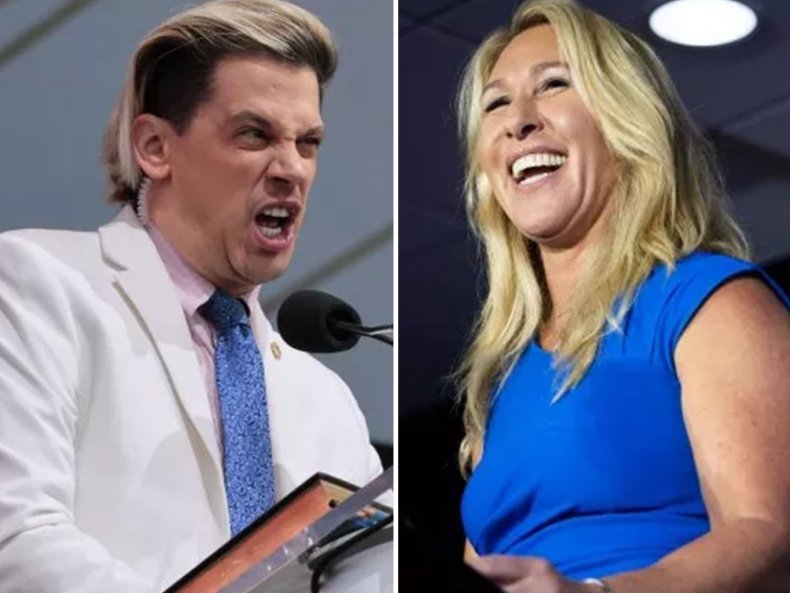 When confronted by the podcast host about the fact that it sounded like he was defending child molestation, the far-right commentator replied: "And you know what, I'm grateful for Father Michael, I wouldn't give nearly such good head if it wasn't for him."
In the social media storm that followed the emergence of these comments, Yiannopoulos resigned from Breitbart News and lost a book deal. But if his career seemed over then, now it has somehow picked up again—even though he's been downgraded from editor to unpaid intern.
"Mummy always said I'd end up in government!" 37-year-old Yiannopoulos wrote on his Telegram account on Monday, announcing his new role at the congresswoman's Georgia office. "I've finally been persuaded out of retirement. But my skills are a bit rusty, so the best role I could land was an unpaid internship with a friend," he added. "Pray for me!"
It would appear that over time Yiannopoulos has also re-adapted his image to match with the proclaimed beliefs of Greene. The controversial congresswoman and conspiracy theorist has often lashed out against the LGBTQ+ community, recently saying that Pride month "needs to end" after mentioning baseless claims that straight people risk extinction.
During the confirmation hearing of Supreme Court Justice Ketanji Brown Jackson, Greene accused the entire Democratic Party and a group of a few Republicans of supporting pedophilia, solely because they voted in favor of the judge who had been falsely accused by Senator Josh Hawley of allegedly being lenient when sentencing child pornography defendants.
"Murkowski, Collins, and Romney are pro-pedophile," Greene tweeted on April 4. "They just voted for #KBJ."
After his comments defending pedophilia emerged, Yiannopoulos came out as "ex-gay" and comparing being gay to an addiction. Since then, he has promoted conversion therapy, which he pledged to revive as a practice. In an interview with LifeSiteNews last year, he said about being gay: "You never stop being an alcoholic."
Talking about his then-husband (it's unclear whether the two are still married), he said: "The guy I live with has been demoted to housemate, which hasn't been easy for either of us."
Greene is reportedly embracing the controversy coming with hiring Yiannopoulos.
"So I have an intern that was raped by a priest as a young teen, was gay, has offended everyone at some point, turned his life back to Jesus and Church, and changed his life. Great story!," Greene said in a statement provided to news outlets.
Newsweek reached out to Representative Greene and Milo Yiannopoulos for comment.