Marjorie Taylor Greene Claims Mitch McConnell 'Dirty Politics' at Work Against Herschel Walker
Representative Marjorie Taylor Greene, a Georgia Republican, claimed that Senate Minority Leader Mitch McConnell, a Kentucky Republican, was playing "dirty politics"—after a former chief of staff for the top GOP lawmaker shared a negative article about former NFL player and potential Republican Senate candidate Herschel Walker.
Josh Holmes, a former McConnell aide who stopped working for the senator in 2015, posted a link to an article published by the Associated Press. The article outlined allegations against Walker, a Trump-backed potential candidate to run for the Senate in Georgia. Citing public records, the article alleged that Walker repeatedly threatened to kill his ex-wife and "exaggerated his success."
"This is about as comprehensive a takedown as I've ever read. My lord," Holmes tweeted on Friday.
Then on Saturday morning, Greene retweeted Holmes' post, claiming that McConnell was behind the well-reported article published by AP.
"This is @LeaderMcConnell's organized opposition research leak to dirty up @HerschelWalker and shared by Josh Holmes - McConnell's former Chief of Staff and campaign manager. This is how dirty politics work," the congresswoman tweeted. "McConnell doesn't want Herschel bc he'll be a champion for the people."
Shortly later, Holmes retweeted Greene, dismissing her claim. "Oh FFS. RIP my menchies," he wrote.
McConnell has previously condemned Greene, a staunch Trump loyalist and conspiracy theorist, saying the congresswoman is "not living in reality." The Senate minority leader also condemned Trump for inciting the January 6 insurrection against the U.S. Capitol, leading the former president to repeatedly attack the prominent Republican lawmaker.
Greene was stripped of her House Committee assignments in early February, in a vote supported by 11 fellow Republican lawmakers. The decision came after bizarre old social media posts emerged in which Greene promoted wholly discredited conspiracy theories and appeared to endorse violence against Democratic lawmakers. Before that vote, McConnell made his views on the freshmen Republican congresswoman clear.
"Loony lies and conspiracy theories are cancer for the Republican Party and our country," he said in a statement at the time. "Somebody who's suggested that perhaps no airplane hit the Pentagon on 9/11, that horrifying school shootings were pre-staged, and that the Clintons crashed JFK Jr.'s airplane is not living in reality. This has nothing to do with the challenges facing American families or the robust debates on substance that can strengthen our party."
Although McConnell voted to acquit Trump during the Senate impeachment trial in February, he directly blamed the former Republican president for allegedly inciting the violent mob that attacked the U.S. Capitol. He also suggested Trump should face criminal prosecution for his actions.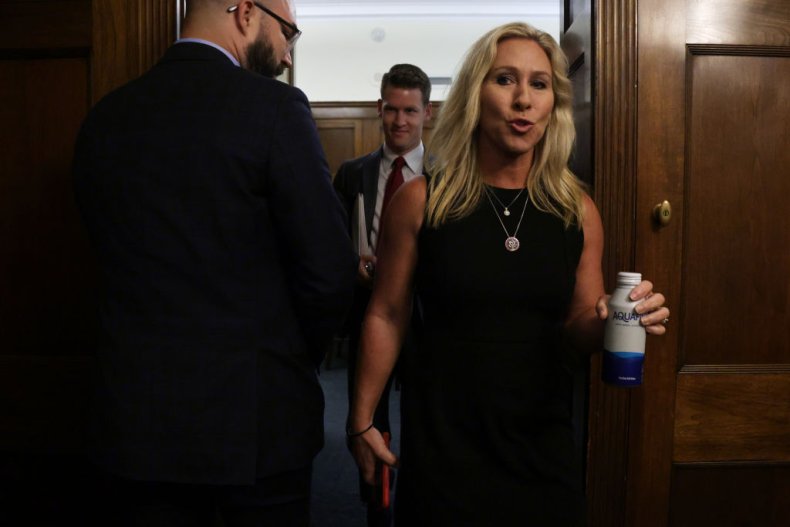 "There's no question, none, that President Trump is practically and morally responsible for provoking the events of the day," he said on the Senate floor at the time. "The people who stormed this building believed they were acting on the wishes and instructions of their president."
The former president responded by calling McConnell a "dour, sullen, and unsmiling political hack." Trump has gone on to consistently knock the Republican Senate leader during speeches over the past few months.
Newsweek reached out to McConnell's press representatives for comment, but did not immediately receive a response.