Representative Marjorie Taylor Greene has said that "history" proves that Democratic President Joe Biden is leading a "communist takeover" of the United States.
"It's a communist regime. It's been a communist takeover of our country, and it happened on January 21. And that is who Joe Biden is," the Georgia Republican said during an interview on Steve Bannon's War Room. Bannon's program airs on Real America's Voice, a right-leaning media network.
Greene's reference to January 21 refers to Biden's first full day in office following his January 20 inauguration.
Bannon told Greene that the mainstream media would use her statement to claim that "she's crazy." He added, "Back up why you think they're Marxists and communists. Why? What's your evidence for that?"
Greene responded, "The evidence? Study history. Simply study history and you can see how they behave."
Greene didn't offer any historical comparisons. However, she said that Biden's push towards electric cars will "put us on our knees to China." She also claimed that Democratic House Speaker Nancy Pelosi's January 6 Commission seeks ultimately to place Republicans like Greene, Trump, House Minority Leader Kevin McCarthy and Alabama Representatives Mo Brooks in jail.
Greene has long claimed that Biden is a communist whose policies will benefit China. "Communist China has their President ... China Joe," Greene tweeted on Biden's inauguration day. She and other right-wing figures think that Biden's policies towards China will enable the country to overtake the U.S. on the world stage.
Other conservatives, Republican politicians, and right-wing figures have long claimed that Biden and his administration are also communist and embracing the so-called "radical left."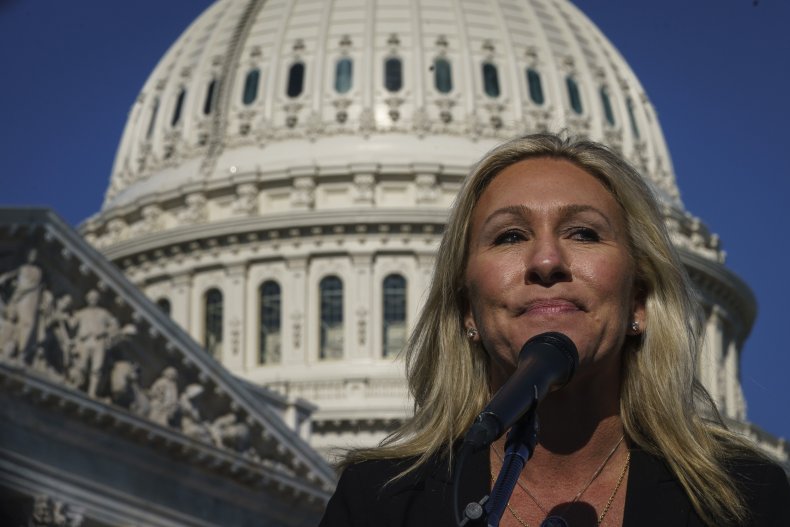 In late February, Louisiana Senator John Kennedy, a Republican, called Biden's $1.9 trillion COVID-19 stimulus bill "left of Lenin."
Marxism and communism advocate for a society in which all property is publicly owned and distributed by the government. Each person works and receives pay according to their abilities and needs.
Right-wingers commonly criticize Democratic investments in social programs, attempts to tax the wealthy, and training on racial diversity to be forms of "communism" and "cultural Marxism." Trump has said that Critical Race Theory, diversity training and the Black Lives Matter movement are all forms of "cultural Marxism" that are "un-American."
Greene also told Bannon that she supports deporting every Chinese person who is loyal to the Chinese Communist Party (CCP). She also said that the U.S. should not support businesses aligned with the CCP. In the past, she has claimed that China deliberately released COVID-19 as a bio-weapon to harm the U.S. and other economies.
Bannon is a long-time right-wing media executive and was the former White House Chief Strategist under Republican President Donald Trump.
Update (7/27/2021, 11:08 p.m.): This article has been updated to include additional context provided by Greene's office.