Ukraine's Western Arsenal Grows as MARS II Missiles Hit the Front Lines
Ukraine's arsenal of Western-supplied weapons grew on Monday as MLRS MARS II missiles arrived from Germany to Ukraine's front line as its military continues to fight back against Russia's invasion.
After Russia launched its invasion of Ukraine in late February, Western countries, including Germany, quickly coalesced their support around Ukraine. Many of Ukraine's supporters have backed the eastern European nation by sending humanitarian and military aid, including weapons such as the Medium Artillery Rocket Systems (MARS) provided by Germany.
Western weapons have been credited with boosting Ukraine's standing in the war. Russia, with one of the world's largest militaries, anticipated a quick takeover of Ukraine that was hampered by a stronger-than-expected response from Ukrainian defenders, which was further bolstered by powerful weapons supplied by other countries, including the United States.
Oleksii Reznikov, Ukraine's minister of defense, thanked Germany for supplying the new missiles in a tweet Monday.
"Third brother in the Long Hand family - MLRS MARS II from Germany - has arrived in Ukraine. Thank you to Germany and personally to my colleague #DefenceMinister Christine Lambrecht for these systems," he tweeted. "Our artillerymen salute our German partners!"
What are MARS II missiles?
MARS II rocket launch systems are a licensed copy of the American M270 multiple launch rocket systems, according to Pravda's Ukrainian news outlet. The weapons consist of 12 fiberglass missile guides and two disposable boxes of six missiles that can all be launched within one minute, Pravda reported.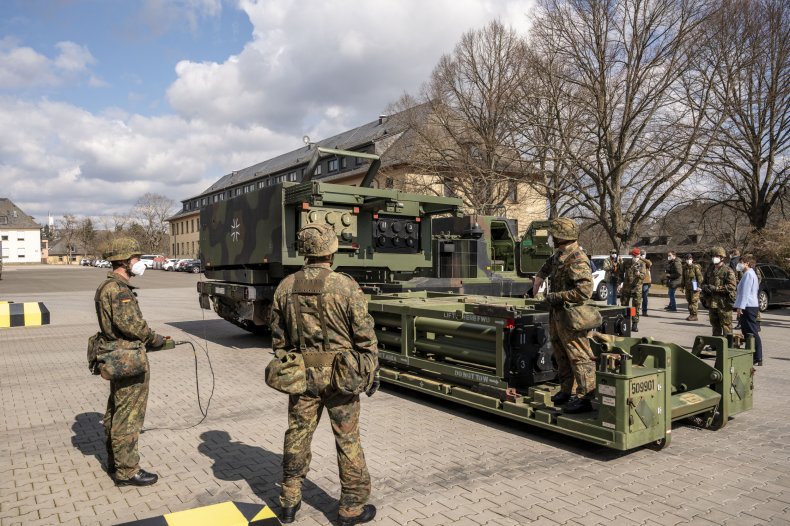 The missile range depends on the type of ammunition but can be anywhere from 38 to 300 kilometers—equating to roughly 24 to 186 miles, Pravda reported. German weapons manufacturer Krauss-Maffei Wegmann touts the missiles, which have been in use by the German military since 1990, as uniting "maximum precision with long range."
Ukraine previously received similar M270 Multiple Launch Rocket Systems (MLRS) in July. The systems are designed to produce "a large volume of firepower in a very short time against critical, time-sensitive targets," according to Military.com.
Western Weapons Bolster Ukraine
The missile delivery comes as Western weapons continue to bolster Ukraine's standing in the war against Russia. Specifically, United States-supplied M142 High Mobility Artillery Rocket Systems (HIMARS) have been pointed to as potentially turning the tide of the war in favor of the Ukrainians.
Ukraine has said the HIMARS have been used to destroy key Russian targets in recent weeks. The weapons have forced Russia to move ammunition further from Ukrainian troops and allowed Ukraine to conduct strikes against key bridges, making travel for Russian soldiers more difficult.
The supply of powerful weapons from the West has sparked concern from some Russian experts. Igor Korotchenko, editor-in-chief of the online military publication National Defense, said during an appearance on Kremlin-run news station Russia 1 that the weapons could make it more difficult for Russia to win the war.
"The scale of additional Western arms deliveries will seriously complicate our success of conducting our special military operation," Korotchenko said, according to translated subtitles in a video posted to Twitter by journalist Julia Davis.
Newsweek reached out to the Ukrainian defense ministry for comment.