Marsha Blackburn Roasted After Saying State Wants 'Wall on Southern Border'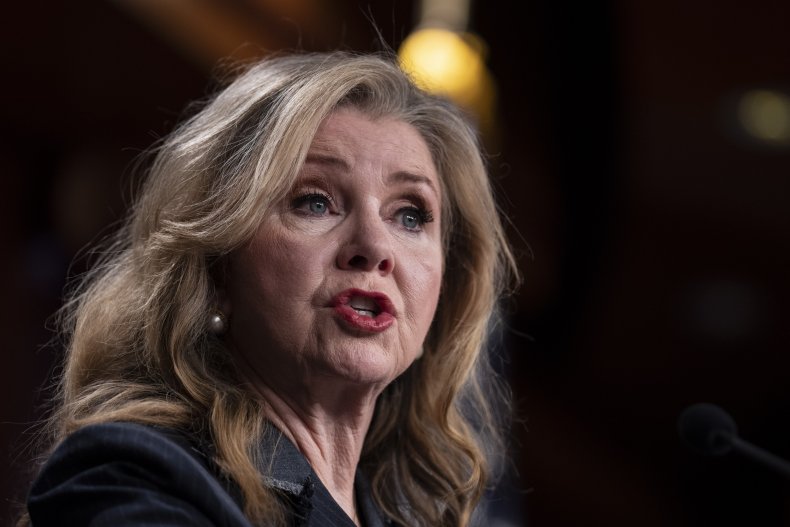 Republican Senator Marsha Blackburn of Tennessee was ripped on social media after suggesting that people from her state were demanding a wall on their southern border.
Blackburn tweeted "Tennesseans want a wall on our southern border" on Monday afternoon, prompting quick responses from many who pointed out that Tennessee is bordered to the south by fellow U.S. states Mississippi, Alabama and Georgia. Blackburn may have intended to refer to former President Donald Trump's now-canceled U.S.-Mexico border wall, a project of which she has previously spoken in favor.
However, as Tennessee is more than 1,000 miles away from the Mexican border and the wording of Blackburn's tweet left open the possibility that she was referencing a new proposal for a domestic wall between states, many of those responding to the tweet used geography as a basis to mock the senator.
"YOUR southern border is with Mississippi, Alabama, and Georgia, MORON," commentator Keith Olbermann tweeted.
"Marsha, Mississippi, Alabama and Georgia are on Tennessee's southern border," user @elsa6bean tweeted. "A wall might cause some problems. Maybe you need to look at a map from time to time."
"I agree," tweeted chef Hugh Acheson. "Georgia needs to be protected from Chattanooga."
"I'm from Alabama and I too have wanted a wall built between me and that state," tweeted Collier Fernekes, a research analyst for the Bipartisan Policy Center.
"Do you know where the southern border is, Marsha?" asked @JDCocchiarella.
"But then people from Alabama won't be able to come in," said writer Molly Jong-Fast in a reply to Blackburn's tweet.
"Why do you think we want it?" writer Skylar Baker-Jordan responded to Jong-Fast's tweet. "Marsha's from Mississippi so it'd keep the likes of her out too."
"I want a wall around New York so you can't come and see dear Evan Hansen on Broadway," writer John Biggs tweeted. "But neither of us are going to get what we want."
"When I was a TN resident years ago, I'd have joked this would protect TN from MS, AL and GA," tweeted blogger Shauna Wright. "But now that human dust bunnies like you are in office, pretty sure it's the other way around."
"Given the sheer amount of stupidity Republicans are pushing on the state, I'm surprised Mississippi, Alabama and Georgia haven't already built one there themselves," historian Kevin M. Kruse tweeted.
"Tennesseeans finally telling mississippi, alabama and georgia what's what," tweeted political scientist Ian Bremmer.
Blackburn recently faced backlash for the questions she chose to direct toward future Supreme Court Justice Ketanji Brown Jackson during her recent Senate confirmation hearings.
The Tennessee Republican demanded that Jackson define the word "woman" and accused the judge of supposedly advocating for the "progressive indoctrination of our children" and attacks on "pro-life women," among other charges.
Blackburn later dismissed the criticism as "pathetic," complaining in a tweet that the "left is doing everything in their power to shut down the tough questions that don't fit their narrative."
When contacted for comment on Monday's Twitter backlash, Blackburn's Communications Director Spencer Hurwitz sent Newsweek a link to a Cornell Law School definition of "southern border," which defines the term as referring to "the international border between the United States and Mexico."
Update 4/12, 9:43 p.m. EST: This article has been updated to reflect that Hurwitz sent Newsweek a link to a legal definition of "southern border" when reached for comment.