'The Masked Singer': All the Clues About the Yeti's Identity and Who Fans Think It Is
The Masked Singer is down to its final six and alongside contestants such as the Black Swan, Chameleon and the Russian Dolls there is the Yeti. Although he was a late addition to the Fox show as the final wildcard act, the singer is making a big impact—mostly because his identity is proving difficult to work out. Fans are still having a guess, though.
All the clues about the Yeti's identity on 'The Masked Singer'
First clues package
What he said: "As a yeti, I only come out of hiding for a mammoth reason. And here, it's to be a loud force to be reckoned with. So watch your step. Where I come from, too many yetis become monsters. But I had a secret weapon—a village of warrior women, who were always there to show me the way. Having them as motivators and teachers was golden and made me the abominable gentleman I am today. Knowing these warriors had my back gave me the confidence to go for the mountaintop when others wouldn't even dare. Yetis are usually chased from the village, but I was raised by it. Being here is a 'thank you' to them. And you know they saved the best wildcard for the last."
Three women also featured in this package.
Objects shown: a tied bundle of wood, an igloo, a sandwich with jelly and berries, three cupcakes with birthday candles, a red heart, a rabbit statue, plants and wicker.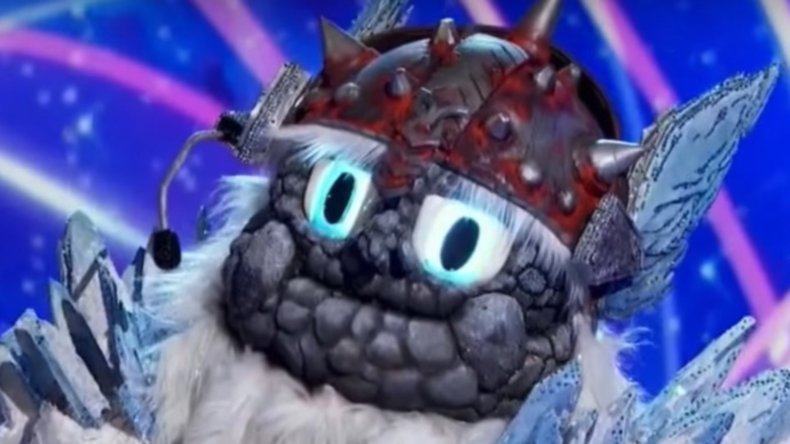 Second clues package
What he said: "Yetis may get lonely, but that's when you find self-growth. Many moons ago, I had a once-in-a-lifetime role that created an avalanche of success, but my ego caused tons of chaos and it all blew up. I blamed everyone else and I buried the feeling of failure deep inside of my icy core. I tried to forget that it happened, but I couldn't escape hearing about the wreckage. I felt so lonely. But that's when I grew and, when I got the twice-in-a-lifetime chance to do it again, I realized that I was actually to blame for the mess. So, I left my ego behind. It helped open my heart and now I hope to glide into yours with this song about that feeling I know all too well."
The Yeti does a line-dance and we see an avalanche.
Objects: a ring-toss game, cards reading A, B, C and D, a stuffed dog and hats reading "Happy New Year."
Other clues
Nick Cannon's clue: a blue T-shirt with "Aphrodite" written on it
Food delivery clue: donuts
The Yeti wore roller-skates during a performance
Judges put their first guesses to his identity in an ice box.
Songs performed
First performance: "If It Isn't Love" by New Edition
Second performance: "Lonely" by Justin Bieber & Benny Blanco
Who viewers think the Yeti is
The judges' guesses were Ray J, Justin Bieber, Taran Killam, Sisqó, Todrick Hall, Justin Timberlake and Mario. But the viewers' consensus is that the Yeti is Omarion, former member of boy band B2K.
His first package has been read as a reference to the mother and three sisters who raised him, with the candles being for each of the sisters. The rabbit and heart could be an allusion to Omarion's work on the reality show Love & Hip Hop—the heart for love and the rabbit for (hip) hop. "Ice Box" was the name of one of his solo singles.
The singer was born in Inglewood, California, which could explain the sticks in the first package and his statement that "where I come from, too many yetis become monsters." The berries in the first package could also refer to his full name, Omari Ishmael Grandberry.
Some viewers agree with the judges that the Yeti could be Ray J. He also appeared in Love & Hip Hop and the clues about strong women could be a tribute to his sister, the singer Brandy.
Jenny McCarthy, one of the judges, said she thought the"Aphrodite" T-shirt was a reference to the dating show For the Love of Ray J and the candles referred to his song "One Wish."
The Masked Singer Season 5 airs on Wednesdays at 8 p.m. ET / 7 p.m. CT on Fox.