'The Masked Singer' Fans Claim Show is Rigged as Medusa Wins Again
Some The Masked Singer fans have speculated on social media that the show is fixed for the Medusa costume to win.
The Fox singing competition returned to screens last week for Season 9, with show panelists Robin Thicke, Ken Jeong, Jenny McCarthy-Wahlberg and Nicole Scherzinger reprising their roles alongside long-time host Nick Cannon.
The Masked Singer season premiere saw legendary actor Dick Van Dyke unmasked as the Gnome and singer/songwriter Sara Evans unmasked as the Mustang.
Medusa, who fans have guessed could be Bishop Briggs or the Black Eyed Peas star Fergie, was not unmasked as she was voted the winner of the episode.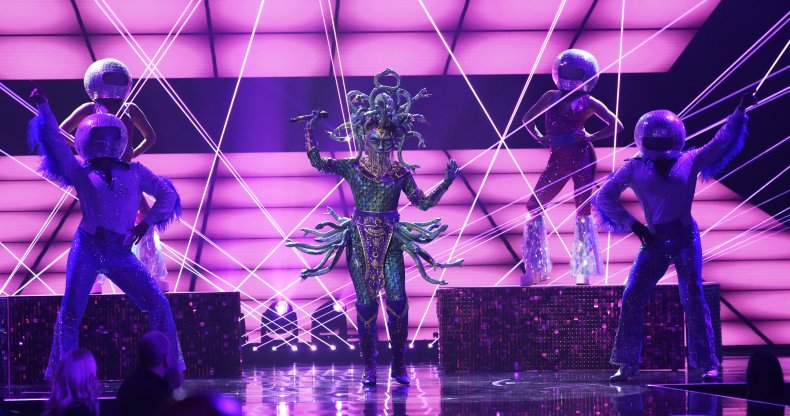 During Wednesday's episode, the second of the season, Medusa was once again successful after she was voted the winner over Night Owl, who was revealed to be musician Debbie Gibson, and Rock Lobster, who was revealed to be America's Got Talent judge Howie Mandel.
Following the news of Medusa's win, some The Masked Singer fans took to Twitter to claim that Medusa should not have been the costume to be triumphant.
"This gotta be rigged cuz Medusa shoulda been unmasked twice now #TheMaskedSinger," wrote one viewer on social media.
As another said: "I'm sorry but Medusa was the least talented out of those three singers. Hahaha the show is a rigged hot mess #themaskedsinger #maskedsinger."
"Aww hell naw this sh** is RIGGED aint no f****** WAY Medusa sound better than the Night Owl [swearing emoji] they did Jesse MCcartney and Patty labelle dirty the same way this some bullsh** #maskedsinger," added a third, particularly unimpressed, viewer.
Newsweek has contacted The Masked Singer and Fox for comment.
The Masked Singer is, of course, not set up as the winners of the episode are voted on by both the audience and panelists.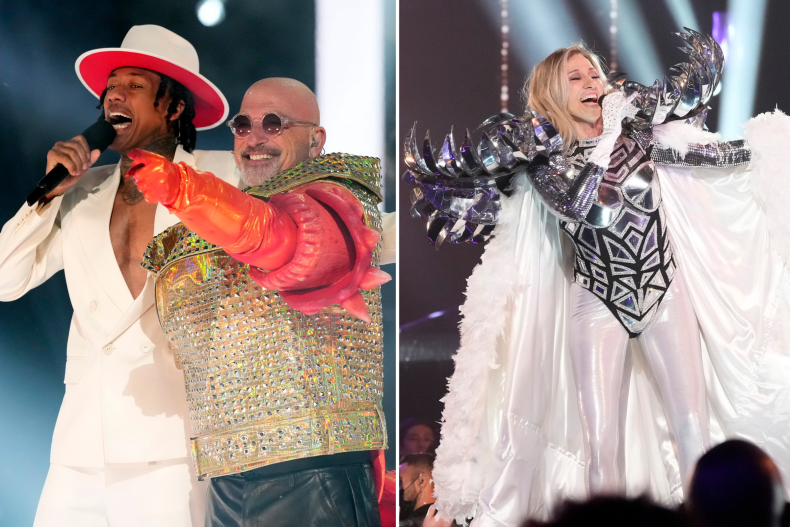 Votes are cast on an electronic device and the show operates on a weighted voting system, with the panelists' and audience members' votes worth 50 percent each, and combined to form a score.
Plenty of viewers were delighted with Medusa being sent through to the next round, which, if she does win again, will be the last round she has to complete to secure a spot in the semi-finals.
The Masked Singer Season 9 is following the new format that was introduced in 2022's Season 8, which sees the show split into three, three week-long rounds.
One contestant from each three week-long round will make it through to the semi-finals, though for this season it looks like they could be set to be joined by some returning faces.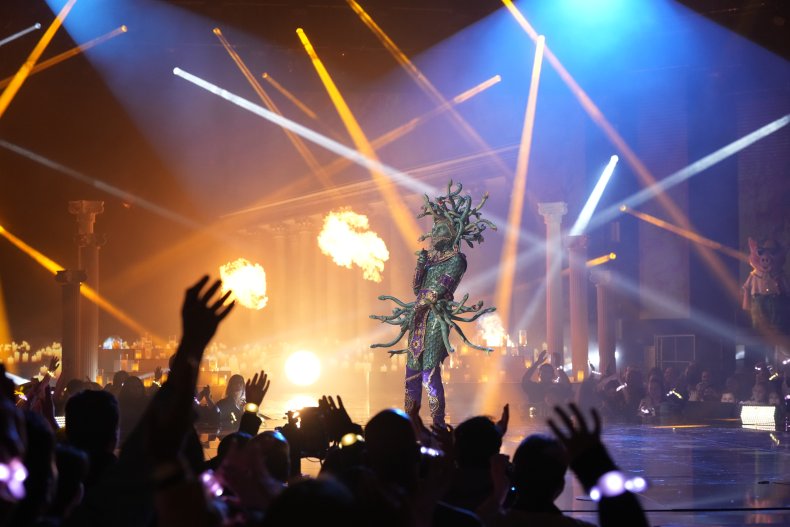 During the Season 9 premiere, host Cannon revealed a new twist, called "Ding Dong Keep It On Bell," which will allow the panelists to ring a special bell three times in the first three rounds.
Those three saved singers will then have the opportunity to battle it out on a special episode to rejoin the competition.
Taking to Twitter after Wednesday's episode, many fans expressed their delight at Medusa making it through to next week, though one fan did admit they were hoping that Night Owl could maybe be saved by the Ding Dong Keep It On Bell twist.
"I prefer Medusa advancing over Night Owl based on that last performance, but I wouldn't be mad at the bell being rang tonight," wrote one viewer.
"Congrats Medusa for moving on! #TheMaskedSinger," added another.
Last season on The Masked Singer, Amber Riley, as Harp, won the very first episode and went on to win the entire season.
Will Medusa be able to replicate the Glee actress' success? Viewers will need to tune in to find out.
The Masked Singer continues Wednesday at 8 p.m. ET on Fox.