Why Did Ken Jeong Walk Off 'The Masked Singer' Stage?
The Masked Singer on Fox finally aired an event that had long been rumored—the reveal that one of the contestants was Rudy Giuliani, the former mayor of New York and lawyer to President Donald Trump.
Giuliani's appearance on the Fox show was first reported in February, when it was also claimed that judges Ken Jeong and Robin Thicke left the stage in protest after his reveal. When the Season 7 episode finally aired this April, only Jeong was seen walking off the stage while Giuliani performed one last time as Jack in the Box.
Jeong has not yet publicly commented on the incident—though he made his feeling known by omission when he tweeted about every single other contestant while the show aired except the Jack in the Box.
The Masked Singer judge has also made his feelings very clear in the past about his feelings for Giuliani's former employer.
Why Ken Jeong walked off The Masked Singer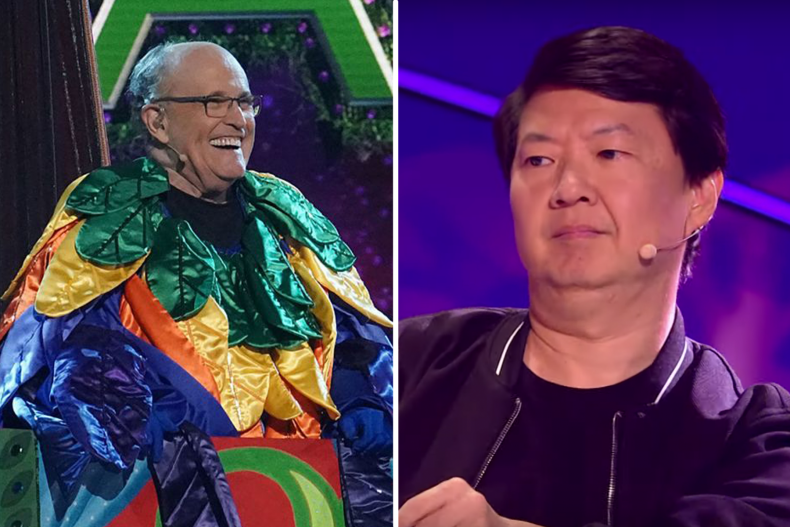 Per a source speaking to People magazine, "​​Ken felt disrespected and was livid to see Rudy was under the mask which is why he walked off. There's no way he could hide his feelings.
"Ken has been incredibly vocal about how the previous administration handled many things but especially COVID-19 and has found a lot of what they've said not only wrong but dangerous. To get someone who helped to spread misinformation and call into question the accuracy of our election and democracy to appear on his show was going to set him off."
This source also noted that Thicke left the stage not in protest of Giuliani, but because of his friendship with Jeong, though we did not see this on the broadcast.
As People's source is unnamed, Newsweek has been unable to verify those quotes. However, it is certainly true that Jeong has spoken out about medical misinformation specifically and the Trump administration generally.
Jeong, who is a fully qualified medical doctor, said on The Late Late Show with James Corden in September 2021: "I think that there's so much misinformation out there and not just by extremists—there's just so much confusion." He also featured in a segment in which he debunked COVID myths, including the much-mocked claim by Nicki Minaj that her cousin got a swollen testicle in reaction to the vaccine.
The actor and Masked Singer judge also has a history of tweeting anti-Republican sentiments. After Trump lost the election, for example, he wrote: "This isn't a victory for Democrats. This is a victory for Democracy."
A few days prior to that, he had quote tweeted Trump by writing: "You are not a true American. You are neither a Republican or Democrat. You are the worst."
He has also addressed Giuliani directly in his tweets. In April 2020, for example, he retweeted a post from Giuliani claiming that the U.S. had given money to the Wuhan Lab in 2017. Jeong commented on this with a GIF on Homer Simpson saying "I am so smart" while his house catches fire.
In another example, on November 16, 2020, Jeong posted an article from The Hill with the headline "Giuliani: Trump was being 'sarcastic' with tweet saying Biden won hill," with the comment "yeah, right."
In December, meanwhile, he retweeted a tweet about Giuliani which read: "UK News: In a historic first, COVID-19 vaccines begin distribution to citizens. US News: Trump lawyer attempting to overthrow election catches COVID via fart."
Jeong also has a history of supporting the Democrats. For example, he appeared in a video at the 2016 Democratic National Convention in which he mocked Trump's claim that his many products were made in the U.S.
The Masked Singer Season 7 airs Wednesdays at 8 p.m. ET on Fox.