Maxine Waters Says Trump 'Is Willing to Sacrifice Children'
Rep. Maxine Waters has called President Donald Trump "immoral" and a "thug," claiming he "is willing to sacrifice children" in reference to the separation of undocumented children who cross the southern border into America from their families.
Waters, who represents California's 43rd district in Congress, has clashed with Trump before and is one of his most vocal critics.
He called her "a very low IQ individual" during a Pennsylvania campaign rally in March after she demanded his impeachment. Now Waters is on the attack again in a scattergun tweet.
"Remember when I said Trump & his allies are scumbags?" Waters wrote on Twitter. "Trump is an immoral, indecent, & inhumane thug. He loves Putin, genuflects for Kim Jong-un, loves killer Duterte, wants to be in power for life like Pres. Xi, & is willing to sacrifice children. He needs 2B stopped. Impeach45."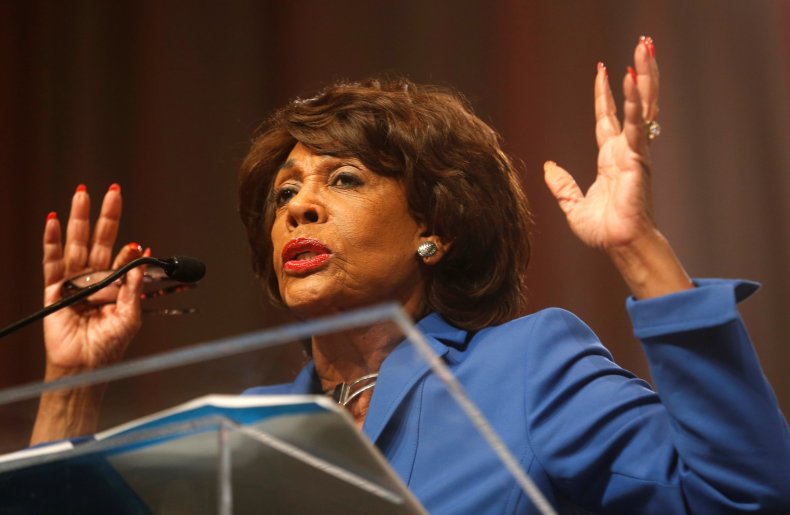 The Trump administration is under fire over its zero-tolerance policy for undocumented migrants. In April, Attorney General Jeff Sessions announced that those caught crossing the American border illegally would be taken immediately for prosecution.
Because of how that process works, when adults are taken for prosecution any accompanying children are separated from them and placed in a detention center.
Around 2,000 children have been split from their families or guardians as a result of this policy shift. Distressing reports, images and audio has emerged from those facilities showing traumatized children crying for their parents and held in cages sleeping under space blankets.
Critics of President Trump accuse him of holding these children to ransom. He blames Democrats for the children's plight, citing his struggle to get his controversial immigration reforms through Congress, in particular the U.S./Mexico border wall.
Others in his administration say they are merely enforcing the country's immigration law.
Department of Homeland Security Secretary Kirstjen Nielsen said she "will not apologize for the job we do or for the job law enforcement does for doing the job that the American people expect us to do."
"Illegal actions have and must have consequences. No more free passes, no more get out of jail free cards," she said during a speech Monday to the National Sheriffs' Association.
Conscious of public anger over the policy, and aware of the looming midterms, many Congressional Republicans have made clear to Trump they are uncomfortable with the separation of undocumented children from their families.
They are working to come up with a compromise bill that, among other immigration reforms, will keep undocumented families together when they cross the border—even if the adults are detained.
Correction: This article was updated to state that Maxine Waters represents the 43rd district in California, not the 45th.