McConnell Says 'Biggest Decision' as Leader Was Blocking Merrick Garland
Mitch McConnell says blocking then-President Barack Obama's nominee to the Supreme Court in 2016 is his single greatest accomplishment during his 15 years leading Senate Republicans.
McConnell made the remarks to supporters, The Washington Times reported Tuesday, reflecting on his tenure as Senate Republican leader. The Kentucky Republican's refusal to even consider Obama's Supreme Court nominee, Merrick Garland, enraged Democrats and aided the court's rightward drift. McConnell made the remarks as Democrats are now looking to McConnell to help broker a deal on gun control.
During the final year of his presidency, Obama nominated Garland, then a federal judge, to replace Supreme Court Justice Antonin Scalia following his death. At the time, Republicans controlled the Senate, and Obama nominated Garland, considered a moderate, to replace the conservative Scalia.
However, McConnell said the Senate, which can confirm or deny the president's Supreme Court picks, said the chamber wouldn't consider Garland's nomination, citing the impending presidential election.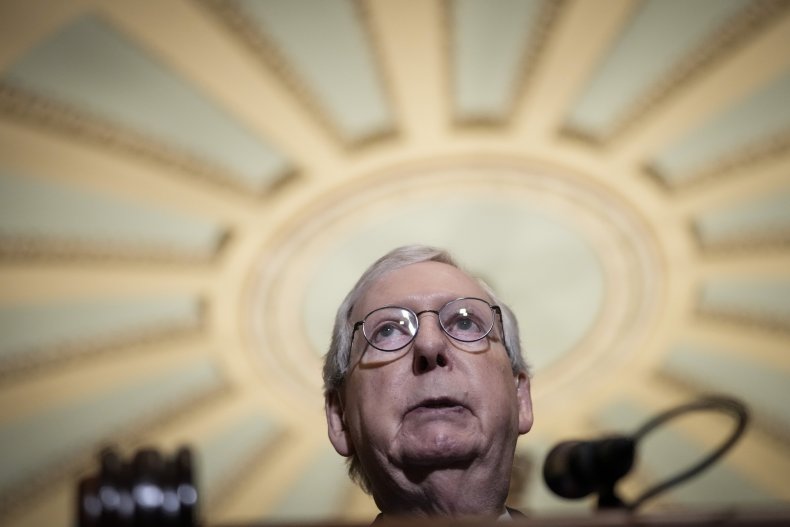 "In my time as majority leader, the single biggest decision I've ever made was actually a decision not to do something," McConnell said to supporters during an event in Kentucky, reported the Times. "And that was to fill a Supreme Court vacancy created by the death of Justice Scalia during the 2016 election."
Scalia's seat remained vacant until Donald Trump was sworn in as president in 2017 and appointed conservative jurist Neil Gorsuch with the backing of the Republican-led Senate. Trump went on to solidify the Supreme Court's 6-3 conservative majority by successfully nominating two more justices, including Amy Coney Barrett just months before the 2020 presidential election.
Democrats blasted McConnell's blocking of Garland, who was later appointed attorney general by Biden, as a power grab and floated ideas such as adding justices to the Supreme Court to dilute its conservative majority.
Despite criticism from congressional Democrats that he's unfairly unobstructed their agenda using the Senate's arcane procedures, McConnell and President Joe Biden have said publicly they like each other.
As Biden seeks to pass gun control legislation in response to recent mass shootings, the president has called McConnell a "rational" Republican.
"I think there's a recognition in their part that they—we can't continue like this," Biden said Tuesday.
White House press secretary Karine Jean-Pierre echoed those remarks, saying the Biden administration remained hopeful it could work with Republicans on bipartisan gun control.
Montana Senator Michael Mansfield currently holds the record as longest-serving party leader, serving as Democratic leader from 1961 to 1977. McConnell, 80, said he hopes to break that record, according to the Times.
"If I have one more term [as leader]—that's two years—I'll break that record, which is something I hope to be able to do," McConnell said. "But it's not just about setting records, it's not just about how long you've been around. It's whether or not you really made a difference."
Newsweek has reached out to the White House for comment.