McDonald's Manager Slammed for Punishing Workers Who Were Three Hours Late
Online commenters criticized a McDonald's manager who said in a now-viral TikTok video that he was going to write up his employees for allegedly being three hours late to work.
The video was posted to the social media platform last week by Brandon L. Fitch (@ragestreamer93), who said the whole ordeal was "f**king ridiculous." So far, it has garnered over 1 million views and thousands of comments, many from viewers accusing Fitch of being a "bad" manager.
In his video, Fitch said he arrived at work at 3:30 a.m. to "get things ready" and "get the system open." Apparently, three employees were scheduled to join him at 4 a.m., but only one showed up—the maintenance guy.
"At about 4:30 a.m., the maintenance guy basically helps me cook the breakfast [and] get things ready," he vented.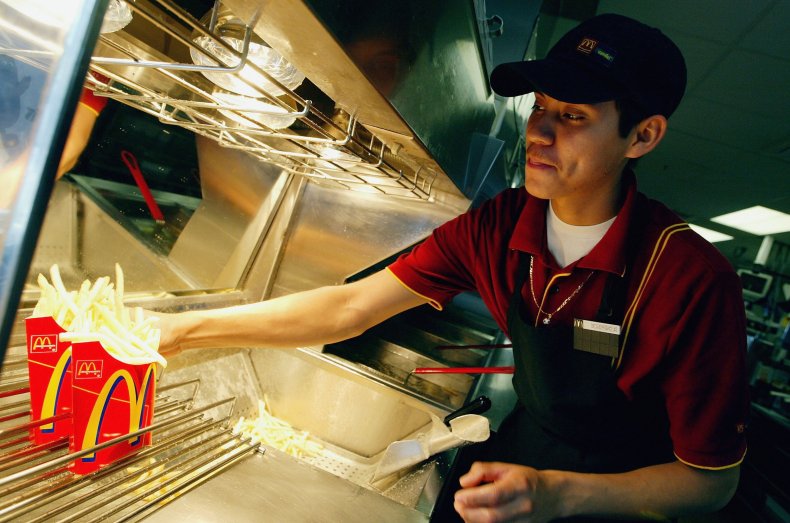 He went on to say that another employee was due to arrive at 5 a.m., but "surprise, surprise," they were also a no-show. By 6:15 a.m., Fitch claimed he and the maintenance worker were still alone.
"Hopefully my store owner doesn't come in because I'm gonna get my a** reamed, then I'm gonna ream [the employees'] a**es," Fitch said. "I'm going to ask the general manager how to write people up...because I'm gonna write every single person up for not coming in [and] not showing up because this is f**king ridiculous."
In the post's comments section, Fitch said the general manager came in around 6:15 a.m. to help run the store until his employees finally arrived.
Newsweek has reached out to Fitch for comment.
State of the Restaurant Industry
Fitch isn't the first restaurant employee forced to run things by themselves.
Earlier this month, a woman claimed she spotted a 20-year-old woman running an entire Domino's restaurant alone. Meanwhile, a man was filmed last month running a crowded Panda Express location by himself.
Staffing shortages are likely to blame for these purported incidents. The Bureau of Labor Statistics reported that 4.5 million people quit their jobs last November, the highest number recorded since the bureau began collecting data in 2000. And according to Insider, roughly 1 million of those who quit were restaurant and hotel workers.
The National Restaurant Association said the industry is slowly recovering. However, eating and drinking establishments are still down 750,000 jobs—or 6.1 percent—from pre-pandemic levels.
Workers have reportedly quit for a variety of reasons, from "concerns about hostility and harassment from customers" to low wages and poor benefits.
Viewers React
Thankfully, Fitch said his employees didn't quit; however, many commenters accused him of being a bad manager and told him he needs to look at the "bigger problem" if he wants to retain his staff.
"It's a sign, you should be talking to the owner, not the employees. Something isn't right. Pay, benefits, etc.," CJ 11-27 warned.
"If everyone no call no showed...there's a bigger problem," Sue's Zoo said.
"You're supposed to be a leader as a manager. They don't respect you or your company enough to come in at 4 a.m. to work for minimum wage," Anthony Gomez wrote.
Another user commented: "If one person no call/no shows it's the employee. If it's everyone, it's the management. They don't respect management and you need to find out why."
"Bad management usually causes that," Joshnaus said of Fitch's situation.