Meghan and Harry Royal Unity Survives for Funeral—Now the Real Test Begins
Meghan Markle and Prince Harry helped the royal family lay Queen Elizabeth II to rest after years of royal rifts and conflict—with their delicate truce repeatedly tested over 11 days of public mourning.
Princess Charlotte, 7, and Prince George, 9, appeared emotional, a tear was seen on Meghan's cheek, and Prince William and Harry put aside their differences to walk side-by-side behind Elizabeth's coffin.
The day Britain said goodbye to its longest reigning monarch, whose 70-year span as head of state saw her become one of the most popular public figures in the world, was also a day to put conflict and difficult feelings to one side.
Prince Harry wore a morning suit, denied the military uniform that symbolizes his two tours on the front line in Afghanistan, and was not allowed to salute as family members around him with less impressive military careers—or even no military deployments at all—did just that in uniforms derived from honorary military titles.
Meghan joined Kate Middleton and her children at the abbey without their husbands, 18 months after telling Oprah Winfrey that the new Princess of Wales left her in tears after a dispute at a bridesmaids' dress fitting.
Little was said between the women, at least, little that was recorded on camera, though the somber atmosphere may mean that is not particularly surprising.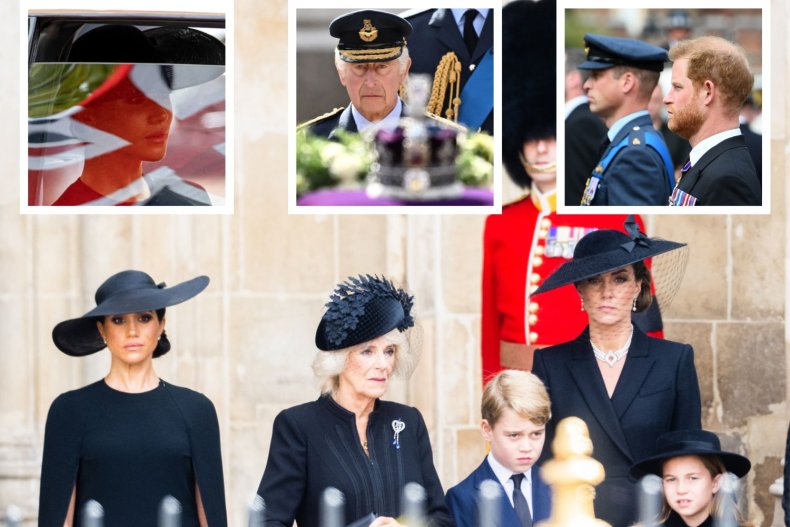 Certainly, there was little conversation not only between Meghan and Sophie, Countess of Wessex, when they shared a car arriving at and leaving the abbey but there were also only a few visible exchanges between Kate and Camilla, who were driven with Prince George and Princess Charlotte.
The day may simply have been too sad and the glare of the media spotlight too intense for small talk in front of cameras.
Meghan spent significant time in public with the royals without her husband by her side—a rare event even during her time as a working royal.
Prince Harry took part in three processions, including the second, which stretched more than an hour from Westminster Abbey to Hyde Park as part of the royal show of unity in Elizabeth's honor.
However, now that the funeral is over, public displays during a period of mourning will inevitably give way to distance for a family now living on opposite sides of the Atlantic.
Harry and Meghan return to important decisions about where their commercial projects now stand, with Spotify podcast Archetypes on hold out of respect for the queen.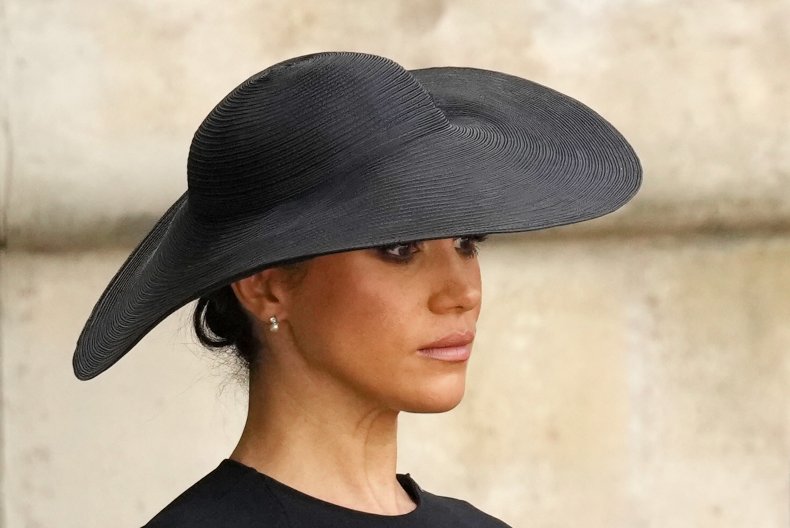 Early episodes included some subtle and some not so subtle swipes at the palace. Even if the remaining pre-recorded conversations include no broadsides against monarchy, the tone will likely have been too jovial for the aftermath of the biggest state funeral Britain has ever hosted.
The show runs on Tuesdays, which means hypothetically an episode would have come out on September 20, the day after Elizabeth's final journey to St George's Chapel, Windsor Castle, where she was interred alongside her husband Philip.
The installments that dropped in August and September were full of laughter and humor, which is perfectly palatable in normal times but would be jarring against the backdrop of a royal mourning period that lasts for seven days after the funeral.
Then there is Harry's memoir, widely expected to contain at least some criticisms of the Monarchy owing to the strongly held feelings he has already made public about his experiences trying to get help from family members while dealing with a hostile media.
The prince and Penguin Random House will have to decide whether they can stick to their original publishing schedule and if postponing is required, how long it will take for the dust to settle.
However, another question lingers in the aftermath of 11 extraordinary days of national grief in Britain.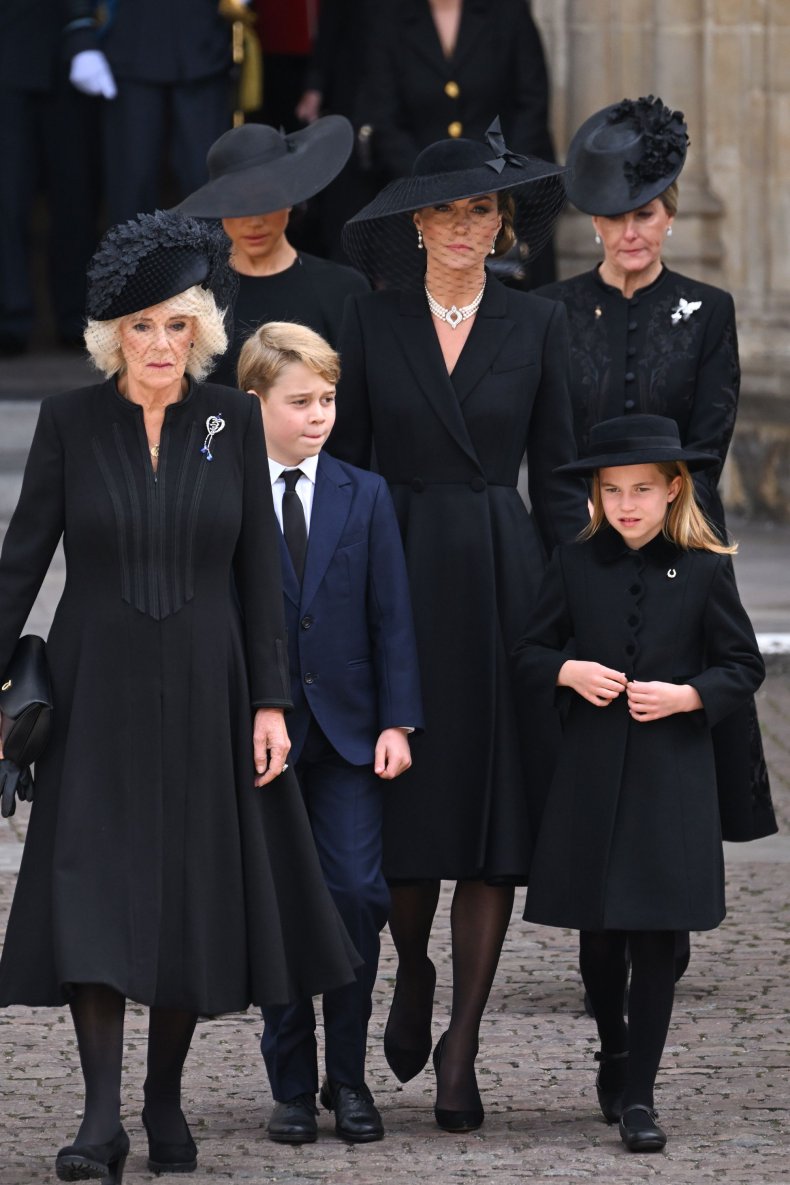 On the day the queen died and the period that followed there were many difficult moments for Prince Harry, when he was required to put personal feelings and pride to one side so that the focus could remain on Elizabeth.
However, if the past four years have demonstrated anything, it is wounds that are not addressed can fester and return even years later.
The royals may then pause to consider what feelings Harry will retain from Elizabeth's chaotic final hours.
There was the confusion over whether Meghan would join him on the trip to Balmoral while the queen was under medical supervision, difficult in and of itself, perhaps.
More difficult still that sources told The Sun how Charles asked the duchess to stay at home. Leaks to the media have long been a source of tension for the Sussexes.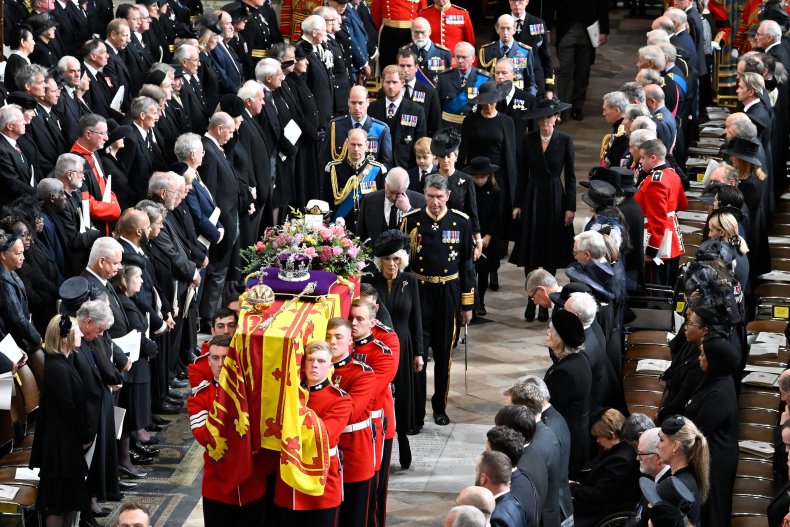 Then there was the expectation that Harry arrange his own travel, meaning he could not join Prince William, Prince Andrew, Prince Edward and Sophie on an earlier flight.
Those royals were also too late to say goodbye, but they did arrive before the palace announced her death to the world, while his plane was still in mid-air, at 6.30pm U.K. time.
There have since been reports that some media organizations found out before Harry did and no doubt after a call cascade through government and the civil service.
Charles and William then ate separately from other royals, including Prince Harry, that night and the Duke of Sussex departed first the following morning, returning to Frogmore Cottage, his Windsor home, to reunite with Meghan.
His father expressed his love for the couple in his first speech as king on the Friday, September 9, and Harry and Meghan appeared alongside William and Kate in a show of unity as they met well-wishers at Windsor on the Saturday.
Harry too pledged his support to his father in his first tribute to the queen: "And as it comes to first meetings, we now honor my father in his new role as King Charles III."
However, there was still the question of Harry's uniform, which he was not supposed to wear to official events having stepped down from royal duties, despite his two tours on the front line in Afghanistan.
Eventually Charles climbed down but it took days and, by the time a vigil where Harry would get to wear his uniform had been found, Harry already had support from such unlikely quarters as Talk TV host and ardent critic Piers Morgan.
Even then, when the uniform arrived the shoulder was missing the "ER" symbol, standing for Elizabeth Regina, despite the fact Prince Andrew's bore the emblem.
No explanation was provided and once again, the royals appeared to be treating the disgraced Duke of York better than Harry, even though Andrew had been accused of raping a 17-year-old sex trafficking victim. He denies the allegations and settled out of court admitting no liability.
Finally, there was a mix-up over whether Harry and Meghan would get an invite to a leader's reception at Buckingham Palace where they would have had the chance to meet with President Joe Biden and the first lady.
The couple were sent an invite but the palace clarified they were in fact not expected to attend because it was for working royals only.
Harry and Meghan toed the line during the mourning period and there have been no media interviews or public swipes.
However, if royal relations deteriorate again in the future, he may still have difficult stories to tell from the past 11 days. They would make unhappy reading for the new occupant of Buckingham Palace.
One of the most striking moments of the funeral was a mournful lament performed by a lone bagpipe player who marched away so that his music faded out, rather than simply stopping, symbolizing the moment the era of Britain's longest reigning monarch slipped away.
Like the piper, the time has come for Harry and Meghan to once again exit the royal stage. The task for Britain's new monarch is to try—if it is even possible—to stop the royal truce from slipping away with them.