Meghan Markle 'Doesn't Want Harry to Lose' Prince Charles—Author
Meghan Markle has acknowledged losing her dad during a conflict with the media, but she said "it doesn't have to be the same" for Prince Harry and Prince Charles.
The Duchess of Sussex hinted that there may be a glimmer of light in the future of strained royal relations during a major interview with The Cut, though her remarks were initially misinterpreted, according to biographer Omid Scobie.
Meghan invited journalist Allison P. Davis into her home and to join her on the school run for a roughly 6,500-word cover story publicizing her new Archetypes Spotify Podcast.
She was asked about royal relations, as well as a court case she filed against The Mail on Sunday related to its publication of a letter she had sent to her father, Thomas Markle.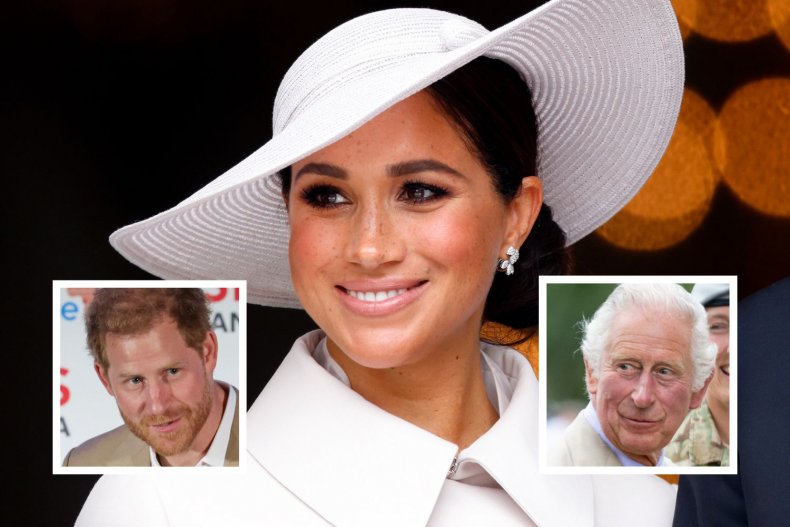 The duchess said: "Harry said to me, 'I lost my dad in this process.' It doesn't have to be the same for them as it was for me, but that's his decision."
There was some confusion in the aftermath of the interview about the meaning of the words attributed to Prince Harry.
However, biographer Omid Scobie tweeted: "There seems to be confusion in some headlines about this quote in The Cut interview. I understand that Prince Harry is actually referring to Meghan's loss of her own father, and Meghan is saying she doesn't want Harry to lose his."
A source close to Charles told Newsweek: "The Prince of Wales loves both his sons."
Meghan's comments come after Prince Harry swerved a question about whether he missed Charles and Prince William during a conversation with Today at the Invictus Games, in April 2022.
NBC's Hoda Kotb asked: "But do you miss your brother, your dad?"
Harry replied: "Look, I mean... at the moment, I'm here focused on these guys [at the Invictus Games] and these families and giving everything I can, 120% to them to make sure that they have the experience of a lifetime. That's my focus here."
Harry's memoir is expected to be published by Penguin Random House by the end of 2022 and its account of his childhood and royal life will likely have significant implications for his relationship with Charles and other royal family members.
The Duke of Sussex did make a low key dig of his own when he suggested that, unlike himself and Meghan, the royals may have been struggling with working from home together.
The Cut's article reads: "'Most people that I know and many of my family, they aren't able to work and live together,' Harry says in passing as I take a peek at their command center. He enunciates family with a vocal eye roll. 'It's actually really weird because it'd seem like a lot of pressure. But it just feels natural and normal'."
Charles, for his part, has extended a series of olive branches to his son through the media, including in a January cover essay for Newsweek when he tipped his hat to Harry's efforts to tackle climate change.
The Prince of Wales wrote: "As a father, I am proud that my sons have recognised this threat. Most recently, my elder son, William, launched the prestigious Earthshot Prize to incentivise change and help repair our planet over the next 10 years by identifying and investing in the technologies that can make a difference. And my younger son, Harry, has passionately highlighted the impact of climate change, especially in relation to Africa, and committed his charity to being net zero."
For more royal news and commentary check out Newsweek's The Royal Report podcast: