Meghan Markle's 'Archetypes' Will Return After Four-Week Hiatus for Queen
Meghan Markle's solo podcast Archetypes will resume after a four-week hiatus following the death of Queen Elizabeth II, Spotify has said.
The podcast is Meghan's first major media project to be released since she stepped down from her role as a working member of Britain's royal family, alongside husband Prince Harry, and moved to the U.S. in 2020.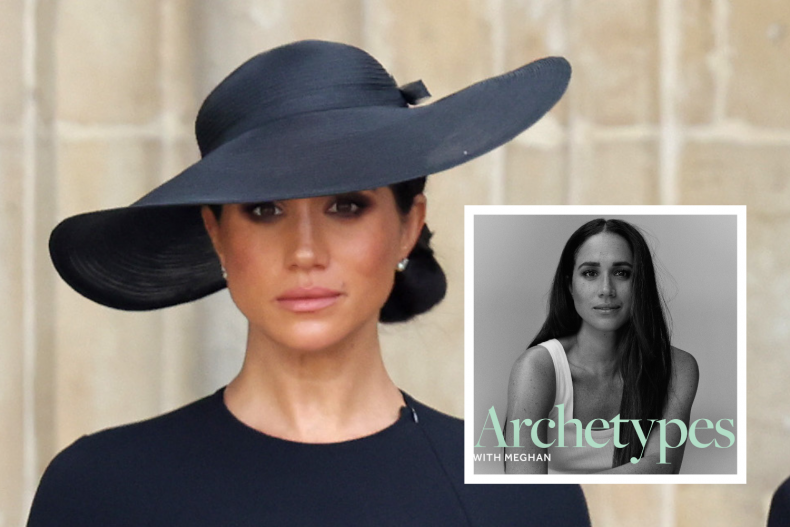 The podcast is the product of a multimillion-dollar content-creation deal signed between streaming giant Spotify and the Sussexes' production company, Archewell Audio, in 2020.
This week, Spotify said via the Archetypes programme page, that "regularly scheduled episodes will resume Tuesday, October 4," after previously stating "new episodes of Archetypes will be paused during the official mourning period for Her Majesty The Queen."
Meghan and Harry were in Britain to attend previously arranged charity events when news that the queen had died was broken to the public on September 8.
The couple canceled their remaining programme and Harry traveled to Balmoral Castle in Scotland to be with his father, the new King Charles III, and other members of the royal family.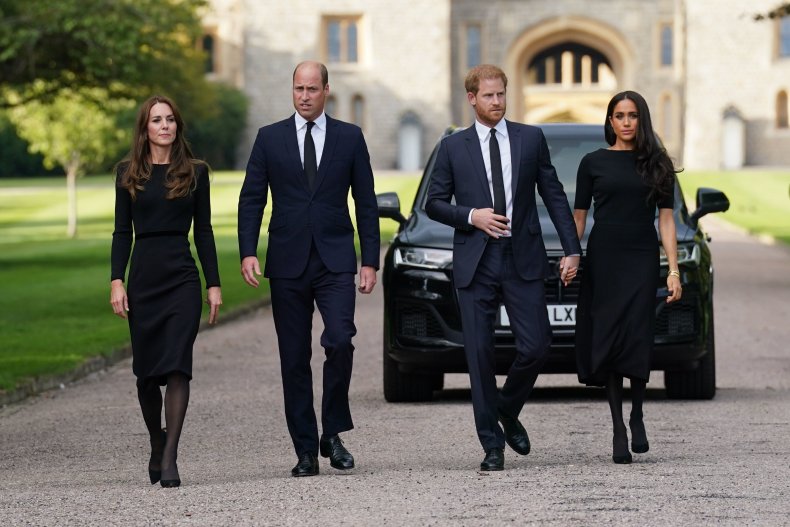 During the mourning period between the monarch's death and her funeral, Harry and Meghan both remained in the U.K. and made a series of appearances with the rest of the royal family, including William and Kate, the new Prince and Princess of Wales, to view floral tributes at Windsor Castle in Berkshire, England.
Meghan has spoken about her experiences as a member of the royal family during the first episodes of Archetypes, including the revelation that a fire broke out in the nursery of the couple's son, Archie, during their 2019 tour of South Africa.
Meghan told guest star and tennis legend Serena Williams that, despite her pleas, she and Harry had to leave their son immediately after the incident to fulfill royal obligations.
"We had to leave our baby and, even though we were being moved to another place afterwards, we still had to leave him and go do another official engagement," Meghan said.
It is expected that Meghan will share more about her experiences as a member of the royal family in the remaining Archetypes episodes.
What Is 'Archetypes'?
When Meghan's first solo podcasting project was announced in March 2022, the duchess said its aim was to "dissect, explore, and subvert the labels that try to hold women back."
In a teaser trailer, voices used words such as "skanky" and "weak" before Meghan's voice said: "This is how we talk about women: the words that raise our girls, and how the media reflects women back to us.
"But where do these stereotypes come from? And how do they keep showing up and defining our lives? I'm Meghan, and this is Archetypes: the podcast where we dissect, explore, and subvert the labels that try to hold women back.
"I'll have conversations with women who know all too well how these typecasts shape our narratives. And I'll talk to historians to understand how we even got here in the first place. Archetypes."
The podcast is released in weekly instalments with a running time of around an hour.
Following the broadcast of the first episode, the podcast hit No. 1 in the Spotify charts in both the U.S. (where it knocked Joe Rogan from his established top spot) and the U.K.
'Archetypes' So Far...
There have been three episodes of Archetypes so far, each exploring a different label used to describe women in modern society.
The first episode centered around the label of "ambitious" and featured a conversation between Meghan and guest star Serena Williams, 41, who discussed her recent decision to retire from playing professional tennis.
In the show's second episode, the duchess spoke with singer Mariah Carey, 53, about the word "diva." This episode generated a wave of articles after Carey called Meghan a diva, which the royal said in her closing remarks "stopped me in my tracks."
Episode three of the podcast explored the concept of the "singleton" in a discussion with actor, writer and producer Mindy Kaling, 43, and at the end of this, Meghan said that the next episode would focus on the label of "dragon lady" with comedian Margaret Cho, 53.