Meghan Markle's Top Givenchy Looks to Mark the Brand's 70th Anniversary
Meghan Markle caused a stir on her wedding day in May 2018 by walking down the aisle of St George's Chapel, Windsor as an American bride, marrying a British prince, wearing a French haute couture wedding dress.
Though the chief designer of the house of Givenchy who made the dress, Clare Waight Keller, was and still is British, Meghan's decision to divert from the established trend of royal brides buying British for their wedding dresses set a strong and stylish tone for the kind of royal that Meghan would turn out to be.
Givenchy has become almost synonymous with Meghan—the Duchess of Sussex—and during her working life as a member of the royal family, many of her most important and memorable outfits were bought from the same house entrusted with her bridal commission.
Givenchy has been one of fashion's heaviest hitters since its first collection in 1952. Headed by its founder Hubert de Givenchy (1927-2018), the house won favor with the world's most glamorous women, chief among them the Hollywood movie star Audrey Hepburn.
As the house of Givenchy celebrates its 70th anniversary this year, the same year that Queen Elizabeth II celebrates her own 70 years on the British throne, Newsweek looks back at a collection of Meghan Markle's most memorable Givenchy looks.
Wedding Dress, May 19, 2018
Perhaps the best known and biggest commission that Meghan gave to Givenchy was that of her wedding dress.
The pressure to deliver on such a high-profile design would worry any house but for Givenchy, and in particular Clare Waight Keller who worked with Meghan on the dress, the whole process was taken in their stride.
The resulting dress was of strict simplicity, echoing Meghan's preference for clean lines and structured silhouettes. The ivory white silk gown with graphic bateau neckline and bracelet length sleeves has become one of the most talked about royal wedding dresses ever. Following the wedding the dress was exhibited at Windsor Castle as part of a special display including the tiara Meghan wore on her wedding day.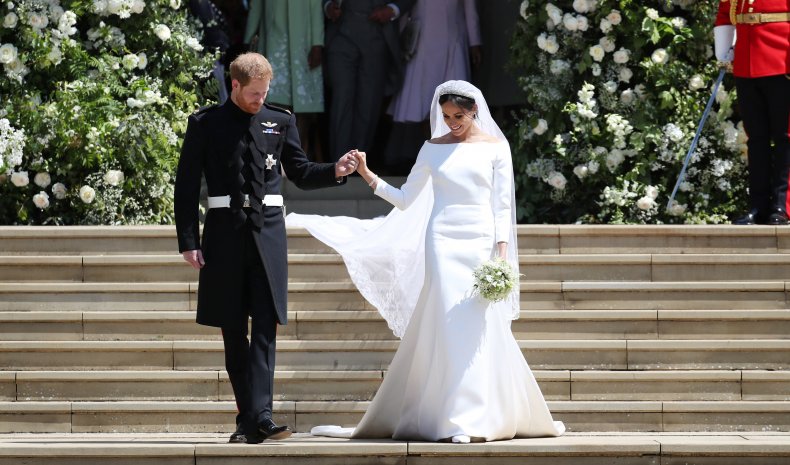 Queen Engagement June 14, 2018
Shortly after her wedding, Meghan was invited on a rare solo engagement with the queen. The pair traveled on the royal train to Cheshire in England to open a bridge and for the occasion Meghan wore a new, elegant Givenchy day dress with closed capelet detail and a black and gold belt.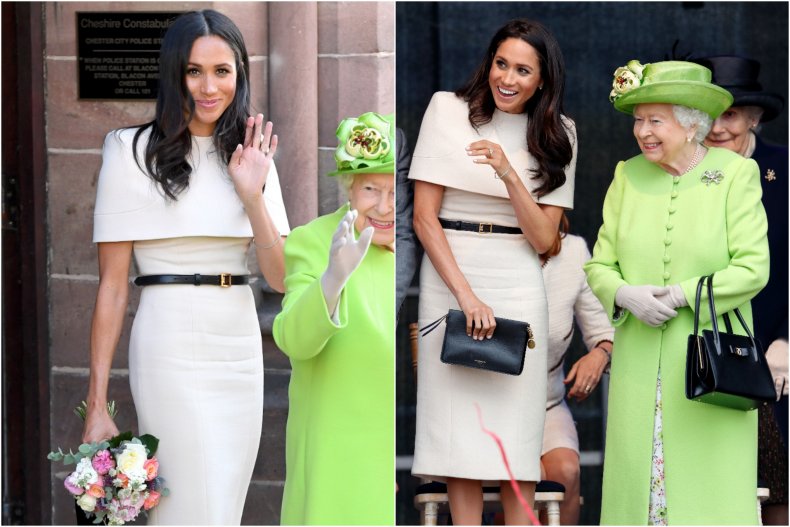 Royal Ascot June 19, 2018
Royal Ascot is one of the fashion highlights of the royal year and for her first—and so far only—appearance at the event, Meghan wore a delicate white shirt dress with elegant white piped embroidery. This Givenchy look, like many of her others, was worn with a statement belt from the brand which featured the signature Greek key motif in gold hardware.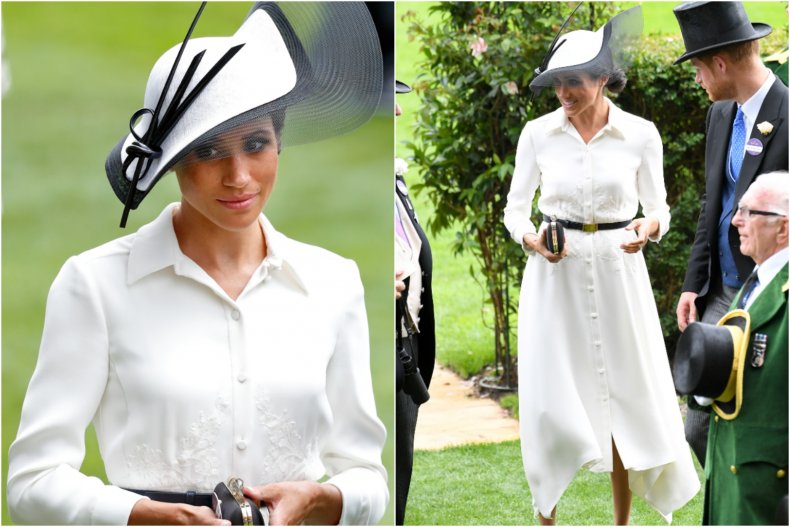 Ireland Green July 10 2018
On her first royal tour overseas in Ireland, Meghan wore a structured midi skirt with box pockets and a matching sweater by Givenchy. To honor her host nation in a way echoed over many years by successive royal women, Meghan chose an outfit in emerald green, a color closely associated with the country, and paired this with tan accessories.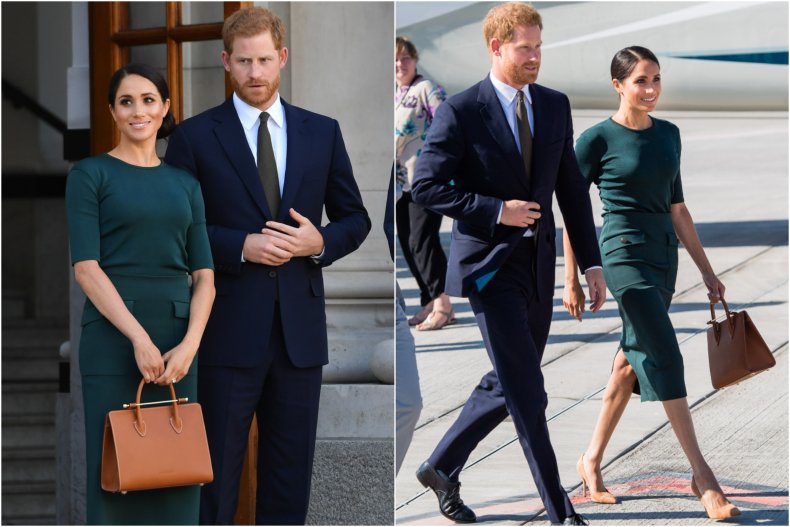 Ireland Pant Suit July 11, 2018
The Ireland tour featured another bold and memorable Givenchy look in the form of a razor sharp pant suit expertly tailored to the Duchess's form to create a show stopping look. The blazer of the suit featured Meghan's preferred length of bracelet sleeve and beneath the duchess softened the look with a plain white blouse.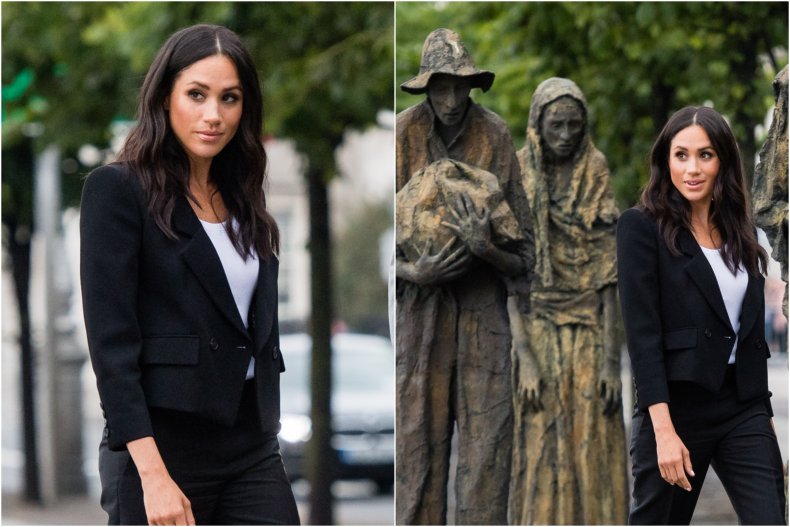 Oceania Exhibition, September 25, 2018
When Meghan stepped out alone in London for her first solo engagement since her marriage in 2018, she did so in a statement black Givenchy midi dress with a velvet bib and organza sleeve detailing. This look caught the fashion world's attention as the confident Meghan strode from her car towards the Royal Academy to view the Oceania exhibition ahead of her planned tour of the region.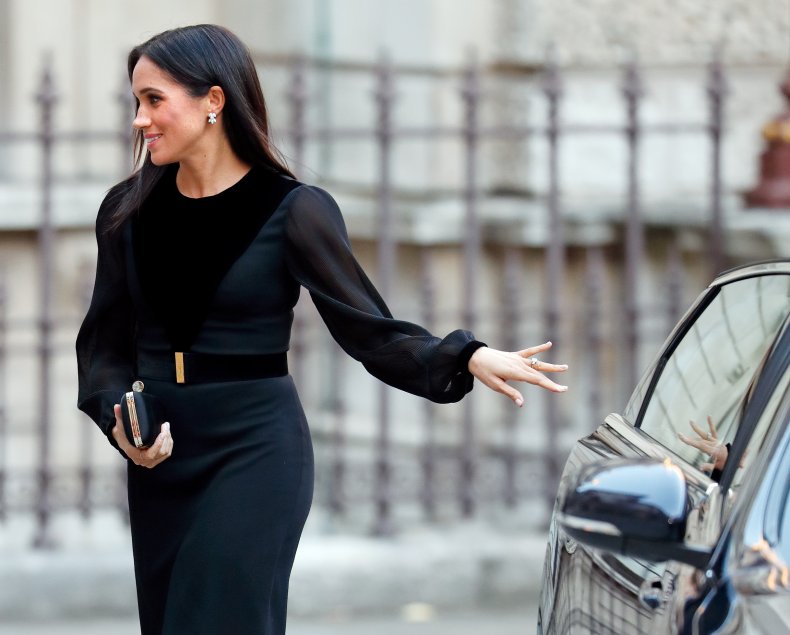 New Zealand October 31, 2018
On her first major overseas tour on behalf of the queen with Prince Harry, Meghan undertook visits to a number of South Pacific islands including Tonga as well as Australia and New Zealand. During a visit to the latter Meghan debuted a new Givenchy outfit comprising a royal blue sweater blouse with a pleated midi skirt. The interior of the pleats was made in a contrasting blue which created a fluid movement as the duchess performed a traditional royal walkabout.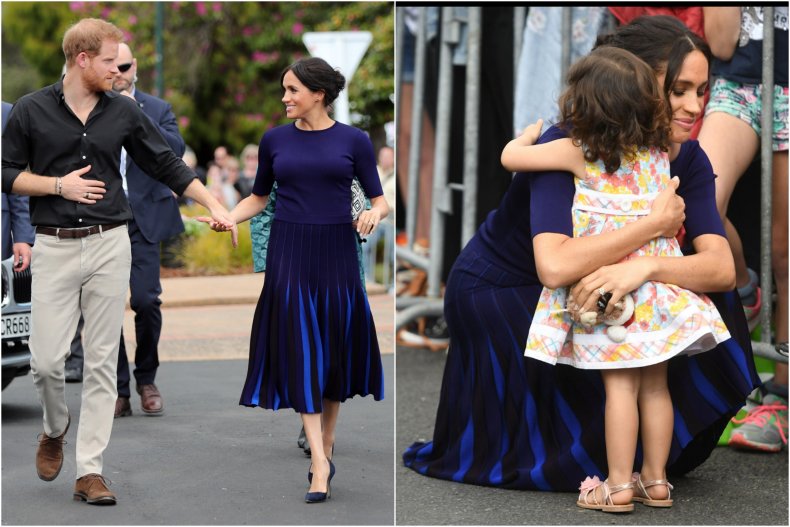 British Fashion Awards December 10, 2018
Like Princess Diana before her, Meghan knew that if there was a chance to indulge in fashion during the royal calendar, the British Fashion Awards were an appropriate occasion to do so. To honor the designer of her wedding dress, Clare Waight Keller, Meghan wore an asymmetric black silk sheath dress which highlighted her pregnant figure to its most joyful advantage. The Givenchy-designed dress was a fitting tribute to Keller, who designed it, and also was the recipient of the British Designer of the Year Womenswear Award.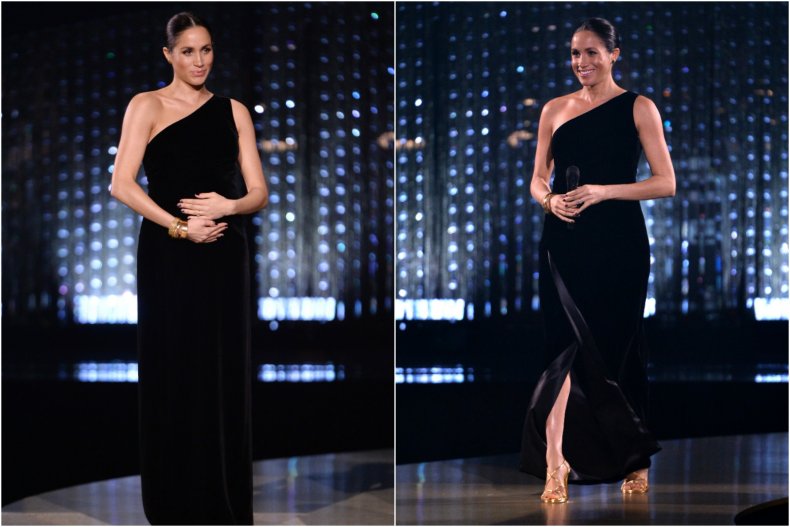 Endeavour Fund Awards Gala February 7, 2019
At an appearance at the annual Endeavour Fund Awards ceremony at London's Drapers Hall in 2019, Meghan wore an eye-catching outfit which consisted of a black maxi skirt with statement slit up one side, paired with a classically tailored, cross closing white shirt both by Givenchy.