Meghan Markle and Kate Middleton's Favorite Handbags
For royal women over the last 70 years, Queen Elizabeth II has set the tone and example for royal duty and also royal dressing. The queen's favorite fashion accessory is her handbag—there are even reports that she uses them to send private messages to her staff at public events.
Both Kate Middleton and Meghan Markle have followed the queen's example over the course of their married lives—particularly when it comes to classic style and dressing— and both duchesses share two particular favorite handbag designers.
Though the Duchess of Cambridge is known to favor clutch bags, Meghan arrived on the royal scene at her first royal engagement wearing a structured handbag, like those used by the queen, from the Scottish brand Strathberry.
Since her first use of the brand, Meghan added more of their designs to her working wardrobe—while she was a full-time working member of the royal family.
Taking Meghan's lead, Kate too has acquired Strathberry bags for her wardrobe and the brand has become a shared favorite between the sisters-in-law.
Strathberry was founded as a brand by husband and wife team Guy and Leeanne Hundleby in 2013. The Edinburgh based operation designs all of their bags in the U.K. and has them manufactured by craftsmen and women in Spain. The ethos of the brand is stylish sustainability and modern takes on classic designs. This would have been attractive to Meghan who styled her own royal wardrobe during the course of her working life in Britain.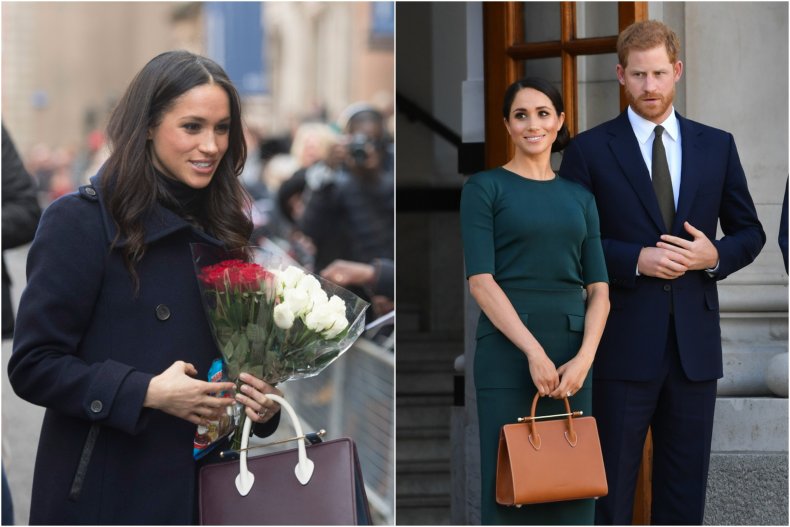 Meghan has an individual style which is heavily influenced by the ease and sophistication of American designers. When she moved to Britain, Meghan sought out designers from around the United Kingdom to patronize, conforming to the tradition that royal women dress patriotically.
Meghan has disputed claims that she had help from a stylist in Britain, saying to her communications secretary in messages released as part of a court case against the Mail on Sunday: "You know how personally frustrating I find the 'stylist' narrative (as it's the only thing I seem to still have any control over—my personal styling)."
Meghan's first Strathberry bag was debuted on a visit she made with Harry to Nottingham in 2017 before the couple were married. This was her first taste of what a royal engagement was like and crowds of well-wishers turned out in force to welcome her.
For the occasion, Meghan selected the midi-tote in a navy, burgundy and vanilla colorway. The bag was an instant sell out, with a waiting list having to be implemented. It was the first big example of the "Meghan Effect" (an influence over consumers) in full force.
The duchess didn't stop with one though, she also acquired the midi-tote in tan leather which she carried on a visit to Ireland a few months after her wedding, and an East/West mini bag in bottle green.
Kate too has worn Strathberry for official public engagements. The duchess owns the multrees embossed croc wallet in two different colorways, black and blue, which she wore during the royal train tour of 2021.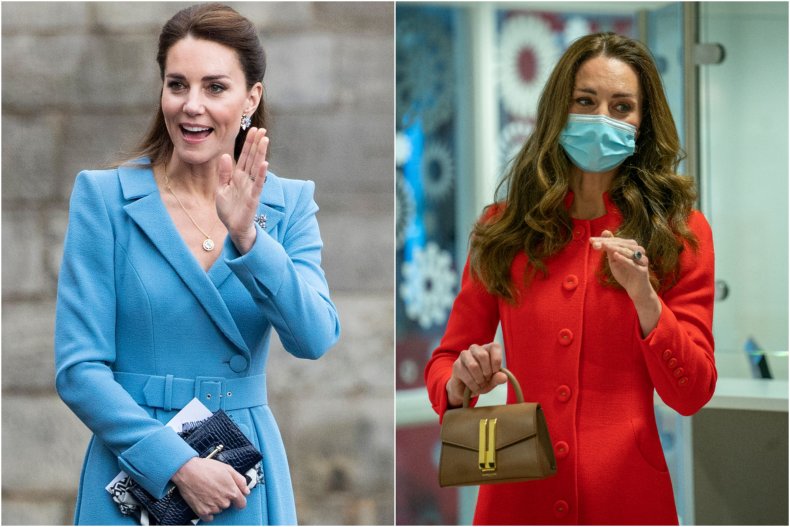 Meghan's use of structured bags with handles like those worn by the queen was widely reported on as until then, Kate Middleton and Camilla, Duchess of Cornwall, had tended towards clutch bags or no bags at all.
Both women have since adopted handled bags from a range of designers including another favored by Meghan, DeMellier, whose midi Venice bag she wore on a visit to Wales in 2019.
DeMillier is a London based brand, with its production facilities in Spain, founded by Mireia Llusia-Lindh. The company's style blends contemporary and vintage designs to create youthful collections which are loved by celebrities and royals alike.
Since Meghan's debuting of the midi Venice bag, Camilla has worn identical models in bottle green and white.
Kate is also a fan of DeMellier, owing to their smaller sizes and streamlined design. In May 2021 the duchess wore the brand's Nano Montreal bag which was seen as being a subtle nod to her sister-in-law. This was drawn from the bag being an example of a brand Meghan had worn and also Montreal being in Canada, the country she had lived in before her marriage. This was significant as it occurred only weeks after Meghan and Harry's contentious interview with Oprah Winfrey was released.
Whether it be Strathberry or DeMillier, both Meghan and Kate have exhibited a love of British luxury leather goods that enhance their working wardrobes. Both have defined strong and individual aesthetics which help to further add to their influence and engage members of the public at home and abroad.