Meghan Markle and Kate Middleton's Best Spring Style Moments
Throughout their years as members of the royal family Meghan Markle and Kate Middleton have debuted a stunning array of springtime fashions, from free flowing day dresses to elegant evening gowns.
Whether together in the UK or apart, with Meghan now based in California, the couple have shown they know how to make a springtime splash.
When Kate married Prince William in 2011 the world's press scrutinized her every wardrobe decision which would be echoed in 2018 when Meghan would join the royal family.
Over the course of their married life both duchesses have become more ambitious in their style and after a season of winter engagements, carried out in structured coat dresses and warming layers, springtime has signaled an annual changing of their working wardrobes.
Royal Ascot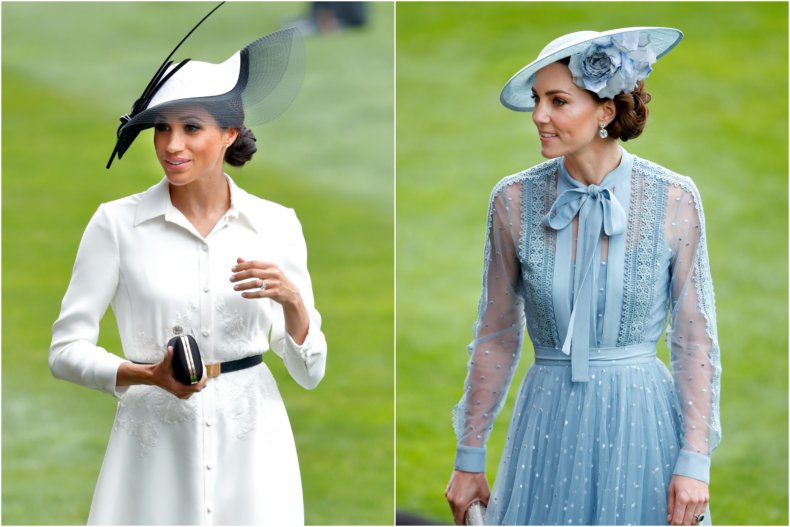 Royal Ascot is one of the highlights of the royal calendar and a personal favorite event for Queen Elizabeth II.
As such, the royals always dress to impress with a strict dress code imposed on members of the public who wish to attend the royal enclosure. Meghan made her Ascot debut in 2018 just one month after her wedding wearing a Givenchy shirt dress with delicate embroidery, and a statement hat by Kate's favorite milliner, Philip Treacy.
Kate has attended Ascot multiple times but it was her blue Elie Saab dress with picture hat and silver accessories that caused a fashion stir in 2019. The silhouette followed a typically flattering 1930s line with a hat that framed her face while not competing with the high neckline and long sleeves of the dress.
Wimbledon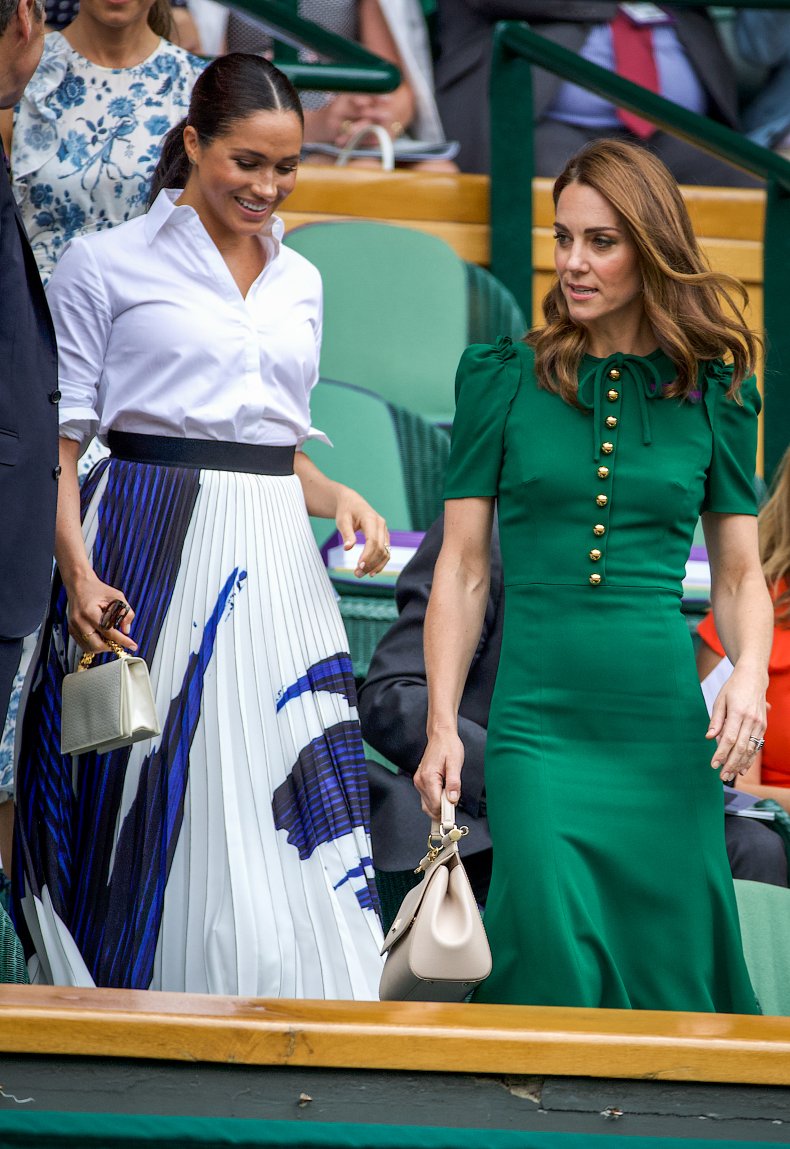 Both Meghan and Kate are known fans of tennis. The pair appeared together to watch Serena Williams play in the Wimbledon tournament in 2019.
Meghan's outfit was demonstrative of her preference for a relaxed chic aesthetic consisting of a crisp white shirt with an upstanding collar and a Hugo Boss skirt with electric blue accents.
Kate wore a style more typical of her classic taste, in a custom green Dolce and Gabbana mid-length dress with capped sleeves. Both Duchesses accessorized their looks with sunglasses and nude handbags.
Trooping the Colour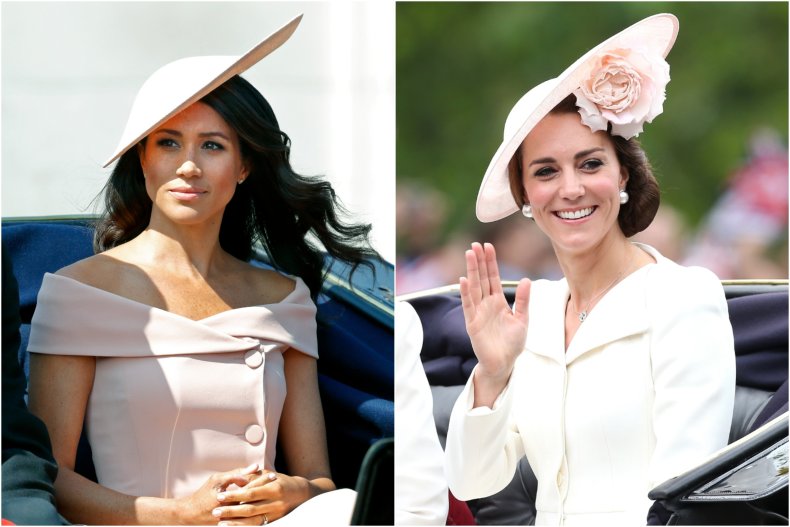 Trooping of colour marks Queen Elizabeth II's official birthday parade and senior members of the royal family attend, ending the event with an appearance on Buckingham Palace's famous balcony.
In 2018 Meghan wowed the crowds at her first trooping appearance wearing a pink off-the-shoulder ensemble by Carolina Herrera.
It is unusual for a member of the royal family to show their bare shoulders during daytime events and this was picked up by the fashion press at the time.
Kate Middleton has attended numerous trooping of colour ceremonies. In 2016 she teamed an Alexander McQueen fit-and-flare coat dress with an elegant hat by Philip Treacy. In the hot June sun the outfit illuminated making her more visible on the Buckingham Palace balcony.
Royal Engagements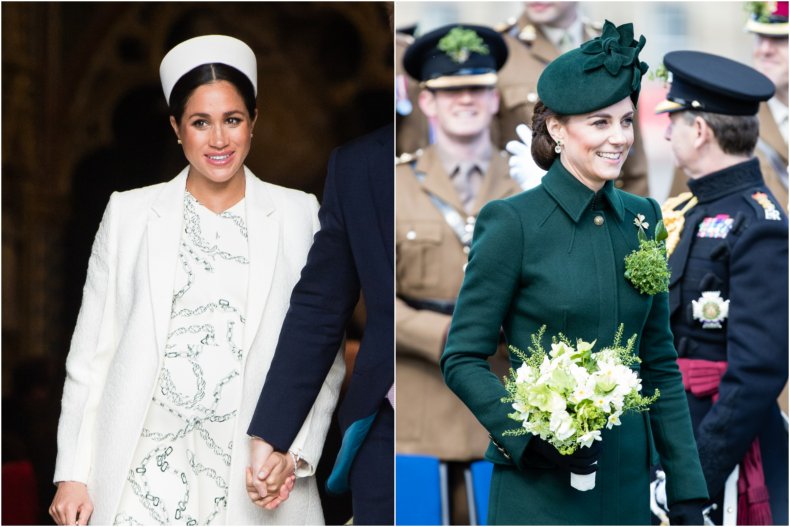 Deciding what to wear on royal engagements is a hard task for working royals. Meghan is fiercely proud of the fact that she doesn't use a stylist and ergo has full autonomy over the visual image she presents to the public.
Kate on the other hand does use the services of stylists who help her put together her wardrobe.
To the Commonwealth Day service at Westminster Abbey in 2019, Meghan wore a white coat and pillbox hat, in the style of Jackie Kennedy, over a patterned silk Victoria Beckham dress. She paired the outfit with deep emerald green accessories softening the monochrome color pallet of the rest of the outfit.
Kate Middleton has learnt over time to pay tribute, through dress, on special engagements.
When reviewing the 1st Battalion Irish Guards St Patrick's Day Parade in 2019, she wore a green Alexander McQueen coat dress with a clump of shamrocks pinned to the breast. Kate paired the outfit with a green felt hat and black accessories.
Evening Galas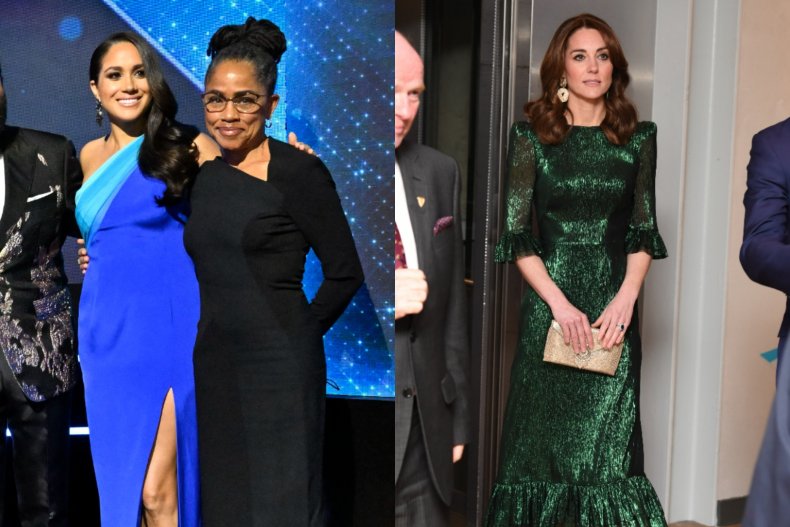 Dressing to impress on foreign tours or charity galas is part of the job which Meghan and Kate have subscribed to. In 2022, Meghan appeared at the NAACP Image Awards in an elegant blue evening gown with slit detail and flowing chiffon cape from one shoulder.
The dress was used as a way of drawing attention to the severity of the speech she delivered that evening with Prince Harry.
On a 2020 visit to Ireland with Prince William, Kate appeared at an evening reception wearing an emerald green shimmer dress by the brand, The Vampire's Wife. Here Kate showed again how to pay homage to her hosts through her royal wardrobe.
Sports Day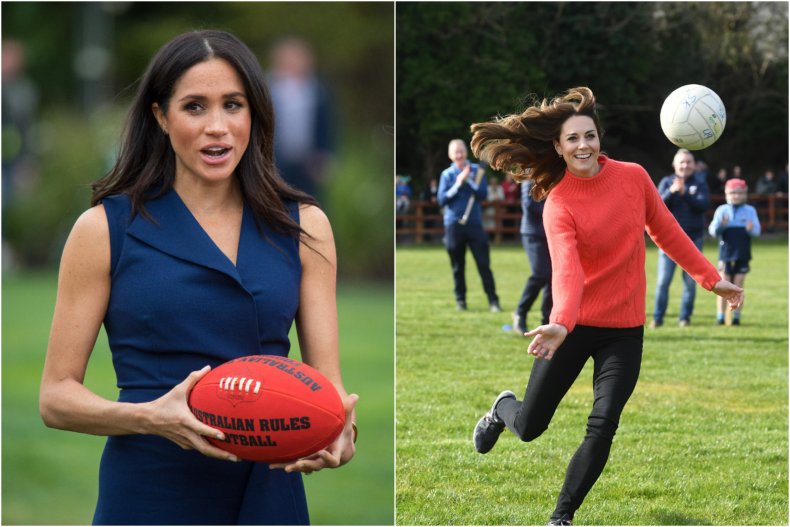 Sport is an important part of both Meghan and Kate's lives with Meghan remaining a close friend of tennis star Serena Williams for many years.
When on springtime engagements, both Meghan and Kate have turned their hand to whatever sport may be on offer.
On tour in Australia in 2018 Kate wore a blue Dion Lee dress with asymmetric bodice detail for a round of engagements at Government House. While in the grounds, Meghan got to grips with aussie-rules football.
Kate's sporty side is often on show and it was the case on a 2020 engagement to Salthill Knocknacarra GAA Club in Galway, Ireland.
Kate wore a neon orange jumper which picked her out in a crowd and also paid homage to one of the colors of the Irish flag and paired it with black trousers and New Balance trainers.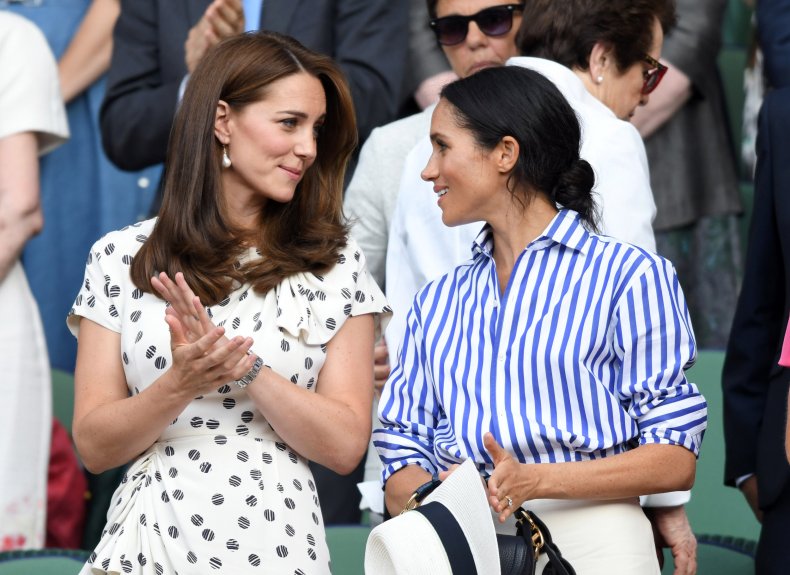 With Meghan reaffirming her charitable links to Britain for International Women's Day this month and with a round of jubilee engagements in the coming season, the public may have more opportunities to see the sisters-in-law together in public again.
This however, rests upon the judicial review initiated by Prince Harry into the security arrangements made by the Home Office concerning his family.
The Sussex's participation in events associated with Queen Elizabeth II's platinum jubilee may also depend upon the state of their relationship with the wider royal family following the couple's interview with Oprah Winfrey in March 2021.
Meghan has not been back to the U.K. since the interview, though she is thought to wish to return should the security issue be settled.