Meghan Markle Fans Slam Piers Morgan for 'Spreading Hate' With Tirade Comparing Duchess to Kim Kardashian
Fans of Meghan, Duchess of Sussex have criticized divisive media personality Piers Morgan after he called the princess "a piece of work" and compared her to reality television star Kim Kardashian West.
Morgan criticized the duchess Thursday on British radio station LBC. He accused Meghan of "dumping" her father Thomas Markle and blasted her over a recent $3 million home renovation.
Commenting on Meghan's father, Morgan said: "Look at the way she treats her family, none of whom were at the wedding, dumps her father, dumped her first husband, dumps everybody that's no longer of use to her. It's not a good look."
Meghan's father said he couldn't attend his daughter's wedding for health reasons. But Doria Ragland, Meghan's mother, was at the ceremony.
Morgan previously scored an interview with Thomas Markle for British television show Good Morning Britain. He told LBC would not meet Meghan if she asked him to.
"Maybe I'm wrong about her," Morgan said. "But there are lots of worrying signs, not least doing up their house with [$3 million] cost to the taxpayer. That's the behavior of a Kardashian, not somebody who married in to the royal family. They've got to be careful."
Social media users quickly hit back at the journalist. Twitter user Katie Le Bloas wrote: "I wish [Piers Morgan] would get over his obsession with Meghan. Leave the woman alone you oaf."
User Kevin D commented: "Looks like Piers Morgan is just trying to spread hate."
Another user added: "He needs to get over the fact that Meghan Markle does not want him as a friend and move on with at least a tiny piece of dignity."
Some users argued Morgan's criticism was down to Meghan's racial heritage. "He sounds like a fool to make it all about Meghan when all of the royal family members had worked done on their homes way before Meghan came along," wrote user Jasmine Harrison. "To single her out is nothing but dog whistling to generate hatred and bias towards her because she is mixed race."
Criticizing the radio station itself, user David Booth remarked: "Right wing racists still thriving at LBC."
But Twitter users some sided with Morgan. User Linda Mitchell called Meghan a "spoilt brat" she "just [did] not take to."
Another user added: "They can live in a tent for all I care."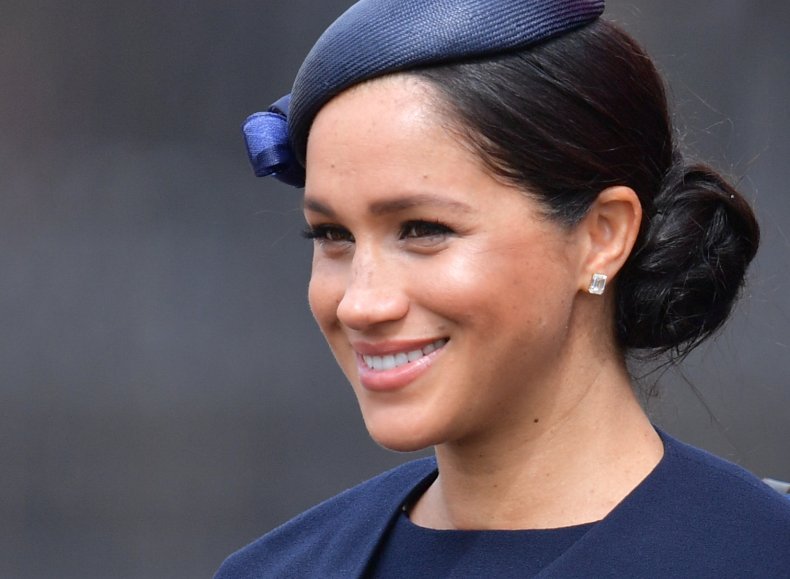 Morgan has criticized Meghan numerous times in his Daily Mail column. He recently called the princess "shameful" for attending Queen Elizabeth II's birthday but skipping President Donald Trump's visit a few days before.
Meghan gave birth to a son, Archie Harrison Mountbatten-Windsor, on May 6—roughly a month before Trump's visit. Before the Queen's birthday, she had not made any public appearances since introducing the baby to reporters May 8.
Cynthia Carter, an expert in feminism and media studies from Cardiff University, told Newsweek that Morgan's comments come "from a deeply conservative, celebrity-driven narrative shaped by gender, racism and nationalism marking boundaries around 'acceptable' forms of femininity."
His remarks bolster his career as a right-wing commentator. But they also make it more acceptable to publicly attack progressive views, she explained.
"What right-wing commentators seem to dislike most about [Meghan] is that she had a life prior to becoming a royal, one in which she publicly declared herself to be a feminist and openly spoke about her experiences of racism," Carter added. "Princesses are not supposed to have an independent voice. They are supposed to smile, look pretty and follow the rules."
In a column published Tuesday, Morgan noted "uncanny" parallels between Meghan and Kardashian West in Tuesday's column, which also focused on renovations to Meghan and Harry's home, Frogmore Cottage. Morgan accused Meghan and Kardashian West of using social media "aggressively," and blasted mutual friend Chrissy Teigen as "vacuous."
Morgan's comparison places Meghan in the realm of celebrity, rather than royalty, Carter explained. "Nowhere is Harry brought into his comments as someone who might have had a role to play in deciding on the refurbishments," she noted.
The cost of the renovation, which ended earlier this year, has been the subject of much debate since the release of a financial statement about the Sovereign Grant—an annual payment from the U.K. government to cover certain royal expenses.
Funded by the taxpayer, the grant funds official engagements, staffing and property maintenance bills, among other royal costs.
Per The Express, Michael Stevens, Keeper of the Privy Purse and the Queen's financial adviser, explained the previously vacant property "had already been earmarked for renovation."
"The building was returned to a single residence and outdated infrastructure was replaced to guarantee the long-term future of the property," he added.
This article has been updated with comment from Cynthia Carter.