Why Meghan Markle Will Run for President, According to Biographer
A biographer writing a book on Meghan Markle believes it is "likely" she will move into politics, as speculation mounts that she is preparing a possible presidential bid for 2024.
Investigative journalist Tom Bower has reportedly signed a six-figure deal to write an unauthorized biography of the Duchess of Sussex—and offered his thoughts on a possible tilt at the White House by the former Suits actress.
"The prospect of Meghan running for president is possible and I'd even say likely," Bower told Closer magazine, according to the Daily Mail. "I really believe it's where she sees herself going."
Bower is known for his unauthorized biographies of high-profile figures including Meghan's father-in-law Prince Charles, several U.K. prime ministers and businessman Sir Richard Branson.
He believes the duchess, who is pregnant with her second child, has "all the qualities" to land a job in the White House, such as ambition, self-confidence and public speaking skills. Bower pointed out that she "masterminded" a new life for herself, husband Prince Harry and their son Archie in California.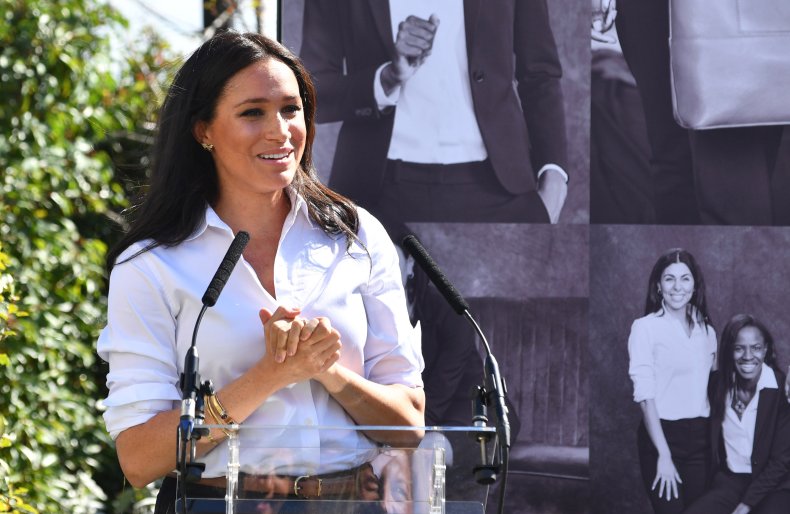 He described Meghan as "clearly sensitive," however, saying it might be difficult for her to "take the heat" that comes with being a high-profile politician.
"They're probably the public figures who face the most backlash," Bower added. "I really think she would struggle. She'd need to learn to take the heat."
Bower also said Meghan would need a loyal team of staff and advisers around her if she were to embark on a political career, citing the recent resignation of the Duke and Duchess of Sussex's chief of staff and bullying claims from a palace aide.
"We've seen through the reports about her staff members quitting and moving on that she doesn't seem to be able to hold on to her team," Bower said.
Bookmakers are currently offering odds on the duchess to win the 2024 election, but not on whether she will formally announce her candidacy.
One site has Meghan's odds at 66-1 while others consider her a massive underdog at 200-1.
Former President Donald Trump has said he hopes Meghan runs in 2024 because it will make his own decision about standing for re-election easier.
When asked on Fox News earlier this month about reports that the duchess had met with senior Democratic officials to discuss entering politics, Trump said he was "not a fan" of Meghan.
"Well, I hope that happens because if that happened I think I'd have an even stronger feeling toward running," Trump told Fox's Maria Bartiromo.
"I'm not a fan of hers. I think that what she talks about the royal family and the queen and I happen to think—I know the queen, as you know. I met with the queen and I think the queen is a tremendous person and I am not a fan of Meghan."