How Meghan and Harry Are Described by Palace Staff in Bombshell New Book
Meghan Markle and Prince Harry's royal exit is mapped out by palace staff past and present in Tina Brown's new book.
The Palace Papers gives the other side of the story after Meghan and Harry told Oprah Winfrey of their alleged persecution at the hands of "the institution" of the monarchy in their March 2021 tell-all.
And the former magazine editor's sources spoke of shouting fits and diva demands as well as a failure to understand the palace machine could not function like a Hollywood PR team.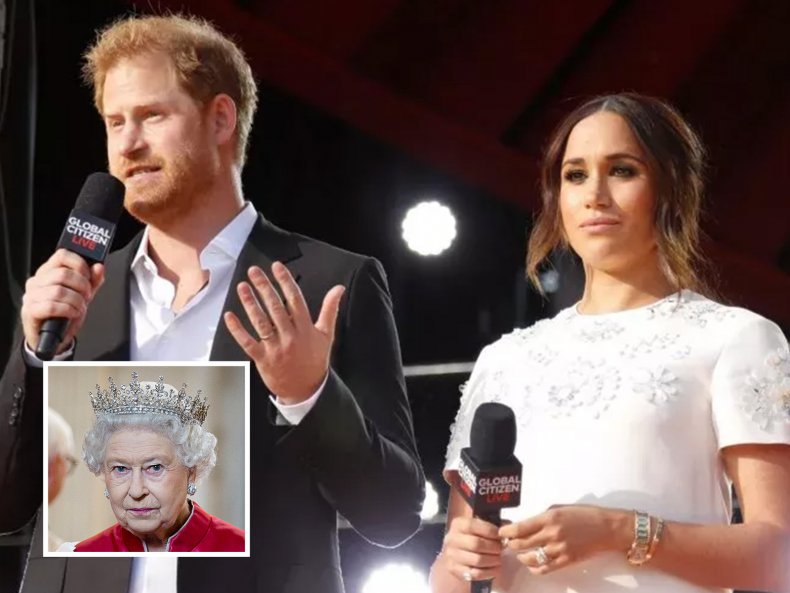 Meghan Markle Was a 'Very American Type'
A former palace advisor described how Harry came to fall for Meghan during the early days of the relationship.
The book's source said of Meghan: "Very impressive. Very strong, very motivated, brought up to think she can change the world. It's a very American type; we don't have them here."
Brown added: "Harry was fired up not only by Meghan's beauty and poise, but also by the way she was in control of her own life. Compared to her, he was a man-boy whose whole existence had been mapped out for him by others."
Harry Wanted to Marry Meghan 'as Quickly as Possible'
Brown's sources told her William tried to persuade Harry to take his time with Meghan as he had fallen madly in love before.
The older royal brother, she wrote, feared for Harry's mental well-being, foreseeing the media onslaught about the duchess.
The former magazine editor wrote: "To his brother's concerns, Harry's riposte can be summarised as, I am told, 'Well, actually the best way that I can protect her is to marry her as quickly as possible, because as soon as I marry her she will then get police protection.'"
Meghan's 'Big Cultural Shock' at Palace Life
A "palace veteran" told Brown: "If you are an actress on a TV show in America, you have a number of staff who are literally paid by the hour to work for you.
"So your business manager, your agent, your stylist, maybe your publicist et cetera, are there to meet your demands without question.
"You are therefore never wrong, and it is all exactly what you want. It's just billable hours. But when you move to a situation where you've got full-time members of staff who work for an institution—the palace—they're employees, not contract people, they work within a policy framework.
"There are rules around accepting gifts. There are rules around accepting hospitality. Not rules that we just make up, but because it's a public institution.
"One assumes the transition was probably not easy for Meghan, and for someone from the States, not welcome at all."
The book's source added that the duchess experienced a "big cultural shock" because she had become more famous than she ever imagined but "the way she is served" had not "risen with that."
Brown wrote: "In the ranking system of the entertainment world, star power—wattage—equals leverage. She was not becoming a member of the Royal Family to argue, like the minor actress she was in her past life, about the size of her perk package."
A source told the book: "They just couldn't deal with Meghan's level of directness."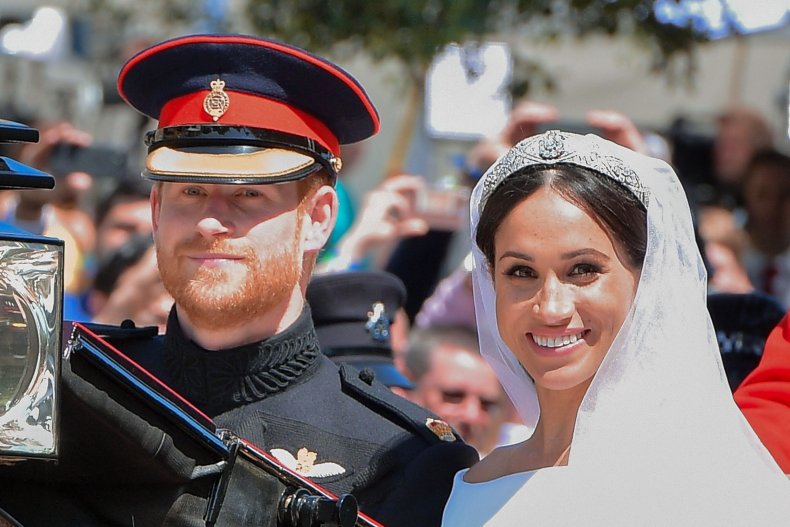 Meghan and Harry's Wedding Demands
The Palace Papers also returns to a famous argument over Meghan's wedding day tiara that blew up on the front page of U.K. tabloid The Sun.
Meghan and Harry famously fell out with the queen's dresser, Angela Kelly, while trying to arrange a hair trial with her New York stylist using her wedding day tiara.
The prince spoke to the queen over the dispute after the couple felt Kelly was dragging her heels over their request for access to the headpiece.
However, a source told Brown that staff were fed up with Meghan making demands of them in the run up to the May 2018 ceremony, at St. George's Chapel in Windsor.
The insider said: "Meghan would say, 'I'll just do whatever you want me to do,' while meanwhile, she eventually got the chapel she wanted, the preacher she wanted, the choir she wanted, the dress she wanted, the tiara she wanted, the candles she wanted, the location for the after-party, the chef, the entertainment, the guest list. No one said no to anything."
A source told Brown that Harry had shouted at staff, which led to the story coming out in the media months later in November 2018.
The "palace source" said there was "in-person shouting in front of other members of staff, basically in front of too many people, which is why it all started to come out and became the first-ever negative piece of coverage about the behaviour of the couple."
Meghan, Kate and a Question Over Who Cried
Brown's book also revisits the famous story of a bridesmaid's dress fitting in which U.K. broadsheet The Daily Telegraph said Meghan made Kate Middleton cry.
Meghan told Oprah the reverse happened, that Kate made her cry and that she was wrongly blamed in the media while the palace refused to deny the story.
Brown wrote: "She was outraged that they wouldn't immediately deny something that, inconveniently, appeared to them to be true, if incomplete. (Best guess: both of them had meltdowns that day.)"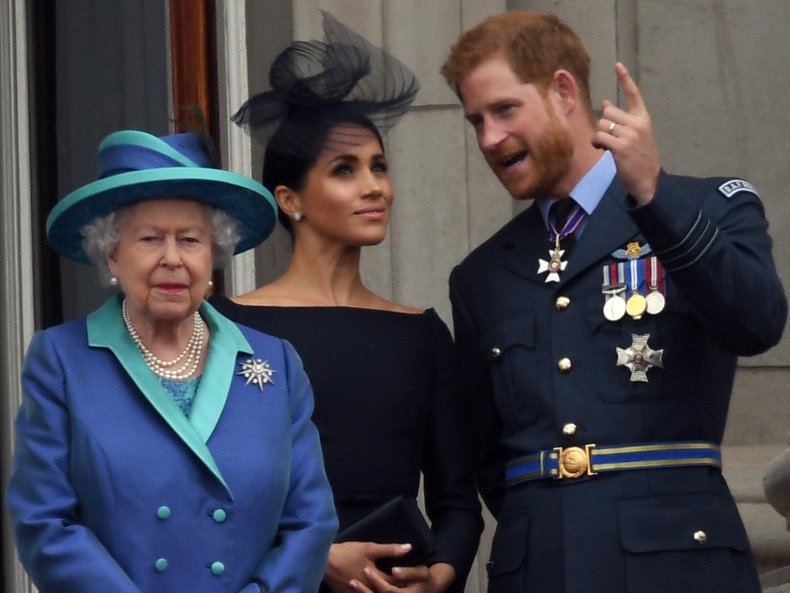 A palace source said Meghan was told: "We don't comment on private matters. Deal with it."
The source added: "Then she became obsessed with the fact that the palace wouldn't knock it down."
However, the book says Harry did not want to help Meghan navigate the peculiarities of the palace approach to the media because the couple had a mutual "addiction to drama."
Harry, Meghan and the Media
Prince Harry previously told his The Me You Can't See mental health docuseries how he asked his family for help dealing with the media but was met by "total silence or total neglect."
The Palace Papers appears to describe some of the same conversations from the other perspective, describing how Harry and Meghan wanted to withdraw access "when news organizations transgressed."
A source told the book: "The family was saying, 'Look, we get that it's horrible that you have to do an engagement. And there's that reporter who wrote that horrible thing about you. You just have to deal with that. We're public figures.'"
"Harry and Meghan just wouldn't agree with that, and that got really tough."
And a "former palace insider" described how Meghan saw the palace approach to handling negative coverage as "old fashioned" while her own approach was "Hollywood 101."
The book suggests Meghan wanted to respond to bad stories by putting out good ones and felt the palace lacked imagination.
Meghan and her Staff
The book touches briefly on allegations Meghan bullied her staff, though Brown does not appear to get fully behind the notion that she did. Meghan denies bullying.
The author does, however, say Meghan shouted at a junior employee in the run-up to the wedding for holding back an announcement so that it would not clash with another by a senior royal.
An "insider" said: "I wouldn't say it was bullying behaviour but I've certainly never heard of a member of the Royal Family talking like that to a member of staff."
For more royal news and commentary check out Newsweek's The Royal Report podcast:
Royals Saw Harry and Meghan's Royal Exit Coming
Harry and Meghan framed the palace institution as blocking their attempts to negotiate their way out of royal life.
However, Brown's book suggests the family saw it coming and were supportive but wanted control over how it was done.
A source told her: "I think the Queen found herself genuinely very conflicted.
"They could all see how unhappy Harry and Meghan were. Everybody was supportive of them leaving. But they wanted it done in an orderly way.
"And they also wanted it done in a way that set the right precedent. William's got three kids. The precedent they set for this generation would affect his children. He's very mindful of that. So they wanted it done properly."
The book suggests Harry was unhappy with royal life and at least some in the palace knew he would be happier if he left.
A source told Brown: "I thought one of the best things that Meghan could do for Harry was to take him out of royal life because he was just so unhappy for so long. He needed a wife to come in and say, 'actually the best thing for you is that I take you out of this.'"