Meghan Markle and Prince Harry's royal racism interview will not air in 12 mainly Caribbean countries where Queen Elizabeth II is sovereign.
The biggest royal interview since 1995 saw the Duke and Duchess of Sussex tell Oprah Winfrey an unnamed family member expressed concern about how dark their baby's skin would be.
The extraordinary claim has triggered a fierce debate in Britain about racism and led to calls for an investigation and even to abolish the monarchy.
The two-hour prime time special has been licensed to 22 regional networks across five continents but none in the Caribbean or Indian Ocean where the queen is head of state to 12 countries.
Countries in the Caribbean include: Antigua and Barbuda, Barbados, The Bahamas, Belize, Grenada, Jamaica, Saint Lucia, St. Kitts and Nevis, and St. Vincent and the Grenadines. Countries in the Indian Ocean include Papua New Guinea and the Solomon Islands.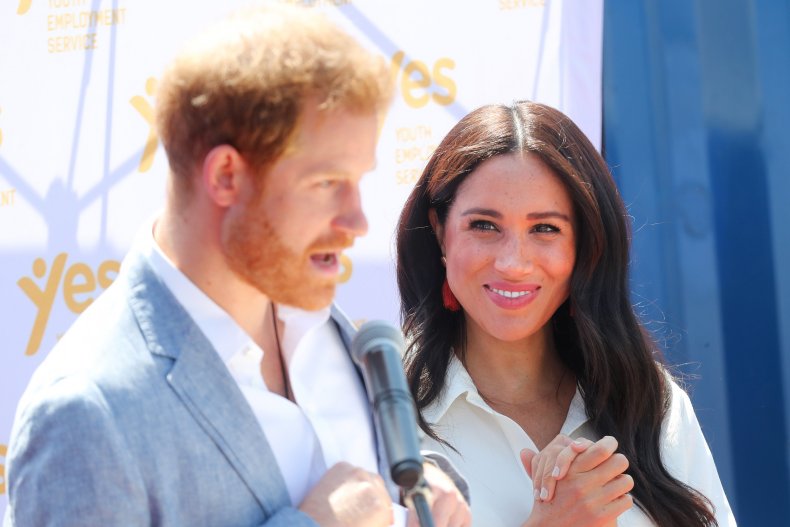 The serious issues discussed by the couple are particularly relevant to some of those societies as the question of removing Elizabeth as sovereign is being actively debated.
Barbados declared it would break from the Monarchy in September, with Dame Sandra Mason, Governor General, announcing "the time has come to fully leave our colonial past behind."
In 2012, Jamaica's then Prime Minister Portia Simpson Miller said she would make the country a republic, though to date it has not happened.
Of the 16 countries were the queen is sovereign, a licence to broadcast the interview was bought by networks in Britain, Canada, New Zealand and Australia, which all have predominantly white populations.
It is not clear exactly why no networks in the Caribbean or Indian Ocean have bought the rights, but Harpo Productions sold the programme to CBS for between $7 million and $9 million, according to the Wall Street Journal. In the U.K., ITV News reportedly paid $1.4 million (£1 million), according to The Guardian.
Whatever the reason, the restricted license for broadcast means people in countries debating having Elizabeth as head of state in the context of Britain's colonial history will not be shown the interview in full.
In July, Prince Harry and Meghan initiated a conversation about Britain's imperial past on a video call for the Queen's Commonwealth Trust.
The prince said: "When you look across the Commonwealth, there is no way that we can move forward unless we acknowledge the past."
Two months later, Barbados announced its decision to remove the queen as head of state by this November.
Mason said: "The time has come to fully leave our colonial past behind. Barbadians want a Barbadian Head of State. This is the ultimate statement of confidence in who we are and what we are capable of achieving. Hence, Barbados will take the next logical step toward full sovereignty and become a Republic by the time we celebrate our 55th Anniversary of Independence."
The full list of countries licensed to broadcast the interview:
Sub- Saharan Africa (M-Net on Monday, March 8 at 7:30 PM)
American Forces Network (AFN|prime on Monday, March 8 at 7:00 PM CET/JKT (CET – Central European Time (Europe), JKT – Japan/Korea time (Asia))
Australia (Network 10 on Monday, March 8 at 7:30 PM)
Austria (ORF 1 on Monday, March 8 at 1:50 PM & 9:10 PM)
Belgium (VRT on channel Eén, Monday, March 8 at 9:30 PM)
Brazil (GNT on Thursday, March 11 at 10:30 PM)
Canada (Global TV on Sunday, March 7 at 8:00 PM)
Croatia (RTL on Monday, March 8 at 7.30 PM)
France (TMC on Monday, March 8 at 9:15 PM)
Germany (RTL on Monday, March 8 at 3:00 PM on RTL and on VOX at 10:15 PM)
Greece (ANT1 on Monday, March 8 at 4:00 PM)
Iceland (Siminn on Monday, March 8 at 8:00 PM)
Ireland (RTE 2 on Monday, March 8 at 9:30 PM)
Israel (yesDocu on Monday, March 8 at 9:30 PM)
Italy (Sky Italia-TV8 on Tuesday, March 9th at 9:30 PM)
The Netherlands (Net5 on Tuesday, March 9 at 8:30 PM)
New Zealand (Discovery NZ/Three on Tuesday, March 9 at 7:30 PM)
Nordics (TV3 and Viafree on Monday, March 8 at 9:00 PM in Denmark and Sweden, 9:30 PM in Norway)
Poland (TVN24 on Monday, March 8 at 8:30 PM)
Switzerland (SRF on Saturday, March 13 at 10:25 PM)
United Kingdom (ITV on Monday, March 8 at 9:00 PM)